Fiction Preview: Special 245
---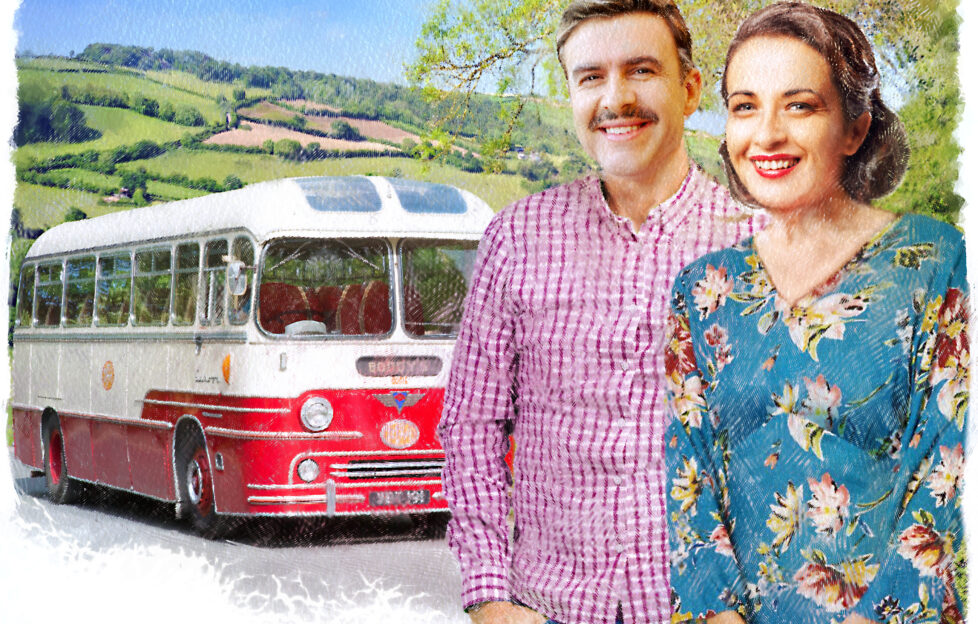 Artwork: Jim Dewar
Welcome! Let's have a quick peek at the stories you'll find in our latest Special, out Wednesday, July 5.
Twenty Brand-New Stories
Our opening story is "Destination Weston", by Becca Robin. It's the ladies' choir's day out, but with the destination a surprise, it's a magical mystery tour! Artwork from Jim Dewar (above).
We're walking in Wales and listening to "The Skylark's Song" in our next story, by Wally Smith. Artwork from Sarah Holliday.
Rose has received a wedding invite, but a face from her past will be there. Find out if she can show "Courage Under Fire" in Jennifer Gregory's short story, illustrated by Kirk Houston.
Laura is looking after her grandad's cockatoo, in "Classic Rocky" by Alyson Hilbourne…
…and we're in 1590 for our next story, "Portrait Of A Queen". When Esperanza is asked to help with sittings for the Queen's portrait, there's a case of mistaken identity – and a wrong is righted. Written by Shona Partridge, with artwork from Sailesh Thakrar.
Super Summer Stories
We're "Dressing Down" in Eirin Thompson's story about a school pyjama day! Artwork, Ruth Blair.
Lady farrier, Kathy, embraces progress, in "Wrought Together" by Sharon Haston. Illustration, Ruth Blair.
Cherry was looking forward to surfing lessons, but things don't pan out quite as planned, in "Getting On Board". By Lauren Rebbeck.
Our next story is set in 1894 – "On The Railroads". The Wild West was a land of opportunity, and Nora was determined to get her share! By Alison Carter, it's illustrated by Gerard Fay.
Early-retiree, Wanda, is looking forward to a summer of reading and relaxation. Then a big, noisy family move in next door…"A Fresh Start" is by Eirin Thompson, and illustrated by Hannah Agosta.
Our Eight-Page Long Read
Our eight-page long read is next – and it's a thrilling murder mystery set in 1924. When the butcher next door dies an untimely death, the finger of blame points to Alice…by Meg Stokes, it's illustrated by Sailesh Thakrar.
Reading For Everyone
No-nonsense Jane can't be bothered with the sales ladies in Duty Free, in Beth Watson's "On The Scent"…
…while we head to "The Scene Of The Crime" in our next story by Alyson Hilbourne, set in the 1930s. Artwork, Mandy Dixon.
Widowed Marcy and Matthew have been friends for years, in "A Friend In Need". By Teresa Ashby. Illustration from Jim Dewar.
Time spent with a lovely aunt is never wasted, in "Netta's Hut", by H. Johnson-Mack…
…while a daughter is none too pleased to find out her mum's new post is "No Job For A Lady". By Julia Douglas, with artwork from Martin Baines.
Sunny Summer Reading
Laura needs one more push to get "Back In The Saddle", by Gwen Rollinson…
…and a busy mum can never find the hairdrier, in Eirin Thompson's "Drying Times".
Some space is needed, if retirement is to prove enjoyable, in Cole Todd's "Room To Grow". Artwork, Philip Crabb.
A grandad isn't sure he's up to the job, in Moira Smyth's "Grandad In Training". Illustration, Sarah Holliday.
And in our final story of this Special, Frankie loves fashion, but all she really wants is her mum's attention. Alison Carter's "Fashion Victim" is illustrated by Ruth Blair.
Hope you enjoy!