Slow-cooker Asian Beef Stew
---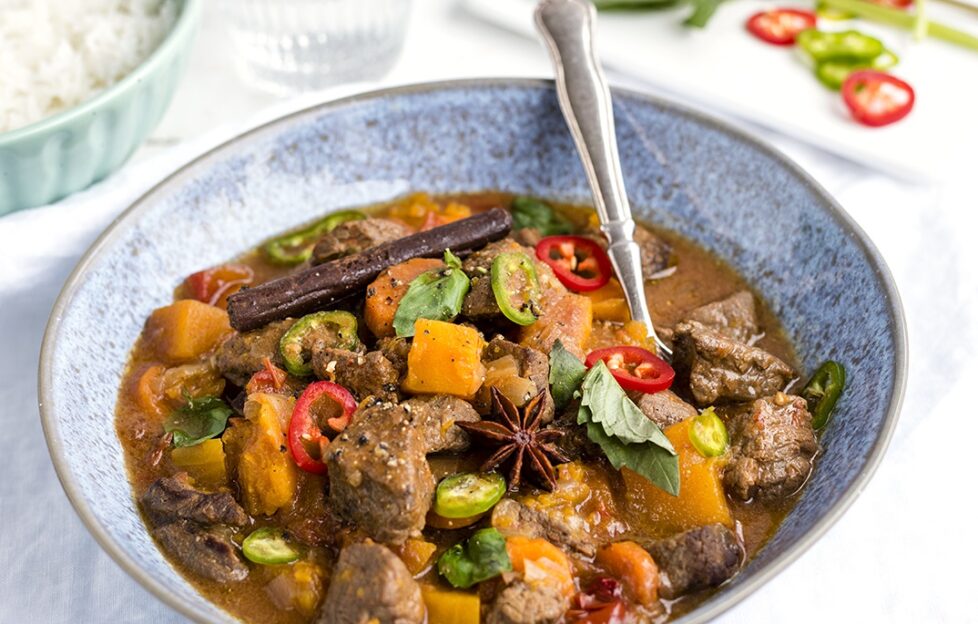 Image courtesy of Kikkoman.
Ingredients:
800g braising steak, cubed
3tbsp Kikkoman soy sauce
3 garlic cloves, minced
1tbsp palm sugar or dark brown sugar
2tsp five spice powder
1tsp ground pepper
2 lemongrass stalks, outer leaves removed, chopped finely
3tbsp vegetable oil
3 large shallots, chopped finely
3 carrots, cubed
400g butternut squash, cubed
2 green chillies, deseeded and sliced
4 large tomatoes, deseeded and chopped
2tbsp tomato paste
250ml beef stock
2 star anise
2 cinnamon sticks
2tsp cornflour mixed with 1tbsp cold water
Thai basil leaves and green and red chillies, to garnish
Steamed rice, to serve
Recipe courtesy of Kikkoman
Cold days like these are just made for tasty, hot one-pot meals!
A few minutes prep, then into the slow-cooker for the day to develop those lovely, savoury flavours. And best of all, it doesn't need any attention while it's cooking.
Serves: 4
Preparation time: 1hr to marinate
Cooking time: over 6hr (in slow cooker)
Put the beef in a bowl and add the soy sauce, minced garlic, sugar, five spice powder, pepper and lemongrass. Mix to combine, cover and leave to marinate for an hour.
Heat 2tbsp of the oil in a non-stick frying-pan and brown the beef, in batches, until nicely coloured. Transfer to the slow cooker.
Wipe the pan and heat the remaining oil. Fry the shallots for 5min until softened. Stir in the carrots, squash and chillies and cook for another 5min.
Add the tomatoes, tomato paste, stock, star anise and cinnamon sticks and bring to a simmer. Transfer to the slow cooker and stir in the cornflour.
Cover and cook on low for 6 hours. Remove the cinnamon sticks and star anise.
Garnish with sliced green and red chillies and Thai basil leaves and serve over steamed rice. Enjoy!
---
We have plenty more cold-weather recipes to warm you up right here on our website.
If the Slow-cooker Asian Beef Stew was a hit, you can find more slow-cooker goodness with our Slow-roasted Pork with Braised Leeks and Kale or Slow-cooked Turkey With Spiced Chickpeas.
Or turn up the heat with a healthy and hearty vegetable chilli!