11 Ladysmile Lane – Episode 42
---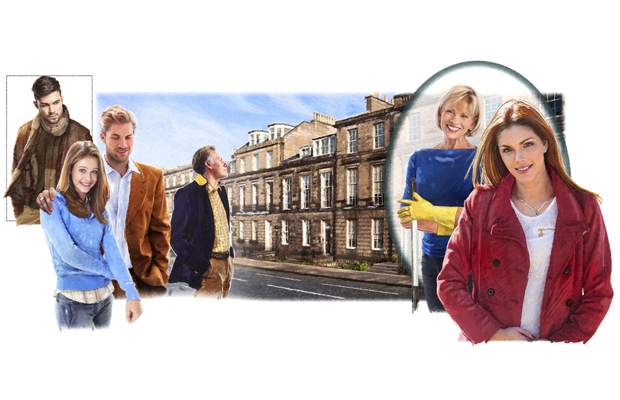 Illustrated by Mandy Dixon.
Later, for a change inside the premises on the new business park, Harrison looked squarely at the man seated opposite him.
"So that's what happened." He finished recounting the recent events. "But I'm here now not just on Ewan's behalf – he's happy to forget it and get on with his life – but because I thought that you should know the situation.
Your son . . ."
Harrison paused, thinking back to the untidy and dishevelled figure.
"Your son looked pretty desperate to me," he continued. "I don't know what's gone on between you all, and it's not my business, but I'd say he's regretting it now."
Mel's client, Alan, got up and walked to the window. Harrison suspected this was to give him a minute to think. After all, the blinds were down against the bright sunshine – there was nothing to see.
"Why hasn't he been in touch, then?" Alan finally said, though still looking away. "His mother's going mad with worry."
Harrison shrugged.
"Pride? You know how you are at that age, and how hot-headed." He paused. "Maybe you should get in touch with him?"
Alan didn't reply immediately, but then turned to Harrison, distress clear in his face.
"Give my apologies to the boy, Ewan. I'd like to speak to him. Ask him to come and see me. And thank you. I think maybe I half-suspected something like this, but didn't want to face it."
Harrison nodded.
"Which was why you didn't report it to the police."
"I suppose so. Though it wasn't conscious. And it was true I didn't want Mel's cleaning firm's reputation affected – she's a grand woman." He raised his hands in acceptance. "You're right, my friend. About everything. I'll speak to Ellie and go with her to sort things out with my son."
Harrison stood up to go and the pair shook hands.
Walking back to his car, Harrison paused a moment, enjoying the warm afternoon. The past few days had all been nice, so he'd heard people saying. Until today he hadn't really noticed.
Things, at last, were maybe getting on track for him!
Ruth's client, Peter, delighted with the speedy resolution to his problem, had already passed on more work and said that he'd recommend Harrison to others who might use his services.
But it wasn't just that inspiring his new optimism. Over this recent matter, he really felt he'd helped – both Ewan and Alan's family, because from his handshake Harrison reckoned Mel was right and Alan was essentially a decent bloke.
When Harrison had left the police, entirely of his own accord, he'd set up as a private investigator only because it was what he knew. But now? Now he actually believed in what he was doing again, and that frame of mind made a world of difference.
Retrieving his mobile phone from his jerkin pocket, he called Mel to update her.
Of course, she was delighted.
"I'll phone Alan myself," she said as they finished their conversation, "but later on. You know I'm needing new premises for my firm, and I'm going now with Alex for a second look at some I may be interested in."