11 Ladysmile Lane – Episode 40
---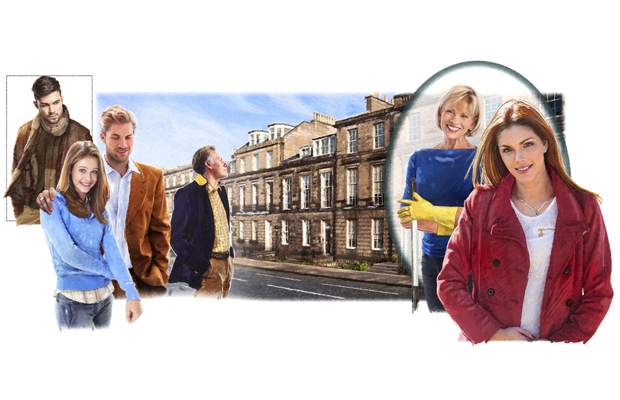 Illustrated by Mandy Dixon.
Brett was right – it was fabulous, both the atmosphere and the food. And the company, too, Georgia had to admit. They talked generally over the main part of the meal and she found Neil to be charming and attentive.
Then suddenly, waiting for coffee, he looked at her.
"Georgia, I have a confession to make to you."
"Oh?"
"I don't actually want to rent an office from you."
"So, what did you want? Just to invite me out to lunch?" The last bit was added without her really thinking about it and she promptly felt foolish.
"No." He smiled, pushing back his dark hair. "I'm looking to buy somewhere, not rent. I'd like to buy the whole building from you."
Georgia nearly choked on her coffee. Then she was amazed all over again when he told her what he was prepared to offer for Number 11. It was a very sizeable sum.
"I have a number of businesses." He repeated what he'd told her earlier, when she'd asked what line he was in. "I operate in a variety of fields, and I'm needing new premises for one of them."
Georgia didn't reply immediately. She was busy wondering if he'd asked her out for such a wonderful lunch and been so charming and attentive simply as a way of buttering her up before making a poor offer.
But that couldn't be the case. Certainly, the price he'd quoted seemed more than fair.
His mobile phone beeped the arrival of two texts in rapid succession.
"I have to go now," he said as he called for the bill. "Look, I realise what I've said has come out of the blue, and I don't expect an answer today. I'll phone you later in the week when you've had time to think about it.
"By the way," he added as he helped her into her jacket, "I did want to have lunch with you." His dark eyes held hers. "It's been very pleasant. We must do it again."
*  *  *  *
"Is that the girl leaving now?" Ewan whispered to Harrison. "She seemed always to be watching me when I was working there, but I thought she was just making sure I was doing the job properly."
There was no need for him to whisper – in Harrison's car they were well out of the young woman's hearing range. But Harrison acknowledged that in circumstances like this people tended to lower their voices anyway.
Once again, they were parked outside Mel's client's premises on the popular new business park. It was starting to feel to Harrison like a second home – he'd been there so often lately!
This morning's visit was to see whether Ewan thought anyone coming or going had been acting oddly that morning when he was wrongly accused of theft.
Having by now done one of his lightning assessments of the young woman, Harrison opened the company brochure he had with the photograph of the family who owned the firm on the day they'd moved to their present address.
"There she is, and I think we may be on to something, Ewan." He pointed at the blurb beneath the photo.
"Yep, second from the right. Ellie, daughter of the boss, Alan!" Ewan triumphantly finished off for him. "And, look, she's getting in that new car."
"I'm on it." Harrison started his aged vehicle in pursuit.