A Time To Reap – Episode 25
---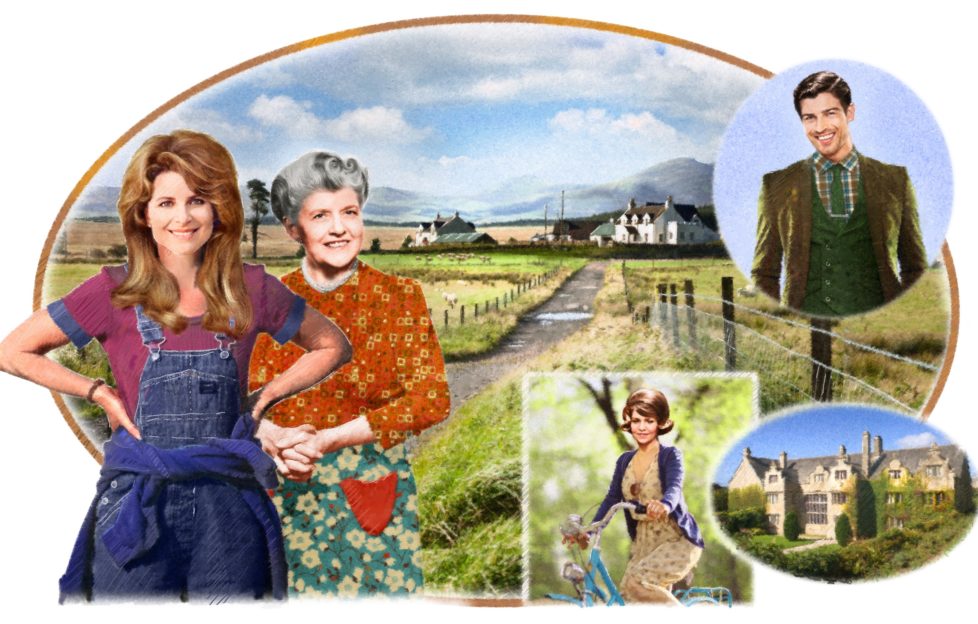 Illustrated by Mandy Dixon.
True to her word, Elizabeth took Libby and Flora up to Glenmore Farm early on the Saturday morning after the American guests arrived.
Peggy came across the farmyard to greet them.
"Donna's having a bath," she whispered as Elizabeth got out of the car. "She couldn't believe we didn't have a shower."
"I hear she's very pretty," Elizabeth said.
Peggy glanced up at the bathroom window.
"She takes hours to get ready," she said, her voice still low.
"What's Hugh like?"
Peggy's face softened.
"He's nice, and appreciative of everything. He's thrilled to be here."
"He'll have heard about the place from his father." Elizabeth was rather sorry for Donna. After all, this was her honeymoon trip.
"You know how his father – Jack – left here after an argument?" Peggy was whispering again. "I'd gathered before that Alec's father was a harsh man, but I never realised . . . Apparently, when Jack wrote home years later and said he was married, with a little boy, their father wouldn't – oh, there's Hugh. I'll tell you later."
The man who had just emerged from the house was wearing a pair of old dungarees. His shirtsleeves were rolled up and he bore a resemblance to Alec.
"Hugh, this is my cousin Elizabeth and her daughters, Libby and Flora."
"Good to meet you, Elizabeth. Alec was telling me about you running the big farm. I'd sure like to come see it."
He bent down to smile at the girls.
"So y'all must be kind of cousins to me, too? I've got a big clan of relations I never knew about!"
Elizabeth warmed to him.
"How do you like Glenmore?"
Hugh straightened up.
"It's not easy to put into words what it means to me to be here. My dad could remember every stick and stone of the place. I felt at home the minute we arrived – and what a great welcome we got from these folks here!"
Peggy smiled rather fixedly.
"Hugh and Donna arrived before Alec and I got back from town. "
"I couldn't wait to get up here," Hugh interjected. "Once we'd got to Glasgow I wanted to keep heading north."
"So they were left to the tender mercies of the boys for an hour or so."
"How is Davy?" Elizabeth asked.
The postman had brought down from Glenmore to Rosland the news of Davy's accident.
"He won't be able to put his weight on his ankle for a while." Peggy sighed. "So we're a man down for the haymaking, though Hugh here has been pitching in as if he'd done it all his life!"
"I'm glad to help, and it gives Uncle Alec and Colin and me a chance to get to know each other. Uncle Alec sure has good stories of when he and Dad were boys."
Hugh grinned.
"I'm off to the field, Auntie Peggy. See y'all later."