A Year In France – Episode 09
---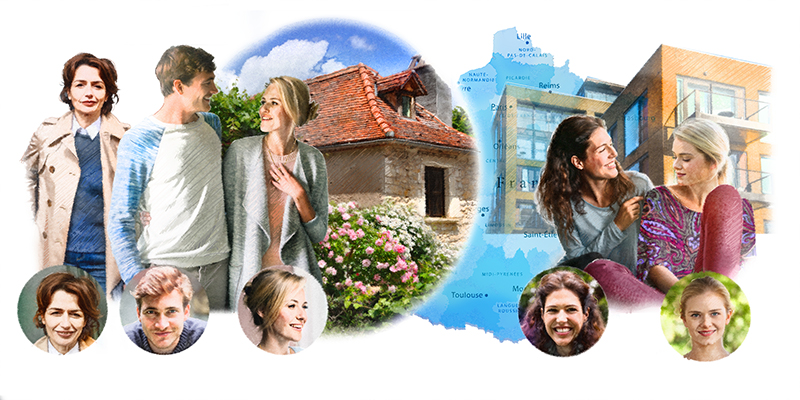 Illustration by Mandy Dixon.
Maddy straightened the throw she'd placed over the settee and attempted to relax as seven o'clock approached.
Telling Dannie she could see the flat wasn't saying she could move in before they'd even met, was it?
Lots of things needed to be discussed before that stage was reached – if it was reached at all.
Some house rules would have to be laid down: no smoking, respect each other's space, no leaving dishes in the sink, and a rota set up for housework.
Of course, none of this had been necessary when Julia had lived there, as they'd known each other for so long it was instinctive to know what the other would like and how they would react to things. But Dannie was a stranger.
By seven Maddy had convinced herself having a flatmate was the wrong thing to do, but it was too late to cancel now; Dannie would be here any minute.
She'd be polite. She'd go through the motions of discussing things then suggest they took time to think it over. In reality, though, Maddy knew she'd already made her decision.
Opening the door to Dannie a few seconds later, Maddy blinked. She hadn't expected this!
Standing in front of her with a hopeful smile was a very pretty young girl.
With her peasant skirt, velvet jacket and long blonde hair, she looked like an escapee from a Laurie Lee story.
Maddy could feel her earlier resolve weakening.
"Hi. I'm Dannie," a quiet voice told her.
"Come in. Let me help you with that," she said as Dannie struggled to slip a large rucksack off her back.
"This weighs a ton. How did you manage to carry it? There's nothing of you."
Dannie shrugged.
"I had no choice. I have nowhere to leave it and all my stuff is in it."
Maddy put the rucksack down by the door leading to the spare bedroom and turned back to Dannie.
"Coffee?"
Dannie nodded.
"Please." She sank down on the settee, tiredly pushing strands of hair away from her face. "It's lovely and warm in here."
"Did it take you long to find me?" Maddy asked.
"No. I wasn't far away," Dannie replied.
Waiting for the kettle to boil, Maddy opened a packet of biscuits and put them beside the mugs, then she poured the coffee.
She took it through to the sitting-room and placed it on the coffee table before offering Dannie a biscuit.