A Year In France – Episode 20
---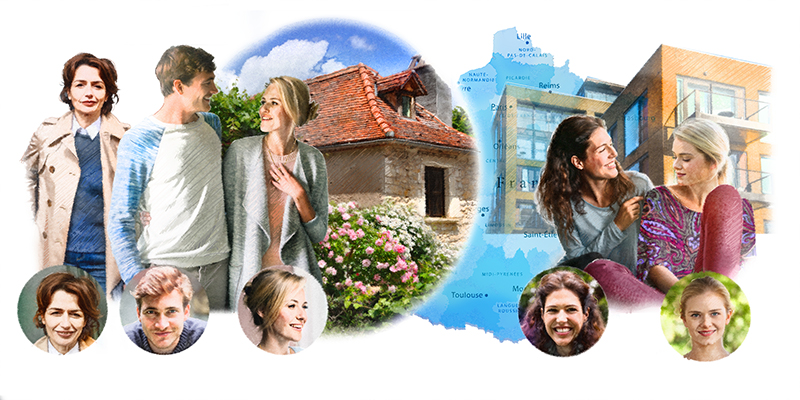 Illustration by Mandy Dixon.
Maddy kicked off her shoes and sank down on to the sofa. Thank goodness the London Book Fair was over for another year.
Always exciting but exhausting, this year had been no different. The presence of Leah, though, had had an unsettling effect on Maddy. She was still trying to work out why. And what, precisely, was Leah's agenda?
Kirsty had been happy with the way Leah had managed everything. She had congratulated her on the smooth running of things. There hadn't been any hiccups in any of her appointments over the three days like there had been for Maddy.
At first Maddy had put it down to Leah not being experienced enough, but the incident with her notes for the Importance Of Foreign Rights seminar that Kirsty had insisted she sat on the panel for, had made her question that.
She'd put the notes on the desk on the stand the morning of the discussion, ready to pick up later, only to find they'd vanished.
"Leah, have you moved my notes?" she'd asked crossly.
"Where were they?"
"I put them on here earlier and now they're not there."
"They're probably in the bin." Leah had shrugged indifferently. "I knocked a couple of coffees over on the desk earlier. Everything was sodden. Thank goodness I managed to move the laptop in time. I just threw everything else in there." She'd gestured at the wastepaper basket.
Maddy, knowing that screaming at Leah for being an idiot was pointless, had glared at her before pulling the coffee-stained papers out of the basket. They were illegible. Leah didn't even attempt to say sorry.
She couldn't have spilled the coffee deliberately, could she, trying to sabotage her discussion? Well, it hadn't worked if that had been her plan.
Maddy smiled as she remembered how well the seminar had gone. All the congratulations heaped on her, with people asking if she could handle their foreign rights for them.
Of course she'd had to tell them to contact the agency in the usual way if they wanted to become clients.
The flat door opened and Dannie appeared. This was a different, happier Dannie from the one who'd appeared only days ago.
Because of the hours they'd both been working, Maddy hadn't yet had an opportunity to ask Dannie how things were working out.
"You look shattered," Dannie said, joining Maddy on the settee.
Maddy nodded.
"I am. You? How are the jobs going?"
"I love the boutique. I wish I could have more hours there. The coffee shop is OK."
Maddie raised her eyebrows.
"Just OK?"
"Oh, it's fine really. One of the other girls is a bit difficult to get along with, but there's always one, isn't there?"
"Tell me about it," Maddy said. "I think we both deserve a treat tonight. Fancy a take-away?"