A Year In France – Episode 22
---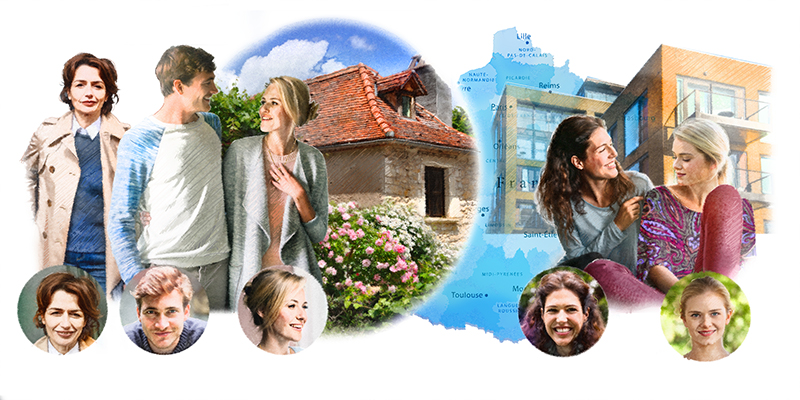 Illustration by Mandy Dixon.
Walking hand in hand with Philippe around Cannes marina admiring the boats, Julia felt ridiculously happy.
The last ten days had been so good and this weekend down on the Riviera had been magical. How could she ever have thought she'd made a mistake in marrying Philippe?
"Shall we buy a boat to live on rather than a house?" he suggested as they stopped in front of a yacht with a For Sale notice attached to its gangplank. "We could travel the world. Go wherever and whenever we felt like it."
Julia shook her head.
"I'm the world's worst sailor, I'm afraid. I prefer terra firma. Travelling does sound fun, though."
"Tomorrow we'll start house hunting seriously," Philippe said. "Do you like the thought of staying up in the country, or would you prefer to move down here?"
Julia didn't have to think twice.
"I love where we are. And you won't want to move too far from Christiane, will you? Although she does have lots of friends – and Thierry," she added, watching Phiippe's face darken as she mentioned Thierry's name.
"You should be pleased she has a friend like him," she added. "She must have been lonely since your dad died."
Philippe sighed.
"I know. But it just seems too convenient. Dad dies and Thierry moves back. Why didn't he return when his wife died a few years ago? Why the sudden need to find his roots again?"
"Maybe because he's getting older," Julia said gently. "Your mum likes him a lot. She wants everyone to be friends."
"Being friends is fine. It's what he might do next that worries me. Mama can be pretty naïve."
"Naïve or not, if it's a mistake for her to be friends with Thierry, it's her mistake to make, not yours. Personally I don't believe it is a mistake," Julia said. "If she were my mum, I'd be happy for her."
She fingered the pendant chain around her neck.
"For years I wanted my mum to meet someone; to have someone special in her life other than me."
Philippe squeezed her hand.
"OK. I promise to try. Now, I think we'd better start to make our way home before the autoroute gets clogged with afternoon traffic."
Two hours later, they approached the turn-off for the village.
"Are you coming to Mama's with me to collect Tess? Or do you want me to drop you at home first?" Philippe asked.
"Can you drop me at A Taste Of The Countryside, please? I need a couple of things for supper. I'll walk up afterwards."
"Sure. Invite Nicola and Gilles up for supper one night."
* * * *
Nicola was talking to a tall, fair-haired man while packing his purchases in a bag as Julia pushed the door open.
Not wanting to interrupt, she took a basket and began to place the few things she wanted in it.
Local apple juice, honey and a bottle of tomato sauce for the spaghetti bolognese she intended to make for supper later.
As she approached the counter to pay, the man was asking Nicola for directions to a village up in the higher mountains, and scribbling them down.
"I thought my French was pretty good," he said. "But nobody seems to understand me around here." He laughed. "My Aussie twang seems to confuse them."
"You need a satnav," Julia put in.
"Sure do. The hire car was supposed to have one."
"It'll be easier when you're back on the main roads," Nicola said. "Mind you, it's a long drive up to the Eurotunnel." She handed him back his credit card.
"Yeah, it would have been quicker to go direct to London, but I couldn't come to Europe and not check up on my old mate and his new French wife."
He picked up his box of stuff and moved towards the door. Julia opened it for him.
"Merci beaucoup," he said, smiling.
Julia closed the door behind him.
"Do you get many Australians up here?"
"A few. I hope he finds his friend's place before dark," Nicola said.
Julia placed her basket on the counter.
"Would you and Gilles like to come for supper one evening? Preferably soon, before Philippe gets too involved in his next book."
"That would be great. I'll check with Gilles which evening is best and let you know."