A Year In France – Episode 24
---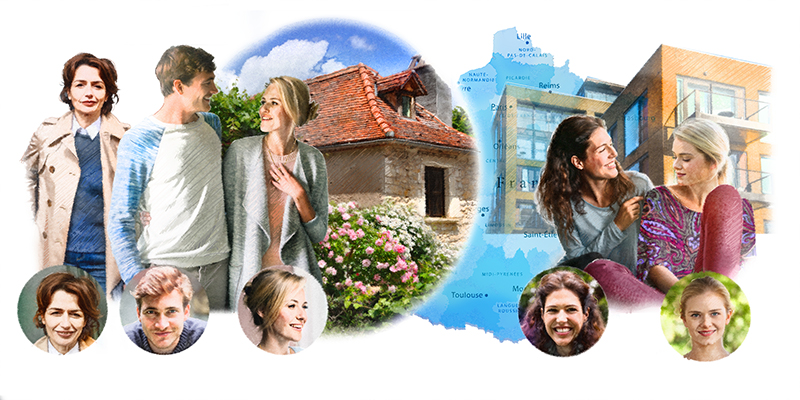 Illustration by Mandy Dixon.
Philippe placed half a dozen house brochures on the breakfast table.
"Voilà! Today we start. We have an appointment with Grumpy Villager at nine o'clock. We're looking at this one this morning." Philippe handed her a brochure.
"I like the look of this one," he said.
"Oh, so do I," Julia agreed, looking at the long house with its terracotta roof and bouganvillaea trailing along the front of the building.
She looked at the price.
"Can we afford it?"
Philippe nodded.
"Yes – with a large mortgage."
Fleetingly Julia thought of Geraldine's insurance money.
"I have some savings and my mum's money. We can put that towards it, too."
"Thank you, but no. I will buy our home. Your money is yours."
"But I want to contribute," Julia protested. "We're married. There's an English saying: what's mine is yours, and what's yours is mine. Couples share things. My money is ours."
"And we will share things," Philippe said. "But I provide a home for my wife."
Julia smiled at him.
"D'accord. I'm not going to argue about it today. Just remember the money is there if it's ever needed."
Half an hour later they were on their way to meet Herve the grumpy estate agent at the first house. To Julia's surprise, as she got out of the car, he was all smiles with Philippe, and even flashed her a smile as they shook hands.
The house was as beautiful as the brochure had shown.
Wandering from room to room, Julia could imagine herself living here with Philippe. It would be a lovely house for children to grow up in.
While Herve took a call on his mobile, they wandered hand in hand around the first floor, looking at the four large bedrooms and the en-suite bathrooms.
"Which room would you use as a study?" Julia asked.
"This one overlooking the woods," he replied instantly, before turning to her. "What do you think? Could you live here?"
"It's perfect. Do you like it?"
Philippe nodded.
"But we can't buy the very first house we look at, can we?" Julia said.
"Of course we can, but we'd better have a look at some others, too, just to make sure."
The next house Herve took them to Philippe vetoed before they'd even set foot inside.
"Sorry, Herve. I can't live that close to pylons."
Herve sighed and drove them on to the third and final house of the day, which was an old, partly renovated farmhouse.
Looking at the price, it was 50,000 euros cheaper than the house she'd fallen in love with and could, Julia knew, be just as beautiful.
But it would probably take more than the difference in price to complete the renovations.
She glanced at Philippe.
"It could be rather wonderful, but it would be like living in the middle of a building site for months. And expensive, too, employing someone."
Philippe nodded and turned to Herve.
"Could we have another visit to the first house this week? I think that's the one for us."