A Year In France – Episode 27
---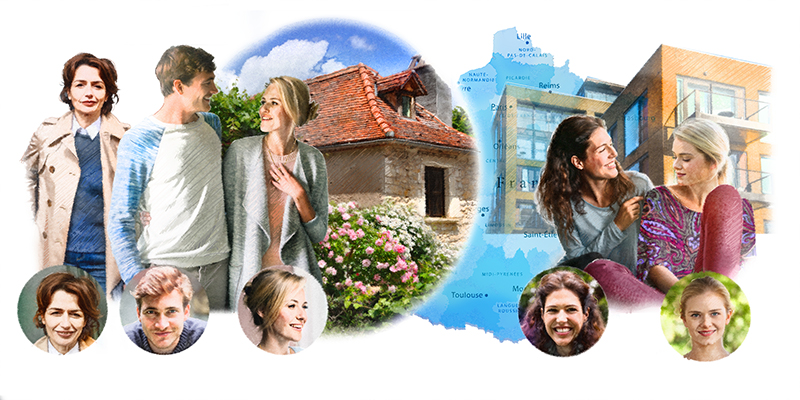 Illustration by Mandy Dixon.
"So, is this definitely the house for us?" Philippe asked, taking Julia's hand. "Shall we put in an offer?"
The two of them were standing in the sitting-room of the house they'd visited last week.
As the house was empty, Herve, the estate agent, had given them the keys to take their time looking around on their own and they'd explored everywhere. Even the old stone hut at the bottom of the garden had been inspected thoroughly.
"Can you see us living here?" Julia enthused. "I can. I love it. The views of the mountains from this room are wonderful." She hesitated, not sure whether Philippe would laugh at her. "The house has a nice feeling about it. A welcoming, happy feeling."
Philippe didn't laugh.
"I feel that, too. When we take the keys back we'll tell Herve our offer and hope it's accepted."
Back home, Philippe disappeared into his study with a coffee while Julia took hers out into the veranda and began to compile a to-do list.
Julia had always kept a back-up of a diary, addresses and contact numbers in her treasured Filofax.
Her mother had given her the leather-bound organiser for her twenty-first birthday and she'd used it every day of her working life since.
Packing up her things before marrying Philippe and moving to France, she remembered hesitating before putting the Filofax in a box which contained some of her mum's photos and other things. If she wasn't working she didn't need to carry it around.
All these months later the box remained unpacked with two others in the bottom of the old armoire in their bedroom.
Finishing her coffee, Julia went up to the bedroom and found the Filofax in amongst some personal paperwork she'd found when clearing out her mum's flat after she died.
There was an envelope full of papers: birth certificates, the faded marriage certificates of her grandparents, plus lots of official documents.
Other envelopes contained things she couldn't bear to throw out at the time – letters from grandparents, childish birthday cards, old school reports. Family mementoes she might one day pass on to her own children.
At the time she'd promised herself she'd go through it all and sort it when she was feeling stronger.
Julia sighed. She'd put it on hold again. Once they were in their new home she'd definitely do a final sorting of these few family heirlooms. But right now she just needed her Filofax.
As she lifted the organiser out, her mother's happy face looked up at her from a silver framed photo.
Julia lifted the frame up.
"If only you knew how much I miss you, Mum," she whispered.
She crossed the room and placed the frame on her bedside table. Perfect.
Carrying the Filofax, Julia made her way back down to the kitchen. It was time to prepare lunch. Afterwards she'd make a start on the to-do list then call Maddy to discuss things.
Julia had just placed the baguette, cheese and tomato and mozzarella salad on the table and was about to call Philippe, when her phone rang. It was Nicola.
"Hi. Tea tomorrow afternoon? I'd love to. See you then."
* * * *
Maddy stepped back and surveyed the new office area in her bedroom. An old wooden desk, a lucky find down at the weekly flea market, now stood in front of the window, a typist chair with a red seat cover pushed up close.
She'd cleaned and polished the desk's old leather inlay before placing her laptop on its cracked and worn surface.
A pretty table lamp was on the right-hand side, along with a jar of pens and pencils
A cork board for notes and reminders had replaced the picture at the side of the window. On the floor alongside the desk was her printer. She'd keep a lookout for a small table for that to go on, as well as some shelves.
Other than that, the office of the Maddy Matthews Literary Agency was ready for business.
She heard the flat door open and Dannie come in.
"I was just doing the final tweaks to my office," she said, smiling at Dannie.
"I've bought you a good luck present," Dannie said, and held out a small carrier bag.
"Oh, Dannie, you shouldn't have," Maddy said. "But thank you.
"I love him," she added, laughing as she took out a frog-shaped desk tidy.
"When do you start officially?" Dannie asked.
"I need to talk to Julia about getting the word out with a bit of a fanfare, but I'm thinking in about a week."