A Year In France – Episode 50
---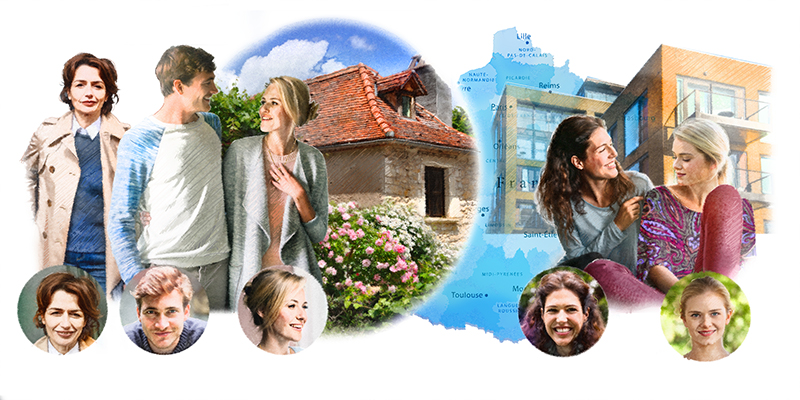 Illustration by Mandy Dixon.
Maddy, concentrating on reading a manuscript in her room, heard the flat door slam, followed quickly by a knock on her bedroom door.
"Maddy, are you there? Can I talk to you, please?" Dannie said.
"Sure, come on in."
"You'll never guess what's happened," Dannie said, bubbling with excitement. "I've been offered a full-time job at the boutique!"
"That's wonderful!" Maddy exclaimed. "I'm so pleased for you."
"It means I can start paying my way here and really begin to enjoy my life in London."
"When does the job start? And what about the coffee shop?" Maddy asked.
"The owner wants me to be fully involved and up to speed with all the new stock that will be coming in for the Christmas party season, so she's suggested the week after next, which means I can give Guy at the coffee shop a week's notice. I thought maybe tomorrow night we could go out on the town and celebrate?"
"Oh, Dannie, I'm sorry but I've . . ." Maddy stopped, realising she'd been about to say she had a date. "I'm already going out. One of my clients has been invited to some sort of party and has asked me to go with him. Moral support and all that.
"But there's nothing to stop us celebrating with a take-away and a glass of prosecco tonight, is there?" she added. "I'll order it right now. Chinese?"
An hour later, they tucked into their food.
"Does Jason know about your promotion?" Maddy asked.
Dannie sighed.
"I sent him a text but he hasn't replied yet. I'm hoping he'll finally accept that I meant what I said about staying down here and that the most we'll ever be is friends."
"Is he still pressing you to change your mind?"
"Yes. Every time we speak or text, which isn't that often since the night he turned up here."
Just then Dannie's phone gave a beep and she glanced at the caller ID.
"Speak of the devil! Do you mind if I read it?"
Maddy shook her head.
"Go ahead." She watched the expression on Dannie's face carefully as she read the message.
"Me going full time at the boutique is apparently the final straw," Dannie said, looking up from the screen. "He's not prepared to wait any longer for me to come to my senses. He's booked a single ticket home for next weekend and I'm not to expect a warm welcome from him when I eventually go home because my new life has fallen apart."
"Not a good-luck message, then?" Maddy observed with heavy sarcasm. "At least you can get on with your life now."
Dannie nodded and picked up her glass.
"To new beginnings."