A Year In France – Episode 48
---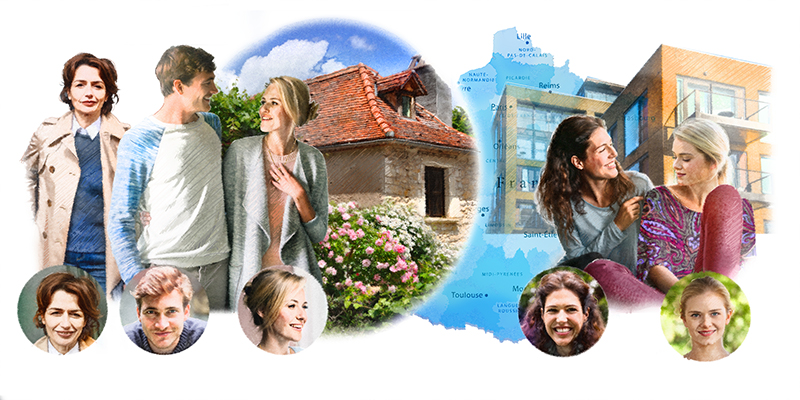 Illustration by Mandy Dixon.
Driving home, Julia thought about how her life had changed in less than a year and how happy she was now.
This time last year she hadn't even met Philippe, and look at her now: happily married, living in a foreign country, working in a business with Maddy and about to move into what she hoped would be her for ever home.
Turning off the main road on to the quiet lane that led to the cottage, Julia smiled to herself.
Life was good and far better than she could ever have imagined it being in the aftermath of her mum's death.
As she drew up by the cottage she caught her breath. Philippe was on the doorstep talking to a man. A red car was parked nearby. Instantly all her good feelings disappeared.
Slowly she picked up her things and got out of the car. Resisting the urge to slam the door, she walked across to the cottage.
"Julia, this is . . ." Philippe said.
"I can work out who he says he is," Julia snapped. "But he's a hoaxer who has turned into a stalker."
She stopped. Coming face to face with Travis Edgar was a surprise. She'd seen him before and had even spoken to him.
"You're the Australian who was in A Taste Of The Countryside a few weeks ago, asking for directions. Visiting friends, you said. On your way to London."
"To find you. Only you'd left to come here. What a pity we didn't talk more then," Travis said. "It would have saved me a lot of mileage."
"Stop," Julia said, holding up her hand. "I have no idea what you hope to gain with this stunt, but for the last time – before I report you to the gendarmes for harassment – you've got the wrong woman."
Travis regarded her silently and shook his head.
"No, I haven't."
"Goodbye, Mr Edgar. Have a safe trip back to Australia."
Julia turned her back on him and prepared to go indoors.
"Before I go, I need to tell you something. Your father was Thomas William Edgar?"
Julia, turning around to look at him, narrowed her eyes and waited.
"He was born in 1952 in a small village in Somerset," Travis said. "He died a year ago in Victoria."
"Yes, he was born in Somerset, but he died twenty-six years ago in London," Julia snapped. "Basic family research would have uncovered a death certificate to that effect."
Travis shook his head.
"There is no recorded death certificate for him, until last year in Australia." He took a deep breath and held her gaze before continuing in a quiet voice.
"As hard as you might find this to believe, the truth is that he didn't die when you think he did. He emigrated to Australia and started a new life."