A Year In France – Episode 47
---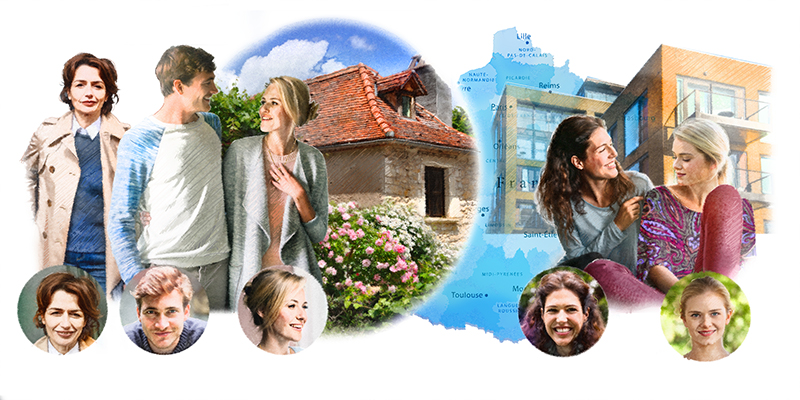 Illustration by Mandy Dixon.
Julia stared desperately at her to-do list. With less than a week to go until moving day, surely more things should have been ticked off by now?
She'd boxed up the books from the sitting-room ready for moving. Tick.
Anything else? Empty wardrobes – that could be this morning's job after she'd done the urgent e-mail Maddy wanted her to send to a publisher.
Pack the stuff from the airing cupboard. Make Philippe's birthday cake. Walk Tess. Take the last of the publicity down to Nicola. Pack up the stuff in the spare room, not forgetting the boxes in the bottom of the wardrobe.
Julia took a deep breath. She was so tired, and if she were honest the only thing she felt like doing was curling up with a book and dozing the day away.
Christiane was coming over at the weekend to help with things and Philippe had promised to stop work two days before the move and to take the following week off to help settle in, so perhaps she'd tackle the things he couldn't help her with, which was mainly Maddy and Nicola's work.
She had planned to make his birthday cake for tomorrow, for which she'd forgotten to buy the extra eggs she needed.
If she took the publicity down to Nicola, she could buy some eggs. Then she could come home and bake the cake. At least that would be two more things ticked off the list.
*  *  *  *
Nicola was busy dealing with a customer when she arrived at A Taste Of The Countryside, so Julia picked up the eggs she needed and some more butter and browsed the card stand while she waited.
"Hi. All ready for the big move?" Nicola said when she turned to serve Julia.
"I wish! There is so much to do. This is the last of your paperwork," Julia said, handing over an envelope. "I'm afraid I won't be able to do any more for a few weeks."
"Thanks for these. Any chance you'll have space for another client when you're settled in?"
Julia shook her head.
"Philippe has said I'm doing too much and wants me to cut back. Hopefully when we've moved and sorted everything out things will improve.
"To be honest, French days don't seem to be as long as they should be! Why do you ask, anyway?"
"Gilles was talking at breakfast this morning about asking you to do some publicity for the village Christmas fete."
"I have to help with that, don't I?" Julia said, knowing how important it was for her to be seen to be integrating into the local community.
"Give me a call once I've settled into the new house and I'll certainly try to sort something out."
She took the small carrier Nicola handed her with the eggs and butter.
"Thanks. I'd better head home and get baking."