May The Best Team Win – Episode 25
---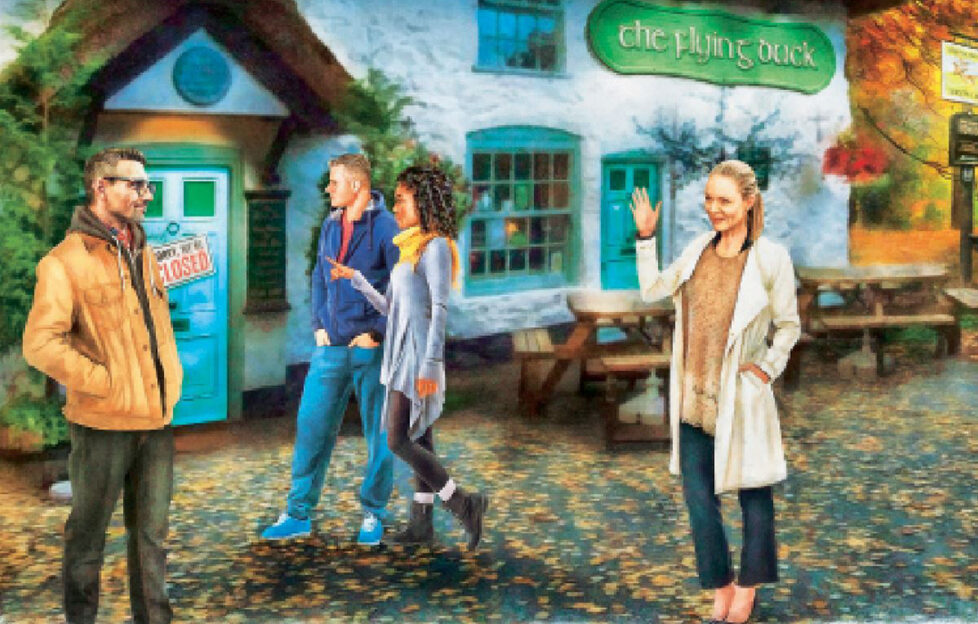 Illustration: Gerard Fay
Maeve felt excited as she entered the Four Hounds in the neighbouring village of Dainton. It was the semi-final of the Quiz Quartet.
Although it was a Saturday night, the Flying Duck would be almost empty, so she'd seized the opportunity to come and support her friends.
The Four Hounds was an attractive pub at the side of a village green.
It had beams and panelled walls covered in paintings of local beauty spots.
There was a fire roaring in a hearth by the bar and the owners, Lynn and Hector, had decorated the rooms with fairy lights.
Maeve saw Priscilla holding court at a table near the window and smiled. She got herself a beer and went to join them.
"Ah, Maeve! Good to see you. Come to watch more victories for the Flying Duck, I take it."
Maeve laughed. "I very much hope so. Who are you up against this evening?"
"We are taking on the Beer Necessities. They haven't done too well in previous years, but one should never underestimate the opposition."
Maeve smiled. Priscilla spoke of caution, but she seemed confident as ever.
"We have the Brewsual Suspects," Neil told her. "Another good team, but we shall do our best."
Priscilla shook her head.
"Show more fight, Neil. Of course you'll win."
Neil smiled, and Maeve noticed Rachel and Dawn exchange glances.
She had no idea what would happen, but she would cheer on her two teams loudly.
Maeve sat down and sipped her drink, while the others discussed tactics.
Ewan was quiet this evening. He was keeping to himself. Occasionally he glanced over at Rachel.
Maeve wondered whether Ewan regretted that things hadn't turned out better between them.
Underneath all the bluster, his heart was in the right place.
Rachel, on the other hand, looked happy and relaxed. She was sitting close to Neil and laughing at something he'd said.
As she watched the two of them together, Maeve had no doubt that Neil had strong feelings for Rachel.
She just wasn't sure whether Rachel returned them.
Rachel had known Neil a long time and nothing had happened before. And she'd only just broken up with Ewan.
"It's quiz time!"
They were startled by an announcement and turned to see Lynn holding the microphone.
"First up it's the Beer Necessities and the Master Minds."
Priscilla rose to her feet.
"Come along everyone," she said. "Let's show them how it's done."
"Good luck! Good luck!"
As it started, Maeve felt nervous. She thought the questions were very difficult, but then it was the semi-final.
They appeared relaxed enough, though, and Priscilla was happily filling in answers.
Following a general round, there was a history round and the regulars of the Flying Duck grinned – Priscilla and Ewan were excellent at history.
The rounds continued to go smoothly and Maeve and her friends smiled and nodded encouragingly.
But, then, disaster struck!
The final round was on current music. If the Master Minds had one weakness, it was the latest pop and rap.
Suddenly, the air was filled with tension.
The team returned to the table, faces downcast.
"That was tough," Neil said. "Can I get anyone a drink?"
Priscilla nodded.
"A glass of wine, please." She frowned and sat down.
"Fancy including such a ridiculous topic and in a semi-final.
"One hardly needs to know about all that gyrating and wailing to be well-informed in life."
Maeve hid a smile. Poor Priscilla.
Neil soon returned with a tray of drinks and, not long after, the results were announced.
"The Beer Necessities have forty-five points, but the Master Minds are the winners with forty-seven!"
There were sighs of relief and a round of applause.
"Well done, that's fantastic, you're into the final." Maeve was thrilled.
"I never doubted it," Priscilla remarked, as a satisfied smile spread across her face.
"Next up, it's the Smarty Pints and the Brewsual Suspects."
"Good luck, Rachel, good luck, Dawn. Go for it boys!" Maeve clapped loudly as her friends moved forward to take up their places.
Tension settled on the room once again.
It would mean so much to the Smarty Pints to make it to the final for the first time.
Neil had given them a pep talk, but his team looked very nervous.
The first set of general trivia was very difficult but, thankfully, they took it in their stride.
As the rounds progressed, they seemed to be doing well, but so did the opposition.
The final round arrived – music! Rachel and Dawn looked at each other, it was down to them.
When they returned to their seats, they were exhausted. Priscilla handed out a round of drinks.
"Well?" she asked. "What do you think?"
Rachel looked pale and Graham shrugged.
"I think I'm extremely proud of my team whatever happens," Neil replied.
"The final results!"
Dawn crossed her fingers and Graham's fists were clenched tightly.
"The Brewsusal Suspects have forty-three points but the Smarty Pints have forty-six!"
"You've done it," Maeve yelled. "You've done it! A Flying Duck head-to-head final. How wonderful!"
To be continued…