No. 4, Whitehall Gardens – Episode 22
---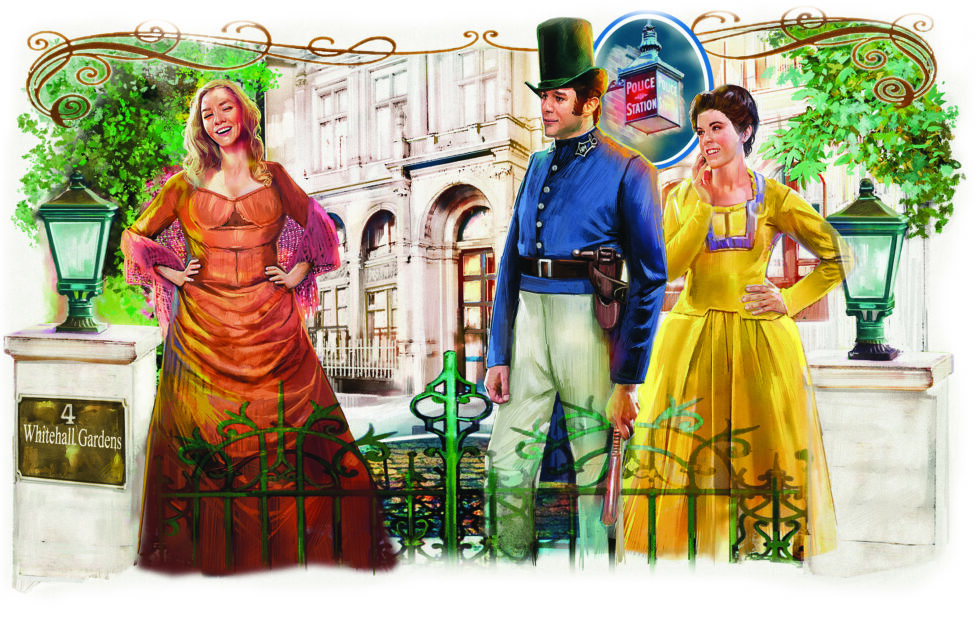 Illustration by Sailesh Thakrar.
Clementine told Dorcas that she would talk to her mother about where Dorcas might stay.
"There's your lying-in to think of," she said, and Dorcas stared back at her, obviously frightened.
An hour later Dorcas returned to her unsympathetic parents, and Clementine snatched her brief time off work.
That night in bed she struggled to drop off to sleep. Her mind kept wandering back to Dorcas, then William Grant. She kept thinking of what he'd said about his family, and that criminal of whom he was so dismissive.
The next morning, she was woken by Robert and Julia, jumping up and down on her counterpane.
"How did you get in here?" she asked, rubbing her eyes. "You oughtn't to be up here at all."
"Read to us, Clem," Robert said, sitting heavily on her feet.
"No," Julia chimed in, her nightdress billowing as she moved about. "Tell us a story from your head!"
"About fairies and goblins!" Robert yelled.
"Battles and bloodshed!" Julia exclaimed. "Mama says we must have stories!"
Clementine sat up.
"What time is it?" she asked, though she suspected she knew – far too early. It was still dark outside.
Julia looked hard at the clock on the mantel.
"Um . . ." she said.
Robert said nothing and kept his gaze averted from the clock.
He didn't like lessons, Clementine knew, and he particularly didn't like it when his tutor made him work on numbers. He'd told her before that the clock was his special enemy.
Clementine felt for him.
"Robert," she said. "Is it evening or afternoon now?"
He burst out laughing.
"It's morning, silly! I've just woken up!"
"Good. Well, we eat our breakfast at seven, so tell me – is it seven? Look at the smaller hand with the arrow at its tip."
"Not seven," he said. "Nearer to six."
Clementine smiled.
"Then you can tell the time, Mr Robert, and you know that I have been woken too early, and that we will all have to wait for our bread and butter! It is a quarter past six!"
Robert smiled with pride and threw his arms around her.
Clementine yawned and wished she could pull the covers back over her head. Yet it was nice to have this little boy hugging her, and little Julia waiting expectantly for a story.
"Well, I wonder what I can recall of the exploits of the Duke of Wellington?" she said, a finger to her lips.
"A battle!" Julia cried.