No. 4, Whitehall Gardens – Episode 24
---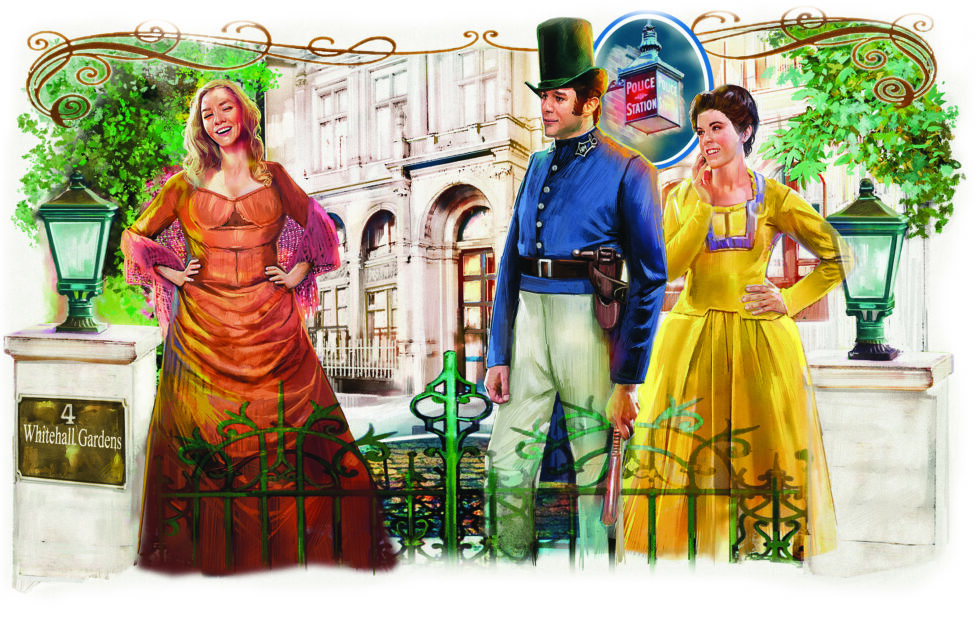 Illustration by Sailesh Thakrar.
"Griff!" Fred called out happily.
The children all looked thrilled to see their mother and clustered under the window. His baby carriage no longer in motion, John woke up and strained forward to see what was going on.
The baby raised his hands towards Griff and shouted, loud and clear, "Monkeys!"
Time slowed down as Griff clambered down and opened the passenger door. Mrs Peel stepped out.
"Clementine," she said. "Good afternoon."
Clementine dropped a curtsey, and wondered in that moment if the dreadful laundry still had an opening for her, and if it would take her back.
"You have been visiting the zoo, perhaps?" Mrs Peel asked.
Griff's hand flew to his mouth.
"The zoo!" he exclaimed. "Without an escort! Miss Clementine! Those terrible wild animals!"
"And the children have been among the terrible wild animals?" Mrs Peel asked.
"I'm relieved to see the little ones all safe and well," Griff said.
"I, too," Mrs Peel said. "And now we will all climb into the carriage and make our way back to Westminster."
Clementine hurried to load all five little day-trippers inside the carriage, while Griff strapped the baby carriage to the back.
She kept her head down and her mouth shut, and wondered whether Mrs Peel would discipline her now, or wait until they were home.
A lady rarely dismissed a servant in front of her children, so she would have to wait in suspense. Things looked bad for her.
As they settled into their packed seats, Mrs Peel looked into the picnic hamper and noted that her children had not even eaten luncheon!
The Peels would doubtless next engage a nursery maid who understood the proper care of children.
They drove off, rather slowly due to the unusually large load.
"I've been at an endless and tedious reception given by the wife of the Master of the Mint," Mrs Peel said.
Clementine saw that she looked tired and pale. This pregnancy was taking its toll.
"Where they make the coins?" Clementine asked.
"Yes, and I listened to a lecture on how coins are made. My baby kicked me all the way through – I think he was as bored as I."
Clementine smiled. She saw Fred's tousled head drop sideways against Robert's, and Julia's eyes flutter and close.
Mrs Peel lowered William's head so that he lay in her lap, and took John in her arms, too. Clementine observed what a fond and devoted mother she was.
"You seem nervous, Clementine," Mrs Peel said.