The Primrose Line – Episode 17
---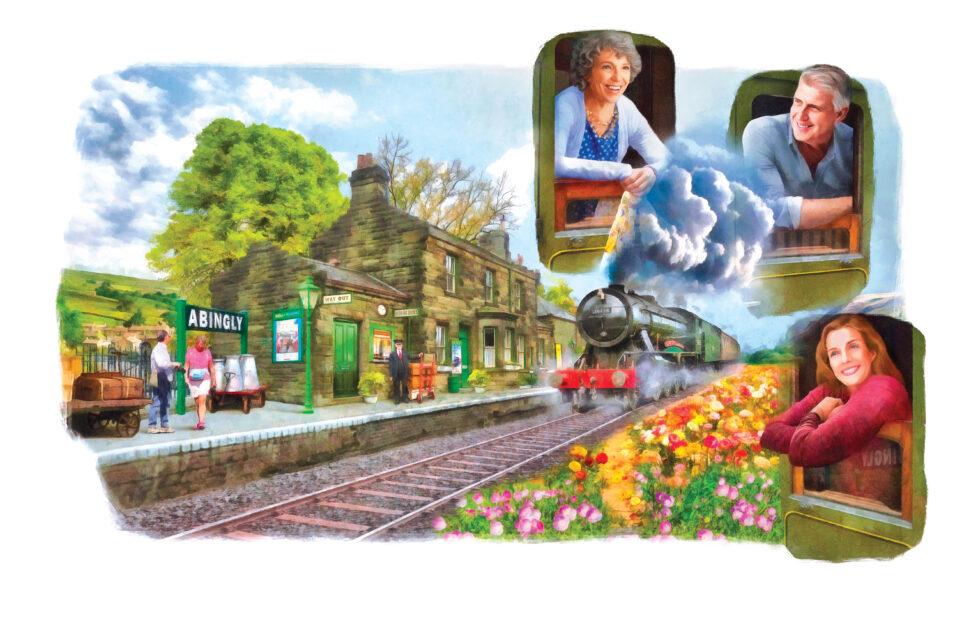 Illustration by Ged Fay
Later that evening Jim was on the telephone to his daughter. The conversation was not flowing as well as he might have hoped.
He was disappointed. He'd rather hoped that Laura's astute sense of business might appreciate what he proposed or, if she didn't agree, at least she'd berate him about his ambition to resurrect Bluebell Cottage.
But she seemed more distracted than when he'd left, as though she were hardly listening to him.
"I suppose Emile and Adrienne are still miffed at me having to come back so soon?"
"Perhaps. They already had Grandpa settled in the chalet. I've explained to them that you hadn't even decided that's what you wanted to do."
A wave of guilt coursed through him. Talking about looking a gift horse in the mouth!
"How long do you think it will take for you to fix it up?"
"Too soon to say. There may be hidden problems that I can't tackle myself. I don't want to make promises I can't keep."
"I suppose that getting the garden into shape might help a prospective buyer. I know how good nature is at taking over if you leave it – just look at the chalet. Who did you say is helping you?"
"Nicky Renson, an old schoolfriend I ran into."
It sounded innocent. It was. Why, then, did he feel a sense of relief when Laura didn't pursue her line of questioning?
"Maybe we could come and visit you. That might help the kids."
"I'd like that. You'll have to give me time to get things ship-shape."
"What about the Easter holidays? They're not far away."
"Sounds good. Isn't that a busy time for you?"
"The season's just starting but we could afford a few days. Perhaps the kids could stay longer.  Let's play it by ear. None of it may work out – you may find that the roof is about to fall in."
"I may."
"I've never been to your old home town. It'd be interesting."
"There's not much going on here. It's quiet."
"I suppose it's not a great distance from Swanley?"
"Where?"
"Martin and I could pop down and see Sean Barry. Kill two birds with one stone."
Jim clenched the receiver. This guy wasn't going away. Laura might well kill something, but it wouldn't be birds – it could well be her marriage!