The Primrose Line – Episode 18
---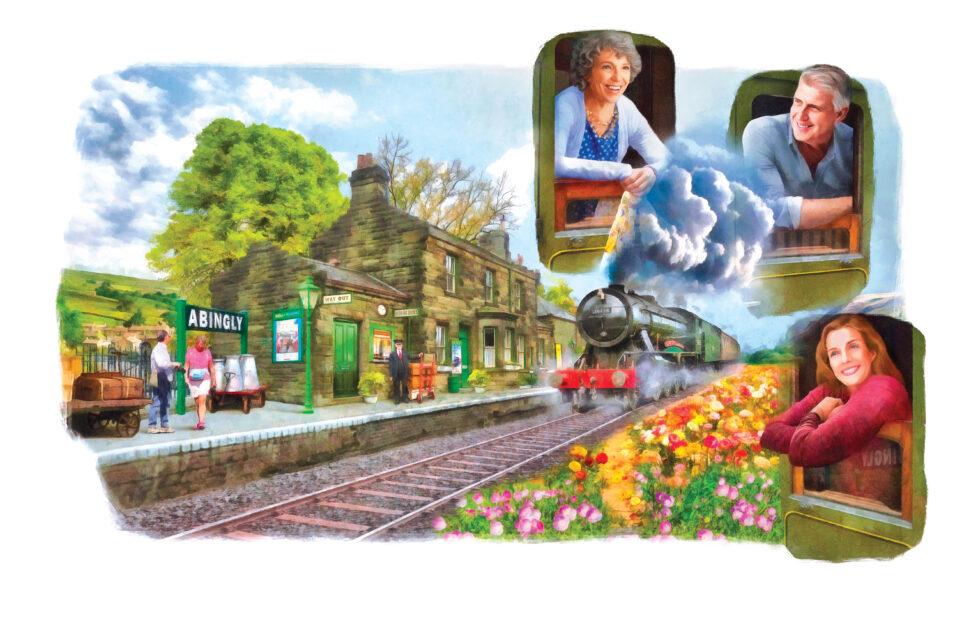 Illustration by Ged Fay
The February half-term week on the Primrose Line was a success, with the spring-like weather attracting hordes of customers. Nicola took the week off from her post office duties and was in demand selling tickets and cleaning carriages, and supervising small children who sometimes wanted to get a bit too close to the smoke and steam of the mighty locomotives.
As the last train that Sunday afternoon pulled away from Abingly station to head for the sidings, Billy Boswell took off his cap and looked across to Nicola.
"Pity that consortium couldn't have come today instead of next week, when it'll be more like a ghost town here. I suppose it suits their snooping better!"
Nicola could see his point. She'd enjoyed these busy days, which were a distraction from recent events. Jim had gone back to his home in Solihull to collect things he thought he might need to stay at Bluebell Cottage.
He was due back tomorrow and she'd arranged to meet him in the afternoon to talk about their plans.
Part of her was excited at the shared project facing them, the other wondered why she'd volunteered for it, when she faced bigger decisions in her own life.
"Come on, Billy, give them a break. It'll just be one or two accountants looking over figures."
"Makes them qualified to run a railway, does it?"
"No, but let's wait and hear what they say. It's change. Part of life."
"Talkin' of change, I hear old Miss Gurdon's cottage has a new owner?"
Nicola was surprised it had taken this long for the news to get round.
"Yes, Jim Connaught. Do you remember him?"
"Vaguely. His father was a builder. His mother went away for a while and when she came back they upped and moved away. Odd.
"I remember my mum and dad talkin' about it at the time, mainly when they thought I wasn't around."
Nicola felt impatient. Billy spent a lot of time in the Red Lion, the other hostelry apart from the George Hotel in town, where the locals gathered and swapped scandals, some real, most imaginary.
At the time she hadn't read anything into Mrs Connaught's absence from the village. If Jim had been a little quieter than usual, well, he'd never been noisy at the best of times.
"I remember Jim telling me his mother had gone on holiday with her sister, and he and his father were in charge of the house while she was away. What's mysterious about that?"
"Nothin' these days, but back then husbands and wives didn't take separate holidays," Billy said, adding darkly, "unless there was a reason!"