The Primrose Line – Episode 16
---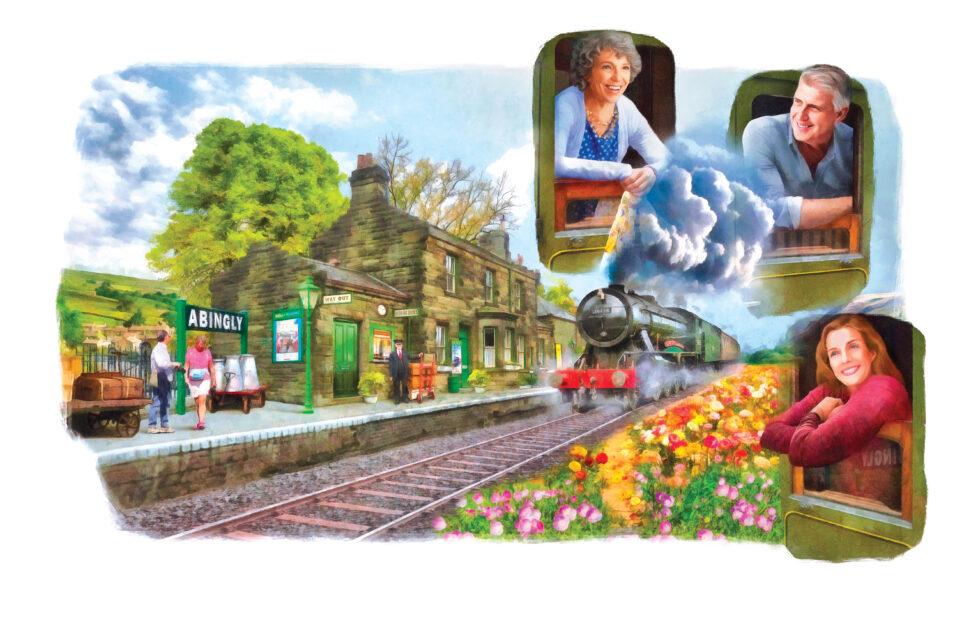 Illustration by Ged Fay
Nicola gave her verdict.
"I'm amazed! A lick of paint, for sure, but other than that the place seems in reasonable condition."
Jim nodded in agreement.
"I'm no architect, but it looks like she kept the place up. I don't think she was in the nursing home for long."
"It's sad, but it's what happens. This was her life, here."
Jim's emotions were already highly tuned. Being in the house his father had built, it was as though a part of him was present.
A sense of guardianship assailed him, as though he'd been entrusted to deal honourably with the building. Using it as an income boost as quickly as possible seemed like treachery.
"Dad was no cowboy builder. There's quality here. It doesn't make it any easier."
"Cold, damp, southern England or pristine, clean, organised Switzerland where the trains run on time? Yes, I can see your problem!"
"As I can see yours – a railway carriage with a precarious future or a beautiful bungalow next to your son and future family with Toronto on your doorstep. Difficult decision."
"Touché! Strange, isn't it?"
"What is?"
"We both have similar choices. Look, the sun's coming out; let's go and survey the garden."
The garden was a wilderness, plain and simple. Jim felt his heart sink.
"On the other hand, I see a lifetime of toil here, or a landscape gardener whose bill might make the bank blink."
"Not a gardener, eh?"
Jim shook his head. Nicola did likewise.
"I'm happy to see a similar response."
"Not the same. I'm just thinking of what I could do with this place, given a free hand. It was an early dream to have my own landscaping business.
"I even went to college, followed all the right tracks. Then I met Connor, David's father, and life changed direction.
"Still got the passion, though, even if I am restricted to Abingly station's window-boxes.
"If you want, I wouldn't mind giving you a hand to fix this place up. You could do the inside, I could do the outside. It could make a big difference to the selling price, if that's your plan."
For the second time that day Jim stared at her.
"Why would you do that?"
Nicola was quiet for a moment.
"I don't know why. Impulse, as a homage to our childhood, as a tribute to Miss Gurdon's memory?
"Whatever she was, she gave me some values in life that have never failed me and got me through some difficult times. I guess I'm not making much sense.
"Why would you spend time on something you don't want? Retirement is about leisure, not work, and even if you didn't get what the place is worth it's still all profit."
Jim didn't answer. Suddenly, it was nothing to do with money. There were powerful sentiments flowing around this quiet garden at the moment and Nicola was part of them. This was not a straightforward affair.
The Day of Memories had not turned out anything like he had imagined. It had suddenly developed a future, bewildering in its speed but exciting.
"I need to think this through. I'd need somewhere to live. The George is very pleasant but it doesn't agree with a policeman's pension."
"This house looks habitable to me, and summer will be coming on. Everything in your favour."
"You make it sound easy."
"You can make it as hard as you like."
"What about Toronto?"
"What about Nyon? It would give us both time to think." Nicola looked up.
"I know a pub near here where the terrace faces south and they serve trout caught from the river that runs past. We could have lunch and talk business?"