The Primrose Line – Episode 27
---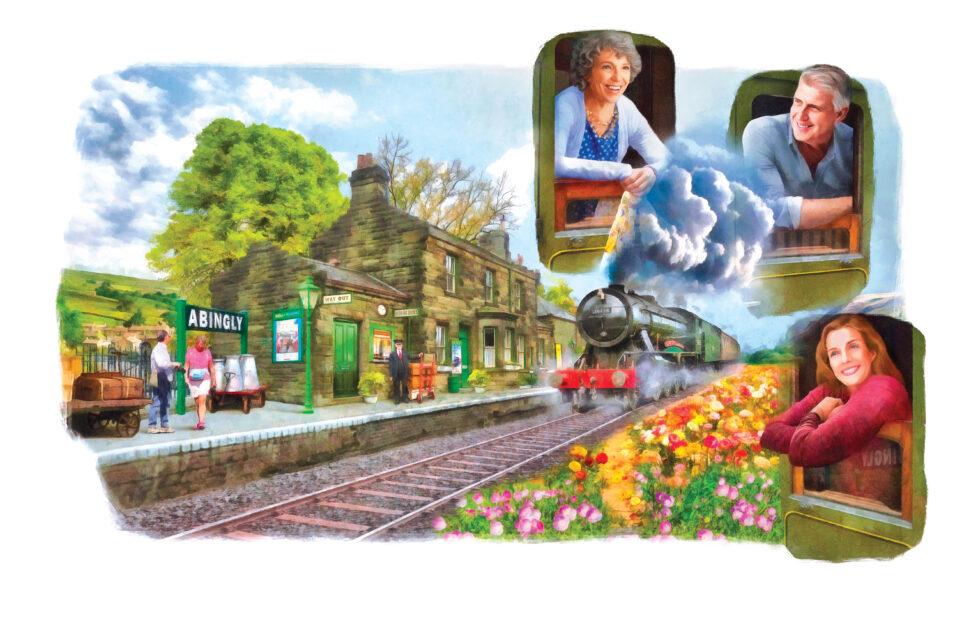 Illustration by Ged Fay
Nicola looked out of the kitchen window of Bluebell Cottage and sighed.
Jim looked up from the stove where he had placed lamb cutlets under the grill.
He took his glass of wine and went to stand by her.
"Penny for them?"
Nicola looked at him with those clear eyes that seemed to lead into her soul. Again, he was back in the playground at Corton Primary, looking into those eyes and seeing his destiny there.
She turned to refocus on the evening sky.
"I'm just thinking how full of promise this time of year is: blue sky, greener grass, those daffodils ignoring that bitter wind."
He knew what she meant. Helen had liked the spring, too, especially at twilight when the blackbirds set up a frantic chirping, as though telling the world it was very tiresome that night was falling when there was still so much to do.
"Thank you, Nicky."
"For what?"
"Helping me get this place shipshape for Laura's visit tomorrow."
"That was the easy part. Now we have to think about the garden. Nature won't wait for us."
"Spoken to David lately?"
"He phoned last night, updating me on his plans. Oh, and he's bought me a plane ticket."
The Sauvignon Blanc lost some of its savour for Jim.
"He doesn't mess about, does he? For when?"
"End of September. Like we said, we'll have our summer together. Should give us enough time."
Yes, it should. And then they could both move on.
"Besides, I have to meet his future wife before she becomes my daughter-in-law, don't you think?"
Practical Nicola. Her words jolted him out of wistfulness. He chuckled.
"I do."
"And you – what time does Laura's plane land?"
"I need to be at Heathrow for three o' clock."
"Have a good trip. You're not burning those cutlets, are you?"
"Oh, my Lord!"
*  *  *  *
The following day the traffic was bad, but Jim managed park the car while the family was still in the baggage hall. Although it was only weeks since he'd seen them it was strange to be hugging each other again. So much had happened so quickly.
"Shame about Martin. How's Marc?" he asked as they made their way through the airport.
"Grumpy. He's not used to being inactive. But he'll be OK. It's rotten timing. Martin was really looking forward to this break."
Jim caught Laura's anxious tone and told himself it was only natural. She and Martin did everything together. This was probably the first time the two of them had been separated during their married life, and had nothing to do with any imagined threat Sean Barry might pose.
Laura was a happily married woman, capable of handling an old flame without help from Jim.
As an ex-policeman, he was fond of seeking the dark side.
"Laura!"
The voice came from over by the lifts. A man was walking towards them. Sean Barry!