The Primrose Line – Episode 29
---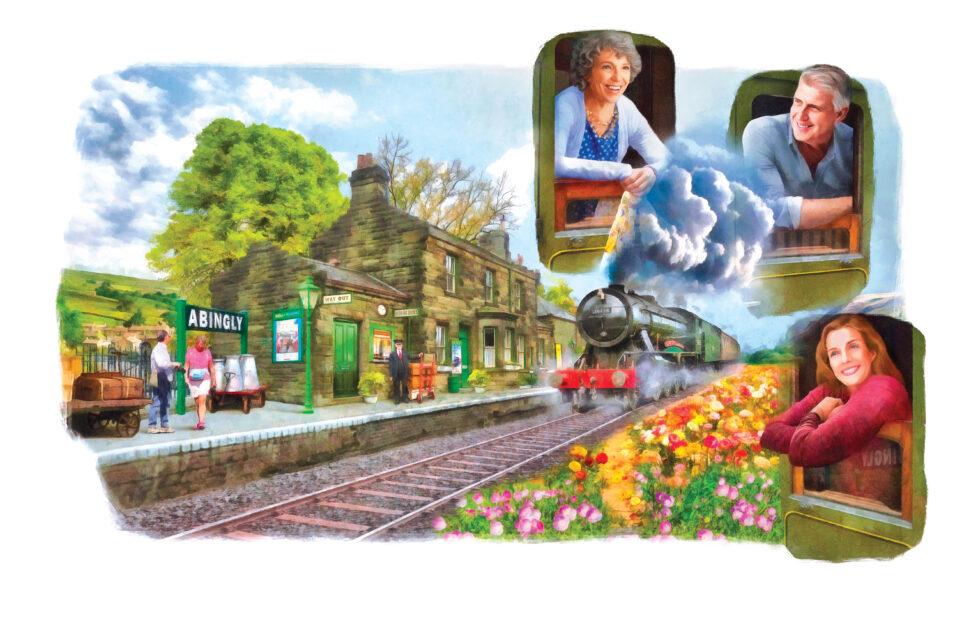 Illustration by Ged Fay
Nicola and Jim had no definite date to make a start on the garden at Bluebell Cottage, but both agreed they would begin in earnest after the Easter holidays.
It would give Jim time to spend with Laura and the children, while Nicola could devote her priorities to the Primrose Line.
Easter marked the beginning of the season for the railway, with special trains running.
The busy time worked out well for Nicola, taking her mind off the fact she would soon no longer have a job.
But then, all she had to do was take up David's offer. It was uncannily neat and coincidental; too much so, she thought.
The letter she held in her hand and had reread for the umpteenth time added to the volatility of the situation. It was from Charles Dodson, a local accountant who did the books for the railway.
Charles had been instrumental in keeping the Primrose Line solvent, from its inception by enthusiastic amateurs to the current semi-professional status it now enjoyed.
A major shareholder, he would have much influence in the events of the coming weeks, culminating in a crucial meeting and vote on any offer the consortium might make.
Billy Boswell held a copy of the same letter and was shaking his head.
"Doesn't look good, does it? It's pretty obvious that Charles is leaning towards the new boys."
"I think he's been frustrated with all these thefts we've been suffering from. There's no doubt it's having an effect on balancing the books.
"Nobody likes to buy things twice, especially accountants, and now that the thief is vandalising the place it's even worse."
Nicola was referring to two nights ago, when someone had entered the yard and sprayed graffiti over several coaches. The clean-up had been expensive and time-consuming.
"The thing I don't like is you being here all alone at night, Nicky. If it's hooligans, who knows how far they'll go? Maybe it's best to take the money and run, and let someone else deal with these problems."
Nicola was quiet. It wasn't hard to see Billy's point of view. The station was a lonely place at night, and to think that someone was lurking around intent on causing damage was not pleasant.
It had been nice to have David around. She had to admit she was missing him. The prospect of Canada and the security it offered was becoming more and more appealing.
Later, thinking it might be an idea to hear other viewpoints, she called in on local butcher Sam Herridge, another significant shareholder.
Sam stopped trimming some beef brisket.
"I know what you've come about, Nicky. You've had that letter, haven't you?"
She nodded.
"What are your thoughts on it, Sam?"
"Looks like Charles could vote the other way. I see it as a sign of the times. More and more these days it seems everyone is out to make a quick profit.
"I'm not blaming him. In our own way we're all guilty; that's why the small businesses are disappearing all the time."
"Can't blame people for wanting to save money, Sam."
He nodded as he placed the expertly prepared meat proudly on the counter.
"Well, whatever happens, I'll be voting against the takeover!"
"Despite all the thefts and now the vandalism?"
"Because of them. It's a nuisance, and you can't help wondering what goes on in the minds of these people. Petty theft and vandalism – another sign of the times.
"But I'm staying with the Primrose Line. Like you, a lot of my money has gone into it to get us where we are today, and I'm not about to cave in when the first hiccup comes along. That's not what this country's about; didn't used to be, anyway!" he added darkly.
"Let's hope there are more like us, Sam."
"You mean that you're like-minded?"
Nicola was slightly put off by his apparent surprise.
"Of course I'll be voting against it. What makes you think otherwise?"
"Wouldn't it make more sense to cash in while you can, what with you going to live with David in Canada?"
Nicola pursed her lips. This was Abingly, after all. Secrets didn't stand much of a chance.
What would happen when she started helping Jim with the garden?
"Nothing's settled, Sam. Nobody knows what's around any corner!"