The River Runs Deep – Episode 19
---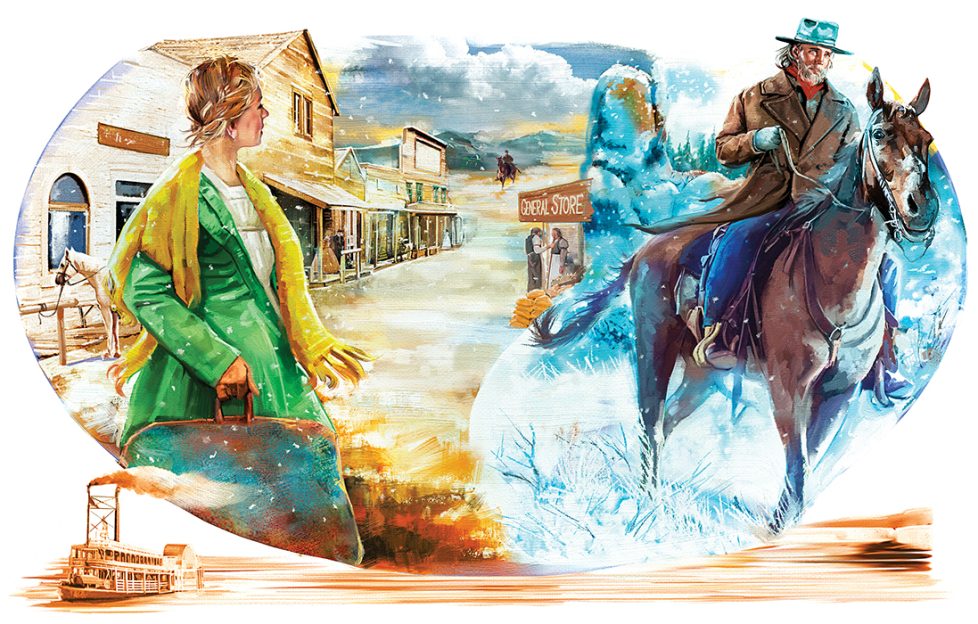 Illustration: Sailesh Thakrar
A few months after the Confederate surrender in 1865, Laura had finished school, but hadn't given much thought to finding a job.
The whole family had been knocked sideways one afternoon when Captain Leasowe's wife drove out to the Sinclairs' homestead and offered Laura a position at the Hawthorns.
Mrs Leasowe had assumed Laura would live in, like Myrtle and the other household servants who'd been her slaves before the war.
Shona wouldn't hear of her young daughter leaving home, so Mrs Leasowe made a concession, grumbling that it was hard to get trustworthy help these days.
Laura went about her duties and enjoyed working at the Hawthorns.
As the years went by, she earned great responsibility and spent most of her time helping Mrs Leasowe.
On her way to the kitchen to prepare her mistress's tray of morning coffee, Laura looked in at the housekeeper's room.
"Miss Myrtle, the snow's frozen overnight and it's real dangerous underfoot.
"Are there any errands I can do to save you going out?" she asked, aware the elderly woman was fearful of falling.
"Bless you, child!" Myrtle exclaimed.
She listed the items, and Laura noted them down with the pad and pencil she always carried.
Mrs Leasowe was fine to work for, but she came down like a ton of bricks if you made mistakes.
With a soft tap upon the door, Laura entered her mistress's sitting-room and set the tray down upon a fireside table.
"Will there be anything else in town while I'm returning your library book, ma'am?"
"Hand this in to 'The Clarion'."
Irene Leasowe was seated at her writing desk, scrutinising the programme of forthcoming events she'd organised for Leasowe Hall's new season.
"Tell Hal Carmichael to print it at the centre of page three," she added.
After delivering Leasowe Hall's notice to "The Clarion", Laura continued towards the store.
Passing Tyrell's Hotel, she paused as she always did and peered inside the lobby with hope of catching Paul Tyrell's eye.
He was checking in a middle-aged couple with lots of luggage, so with a disappointed sigh she slipped and slithered along the icy, rutted walkway.
"Wait up!"
Spinning round, Laura saw Paul flying from the hotel.
He skidded to a halt beside her and, after a quick glance to check nobody was looking, leaned down and kissed her.
"The Ridgeway boys are getting up a skating party tonight at Beaver Lake.
"The whole crowd will be there," he said. "I'll pick you up about eight.
"You like skating, don't you?"
"Of course!" Laura laughed. "Can I ask Bea and Gideon to come along? Bea's a fine skater."
Paul groaned.
"Your sister would be all right, but not Doc Joffey – he's a colossal miserywart!"
"He is not!" Laura retorted loyally.
Sure, Bea's fiancé was pretty serious, but that was just Gideon's way.
"There'll be no fun with him tagging along," Paul argued curtly. "Joffey's too old, anyhow. He must be nearly thirty, at least.
"I'll get back to the hotel." With a quick kiss, he turned from her. "See you tonight."
Most evenings after she left the Hawthorns, Laura met up with Bea when she finished work and they went home together.
It gave them a chance to talk about their days and made the long walk to Pipers Creek go quicker, especially on cold January nights like this one.
Despite everything Paul had said, Laura asked Bea if she and Gideon would come along to the skating party at Beaver Lake.
To her dismay, Bea shook her head.
"Thanks, Laura, but that sort of thing is for young folks.
"Gid and I are looking through the catalogue Miss Adelaide's lent us to choose a pattern for my wedding dress."
"Isn't it bad luck for the groom to see the wedding dress before the big day?" Laura asked.
"Oh, we don't hold with such nonsense!" Bea laughed.
"Anyhow, I want a dress Gid likes, because I'll be wearing it often after our wedding."
"I suppose," Laura conceded as they trudged through snow that had drifted up along the bank of the silent, frozen creek.
At long last, lights from the Sinclairs' homestead glimmered into sight.
"It'll be strange after the wedding, you not living here any more."
"I'll miss Pipers Creek," Bea confided. "But Gid is Deep River's doctor. He wants to live close to town.
"It'll soon be your turn to make plans," Bea went on, smiling fondly at her sister. "When Paul asks you to marry him."
To be continued…