The Wooden Heart – Episode 21
---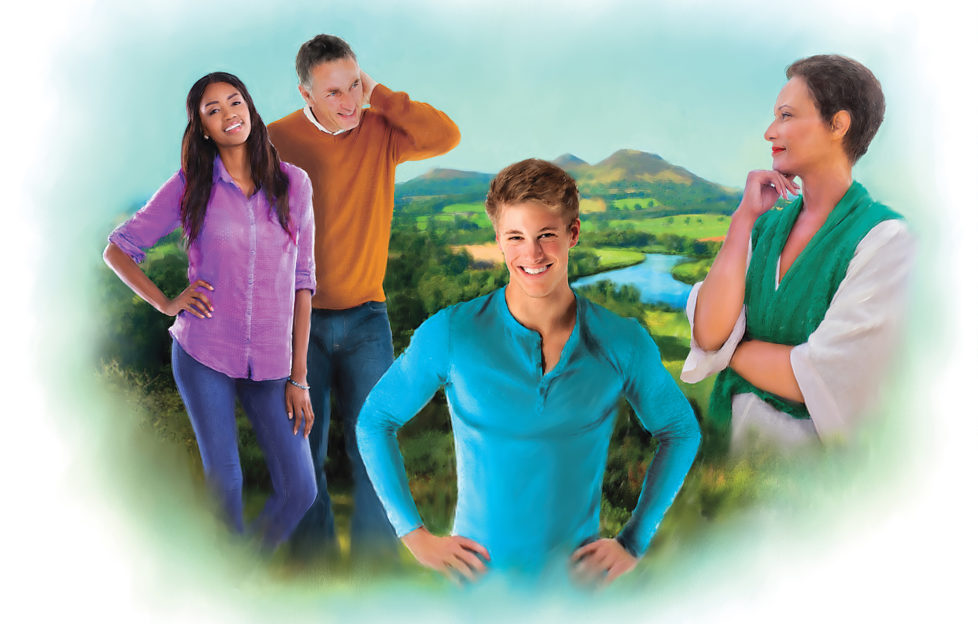 Illustration by Helen Welsh.
Ash stared at Calum.
"Why me?" she asked.
"Why not?" he replied. "You're a natural. All you need is a break, and these exhibitions will have all sorts of guys from the fashion trade snooping around, trying to suss out new talent or steal designs."
"I couldn't." Ash sighed. "I'm not ready yet."
"That's just it. You'll never feel ready. But I have seen dozens of wannabe designers at work in here, and your blend of Indian and Borders traditions is more creative than anything they ever managed to produce."
Ash blushed.
"Let me think about it," she said.
"It's too late," Calum said. "I've already arranged to bring you and your portfolio over tonight."
"But we were supposed to be doing driving practice," she protested.
"OK, so you can drive there, show him your designs, then drive back."
Ash stared at him.
"And if I say no?" she asked.
He shrugged.
"Then you buy the next round of coffee on your own."
"I've bought most of the last rounds," she argued.
"Temporary cashflow problems. You'll get your money."
Ash shook her head.
"You are going to have to hurry up to be a millionaire if it's to happen in my lifetime," she told him.
"I'm working on it," he said, his eyes sparkling.
"Working, maybe, but will you ever make your millions out of recycling old wood into bowls and forks and spoons?" she asked.
Calum's smile faded.
"It's unlikely," he said. "They sell at craft shows, and I make a living, but only because I'm still staying at home."
"So you're a fine one to lecture me," Ash pointed out. "You can do better, too."
He shrugged.
"Yeah, I could be a joiner, working with some builders. But I want to give the craft side a proper chance. I was trained as a cabinetmaker, not just a joiner.
"In the building trade I would be fitting pre-cut joints together, then locking them into place with a staple gun. Where's the creativity in that?"
Ash stared at him, knowing that inside his carefree, bumbling exterior, there was a craftsman, pure and simple.
"Let's strike a deal," she finally said.
"How much is it going to cost me?" he asked.
"Nothing. I will see this guy of yours tonight, provided you go back to my dad and ask him to let you use my grandfather's tools and some of the wood in the shed.
"Make a couple of cabinets like the ones in the house, or a table and chairs, then take these to a craft fair and see how they sell."
His eyes were suddenly very serious.
"Do you think he'd let me?" he asked.
"Do you think the guy we're seeing tonight will be interested in my work?"
"Given the gear, I could make something really decent," Calum muttered.
Checking his hand for sawdust, he held it out.
"OK, it's a deal."
The warmth of his hand lingered on in her own, long after he took it away.