The Wooden Heart – Episode 42
---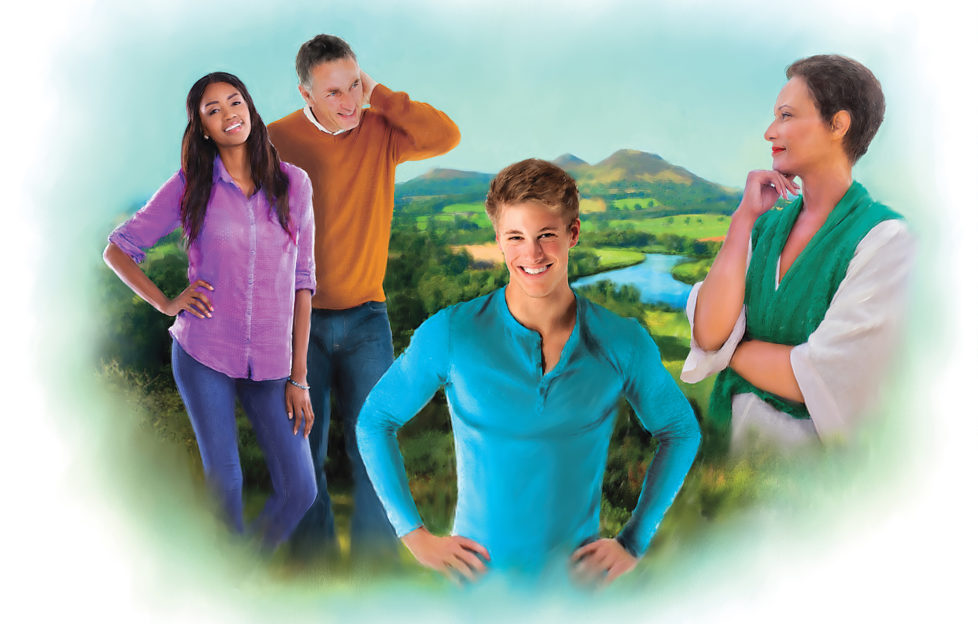 Illustration by Helen Welsh.
It had gone much better than she expected. Gabrielle found Ailish's mother keen on anything that would help her bright daughter to shine.
Sensible, too, in her questions about how schooling and tuition could be twinned without one damaging the other.
Leaving Galashiels, Gabrielle took the road to Hawick. She hadn't seen Stephen for over a week and wanted to share her good news.
Turning in alongside the cottage, she swung into the yard and saw Stephen's car had gone. The other car was there, meaning Ash was probably at home.
Disappointed, she was thinking about backing out and driving away, when the matter was settled by the kitchen door opening.
Ash appeared, and Gabrielle's first thought was that the girl had been crying.
"Hi," she said awkwardly. "I came to see your dad."
"He's out," Ash replied in a flat voice. "But come in."
Ash ushered her into the comfortable front room.
"A cup of tea or coffee?" she asked, her mind obviously on something else, and she was only going through the motions of being courteous.
"Tea," Gabrielle said.
When Ash returned with the tray, Gabrielle saw she was biting her lip.
"What's wrong?" she asked.
Shaking her head, Ash sat down.
"Shall I pour?" Gabrielle asked, watching the girl's downcast face. "Something's troubling you. Can I help? Like you helped me."
The dark eyes came slowly up.
"She passed her exam," Gabrielle said. "With distinction. I feel so proud of her."
"I'm glad." Ash smiled. "Calum says she's brilliant at everything she touches."
"The outstanding talents in music are often outstanding in everything," Gabrielle said. "While the rest of us limp on, making the best of what we have."
She glanced over at Ash.
"Your dad is full of praise for you, and with good reason. I've seen your work and it's full of talent."
"I wish it wasn't."
"Why?" Gabrielle asked.
The story spilled out.
"Now I'm so confused, I don't even know what I want to do," Ash finished. "I don't want to hurt anyone. Was it the same for you when you launched your career?"
Gabrielle nodded.
"Pretty much," she said. "My dad was poorly and my mum run ragged. I knew I should be staying, looking after them, as they had looked after me.
"My decision came when I was awarded a scholarship at music college in Italy. If I turned it down, it would go to someone else."
"So you took it?" Ash asked.
"Yes. My dad snatched my letter of refusal from my hands, then ordered me to follow the path which he and my mother had scrimped and saved to make possible. So I went, and he lived to see me play in my first orchestra – the Royal Liverpool Philharmonic. He was so proud."
Ash nodded. Choice and pain seemed inescapable in life for everyone.
Her thoughts turned to Calum.
"If I go south," she said quietly, "someone I love will be left behind. London can only drive a wedge between us, changing both our lives from where we want them to go." She swallowed. "Did you have someone who meant everything? Did your career take you away from them, too?"
Gabrielle winced.
"I have lived out of a suitcase for much of my life, and that makes lasting relationships impossible," she said. "There has been nobody that important in my life, until I met your dad."
"I know what you mean." Ash nodded. "Life in London would be frantic. There's so much competition."
She looked up.
"My mum came here to study to be a surgeon," she said quietly. "Then met my dad and made her choice. These last few days I've often wondered what her life would have been like if she had gone on from medical school to fulfil her dream."
She grimaced.
"I'm glad she stayed, and not just for Dad. If she had gone on to be a surgeon, then I wouldn't be here."
"Maybe that was her dream," Gabrielle said. "She was a bright, intelligent woman and must have thought it through.
"Her choice was to stay and have a family, then find her purpose and happiness in that family life. From what your dad has said, they were very happy together, and that's all that matters."
"It destroyed him, losing her," Ash said. "He has only just started to recover and move on, and that's down to you."
She sighed.
"I'm no closer to making a decision. What should I do, Gabrielle? Pursue your path or hers?"
"Only you can choose," Gabrielle said. "But don't just think of others, think of yourself. You have a God-given talent. Think hard before you waste it."