The Wooden Heart – Episode 44
---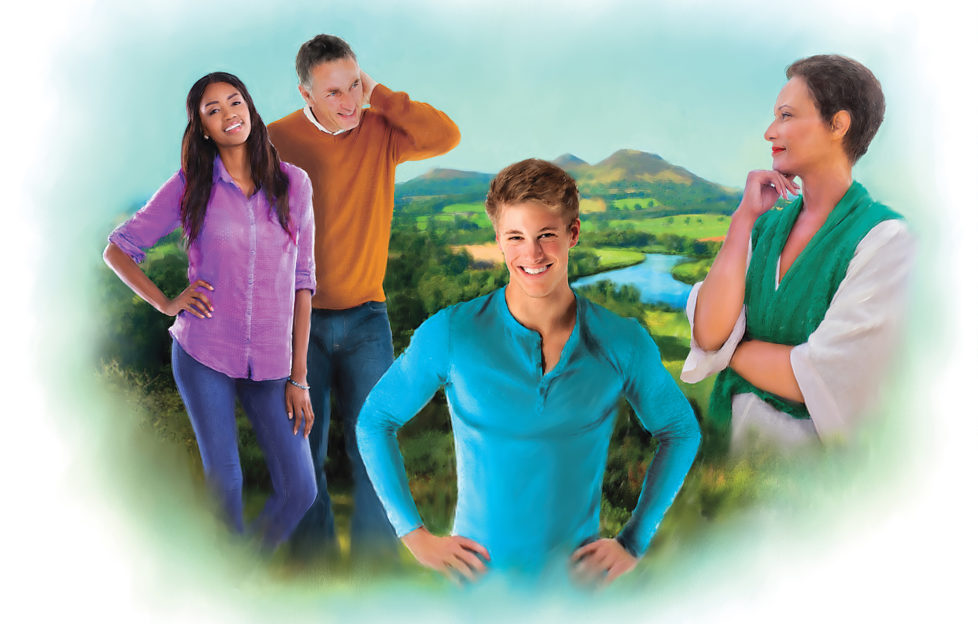 Illustration by Helen Welsh.
"What would you say if I told you that I've found another Tobin violin? It's up for auction today in Bonhams and we're going there to bid for it."
Gabrielle stared at him.
"Have you any idea how much they cost?"
He smiled.
"Yes. The guide price is £8,000 to £10,000. I got £9,500 for my old Austin from a collector. That should cover all or most of the price."
Gabrielle gripped his hands.
"Stephen, it's such a wonderful gesture, but I can't possibly take such a gift, even from someone who is so dear to me. You should never have sold your car – you've worked for months restoring it."
"I paid £300 for the car to an old farmer, and enjoyed every minute of working on it," he told her. "It owes me nothing. The price I got is a windfall, which lets me do something I've always wanted to do, which is give you back the violin destroyed in the accident. Restore something which was so important to you."
Gabrielle shook her head.
"That's so generous, Stephen, but it has three fatal flaws. Firstly, we have no idea of the condition of the instrument or how it sounds, because each Tobin has a unique voice. The last decent Tobin I heard was being sold made over £25,000.
"If this is a nice instrument, bidding will go through the roof, and if it struggles to fetch the guide price, there will be a reason why the bidding is so weak."
He looked at her uncertainly and Gabrielle knew he realised that his impulse could be an expensive mistake and not the glittering gift he wanted.
She reached up on tiptoe and kissed him.
"Secondly," she said softly. "There's a huge amount of snobbery surrounding classic violins. For a soloist, you must have an instrument with a big sonorous tone, to be heard above the orchestra.
"Early French and Italian violins provide exactly that, but for an ordinary orchestral player, there is no need to lease or pay hundreds of thousands of pounds, because you don't need that volume or quality of tone. You can get a perfectly sweet-toned instrument for a tenth of the price."
His eyes remained fixed on her, in that level stare she knew so well.
She squeezed his hands again.
"What I was planning," she said, "was to buy myself a new hand-made violin. But finding a new violin isn't like taking something down from a supermarket shelf. It is like looking for a friend, a soulmate, where each is the missing part of the other."
She kissed him again.
"It was my hope," she said, "to go with you and visit really good modern instrument makers, and look at their violins to see if any cry out to me.
"We should find a good modern violin for anything between £5,000 and £7,000. And its tone, if we choose rightly, will do anything I want it to do."
"Find it, and it's yours," he said quietly.
"Save your money for Ash," she replied. "She'll need it, whatever she chooses to do."
He smiled.
"I've plenty money set aside for that," he said. "This is my gift to you. I want to show you how much you mean to me."
"And you have," she assured him. "Even before you sold your car. Let's compromise. If you pay part of the cost of the violin I choose, the money I save will let me do something else with it."
"Which is?"
Gabrielle snuggled into him, oblivious to the smiles of passing motorists.
"Ailish," she said. "She has so little, and so much talent still untapped. I would love to buy her a good modern violin.
"She gets such a sweet tone from the battered old instrument she has, but needs something better to take her through her music studies. I'd like to give her the same start that I had myself."
He lifted her face and kissed her gently.
"You said three things," he reminded her. "What's the third?"
She wrapped her arms around him.
"It's quite simple," she said. "I shall never again be part of a professional orchestra. But that doesn't matter. The music I play will be for myself . . . for us."
She smiled at him.
"I no longer want to be a professional musician," she said quietly. "I no longer need that to give myself a life. I have you."