Together We Stand – Episode 14
---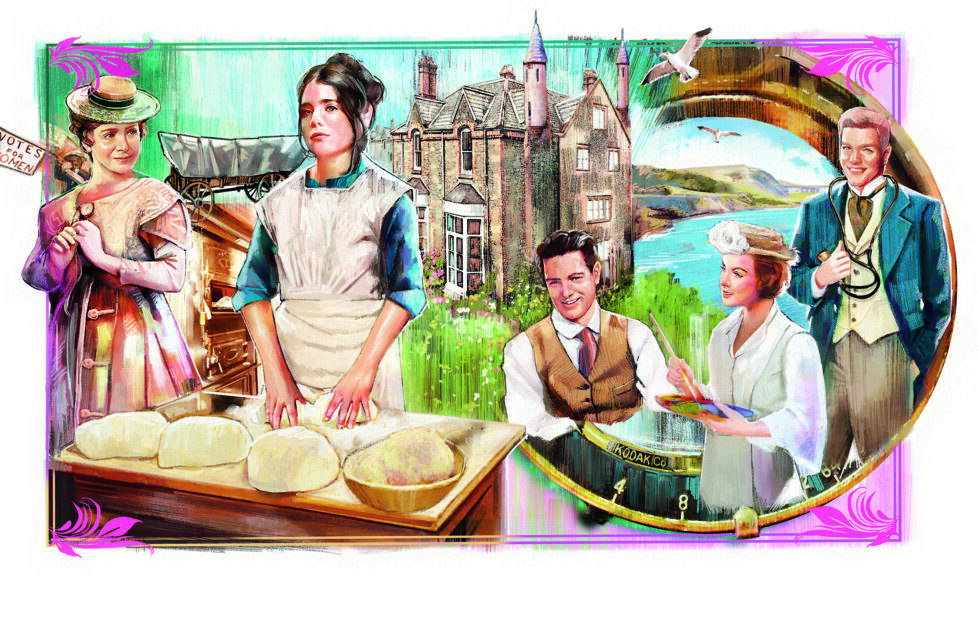 Illustration by Sailesh Thakrar.
"Are you sure it was the picture wagon they were interested in?" Tanni demanded anxiously a few days later as she helped Madeleine lift a large canvas on to the floor of the studio, ready to be turned into their first backdrop.
"That's what Henry said," Madeleine replied, adjusting the canvas with a frown. "When I could finally worm it out of him."
When she looked up there were tears in her eyes.
"Oh, Tanni, Henry was lucky the knife caught his arm, rather than his chest. He could have been killed."
"But he wasn't," Tanni said, giving her hand a reassuring squeeze.
"Yes, and I should be grateful. He's so stubborn, and he won't make a fuss. I wish he'd talk to the police."
She came to a halt as Evan appeared, followed by Edith, bringing boxes of paints and brushes.
"Wonderful," she said, brightening. "Thank you, Doctor Humphries."
"Not at all," he replied cheerfully. "Mama has found a room I can use as a consulting room, and a volunteer nurse to help me. You're helping me escape from being thoroughly organised over there."
"Don't you have a consulting room of your own?" Madeleine replied.
She might not have been in Llandudno long, but everyone knew the doctor's house in the streets behind the curve of hotels.
"This is going to be especially for women," Edith said, placing the second box of paints next to the first. She glanced at Evan. "Doctor Humphries is volunteering to have a surgery once a week where women can be treated without payment. And without their husbands needing to know."
"That's very generous of you," Madeleine said.
Evan coloured, shuffling his feet in embarrassment.
"Thank you for saying so, Miss Gillingham, but I'm not sure I'd have heard the last of it from my mother if I hadn't volunteered."
Madeleine smiled.
"I don't believe a word of it," she said.
"It's wonderful." Edith sighed, clearly in the throes of hero worship. "Mama says it will make such a difference to the women, and not just the poor ones."
"They may not thank me in the long run," Evan replied, his face serious. "Especially as Mama is determined to persuade the trustees to fund the employment of a female doctor."
"Why would anyone object to that?" Tanni asked. "My mam is always saying she'd much prefer to see a woman doctor. I'm sure other women feel the same."
Evan turned scarlet.
"You know how people talk," he mumbled.
"You mean, they'd say a woman doctor was giving advice to women on how to escape a husband who beats them," Madeleine said. "Don't look shocked, Doctor Humphries. I've worked as a volunteer in the worst slums of New York. What I saw broke my heart, and it was always the women who bore the heaviest burden of grief and illness."
"I agree." His eyes rested on hers. "I worked in the London slums while I was training. My plan had been to ensure I became a famous consultant and leave the eccentricities of my family's social campaigning far behind. But what I found, I could not possibly ignore."
He frowned.
"I'll fight to bring a female doctor and for her right to do the best for her patients. I'm just not sure that others will see things in the same light." He glanced slightly apologetically at Tanni.
"It could be seen as scandalous and shocking, and lead to opposition to the existence of the tearooms themselves."
"Oh." Tanni blinked. She understood what he meant.
She glanced at the empty canvas, a sliver of fear in her spine. The studio might be doomed before it began.
"Let's hope it doesn't come to that," Madeleine said. "Besides, if the studio and the tearooms become popular, that's more people to stop it all from being closed down."
She pulled out a pencil sketch of the round tower of a castle, with mountains rising up steeply behind.
"And all the more reason for making these backdrops irresistible to anyone wishing to have their portrait taken."