Together We Stand – Episode 11
---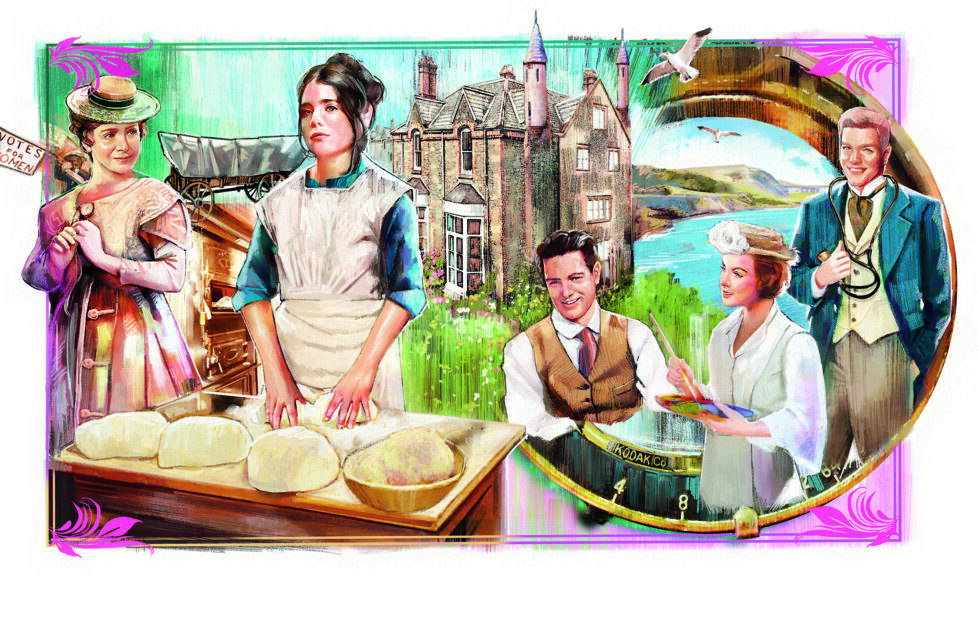 Illustration by Sailesh Thakrar.
"Someone meant business," Evan Humphries remarked later that morning as he inspected the ragged gash on Henry's arm.
"Most likely it was panic," Henry replied, grimacing as the doctor began to clean the wound. "I surprised him, and whoever it was didn't stay to finish the job."
Evan was concentrating on his work.
"You should have come down here last night."
"It was late," Henry replied.
"My surgery is never shut."
"Thank you, Doctor, but it was not a matter of life and death, and I had no wish to leave the house unattended in case my visitor was tempted to try his luck again."
"Funny that it should be the picture wagon." Evan reached for the bandages. "There were plenty of rumours about your uncle, you know. There was talk of him having worked as a spy for the government, and the journalism being a cover."
Henry laughed.
"That must have been one of Uncle Samuel's stories – a man less like a spy I've never met. Besides, what on earth could still be of interest to anyone after all these years?"
"I expect you're right." Evan finished bandaging. "You're lucky. The wound looks clean and not too deep. You should be right as rain in a few weeks."
He grinned.
"Which might be as well, since I'm sure my mother will press you into assisting in her plans before long."
"I'll remain warned," Henry replied, returning his smile. He replaced his jacket slightly awkwardly. "I take it the tearooms will be going ahead?"
"Of course. Mama is in her element. She will have them all organised and spick and span before you know it. Not to mention marshalling half the town to patronise the tearooms within the week. Let's hope the photographic studio is just as successful."
"Yes, indeed," Henry said thoughtfully.
"I hope this incident hasn't coloured your view of Llandudno?"
"Quite the contrary," Henry assured him. "I was worried it might be dull. I shall draw up plans for the refurbishment of the Bron Derw straight away.
"My sister is eager to help Miss Phillips set up the studio, so the sooner the work starts the better."
"Indeed," Evan agreed, seeing his patient out. "All the same, Gillingham, if I were you, I'd mention this to Inspector Williams. I'm sure he would like to be kept informed.
"He knew your uncle and might know something more about the picture wagon, and he can detail his men to keep an eye on the Bron Derw in case the man returns."
"I'd certainly like to know more of my uncle," Henry said, shaking Evan's hand. "Thank you for the suggestion. It seems there may be more to the picture wagon than I thought."