Together We Stand – Episode 13
---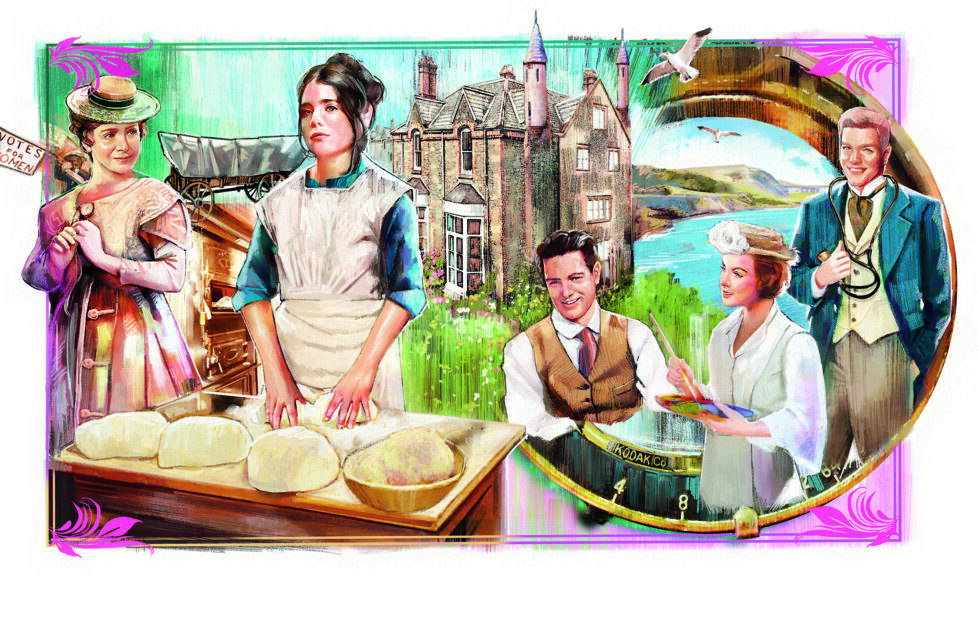 Illustration by Sailesh Thakrar.
By the end of the first day, the boxes had been moved into a small store room to one side, and the floor had been cleared enough to see its full size.
"A lick of paint. That's what it needs," Gwendolyn Humphries announced, bringing in supplies of tea and fruitcake as the workers finally began to flag.
She inspected the progress with approval. Her hair was escaping her bun, and her apron was black, but her face was glowing with excitement.
"This is a miraculous gift Mr Samuel has given us. We'll have those kitchens back in working order by the end of the week. Before you know it, we'll be having our first customers."
"We'll still help you here, Tanni," Laura promised as they demolished their tea and fruitcake. "The sooner the photographic studio begins, the better."
"Indeed." Gwendolyn nodded.
She smiled as her son ducked in through the door to join them.
"Excellent progress, don't you think, Evan?"
"It doesn't look like the same place," he agreed. "I have to confess I couldn't quite imagine how this would make a photographic studio, but now I can see that Mr Samuel knew exactly what he was doing."
Tanni looked back over the room.
Light was flooding in through the clean windows, soft, yet clear. This had not been a random choice.
Mr Samuel had taught her to use his flash stick, placing a row of explosive and lighting it. But Tanni preferred the use of natural light. This was perfect.
With the cellar for the darkroom, and a small office tucked out of sight at the back, this was the kind of studio Mr Samuel might have chosen for himself.
Tanni blinked away tears. She owed him so much. One way or another, she had to make this work.
She glanced round at her new friends, who treated her as if she had always been one of their social circle, and whose talk was of dreams and making a life for themselves, escaping constraints that were as binding as her own.
"It's going to be wonderful," she said firmly.
*  *  *  *
Madeleine Gillingham returned from her aunt's house in Chester a few days later to join her brother at the Bron Derw.
She found Henry pulling down the moth-eaten curtains in one of the bedrooms in a one-handed manner, the determined look she knew so well set on his face.
"What was this accident you mentioned in your letter?" she demanded, eyeing him suspiciously through the clouds of dust billowing around them. "You can hardly use that left arm. I thought you said it was just bruising?"
"I didn't want to alarm Aunt Julia," he replied. "It's nothing."
"Nothing." Madeleine took the disintegrating material from his hands as he doubled over coughing, pulling the remainder of the curtain into the middle of the room. "I don't think these things have ever been changed."
"I'm sorry I couldn't drive over to fetch you."
"I enjoyed the train ride," she replied. "It's so rare I have an excuse to travel on my own, despite the disapproving looks." She pulled the second curtain to join the first. "You must be in pain to admit you can't drive. You wouldn't have said anything otherwise."
"Probably not," he replied with a grin.
He sat down heavily on the ancient chair, spilling horsehair on to the floorboards.
"Henry?" She looked at him anxiously.
"Perhaps I was a little ambitious," he admitted.
He glanced up to where the men he had hired from Llandudno were repairing the window frames on the floor above and removing the unsalvageable pieces of furniture.
"Tea," Madeleine said firmly, as a large object began to make its way down the staircase, to much mutterings and the occasional curse. "Then you can tell me what really happened."