Kirsty Has Been To Warners Again!
---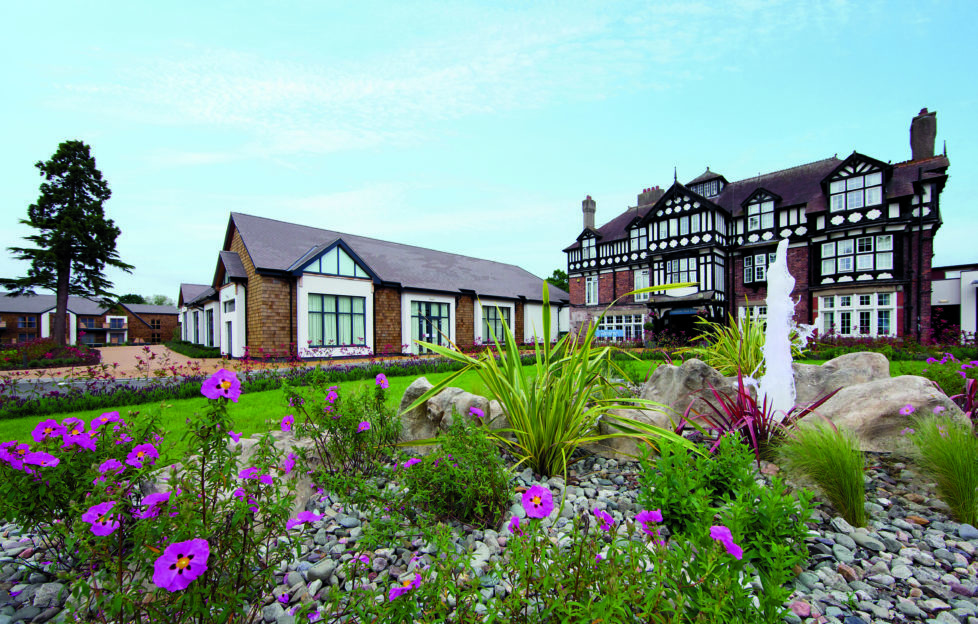 What a week!
I had the most amazing week at Warner's Nidd Hall on our most recent People's Friend break.  The break was Christmas- & New Year-themed – which means you have Christmas Eve, Christmas Day, Boxing Day, New Year's Eve and New Year's day all in the course of the 5 day break.  I am feeling thoroughly festive now.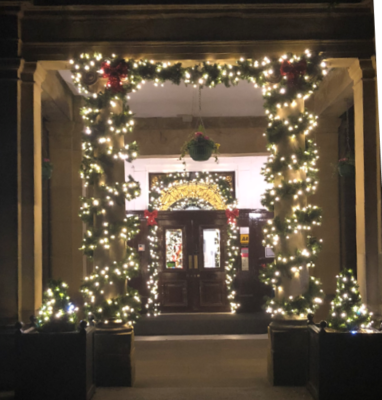 We arrived to find Nidd Hall looking very festive – I was lucky to arrive the day before everyone else to get all of the goody bags for our guests ready. With the help from Jo & Sarah from Warner we got all 97 goody bags packed. We had mags, craft products, samples from some of our regular advertisers and lots more to pack, I will admit we got quite warm (read sweaty!) doing this but had a great laugh.
Then it was time for dinner in the lovely Yorkshire Tapas restaurant whilst catching up (read plotting!) about our next Warner's break with "The People's Friend" (more on that later) and then enjoyed the great Warner entertainment that evening whilst sampling some of the wine list & cocktails.
Delivering The Goody Bags
On Monday morning we were up at the crack of dawn to deliver all of the goody bags to each of our guest's rooms, when we got back we had a look at Jo's pedometer and discovered we had travelled 2.4 miles, yes miles, going round the hotel and coming back to restock ourselves with more goody bags. After that I spent the day helping Jo & Sarah check in our guests – we had a separate check in area which made it extra special, as I was able to greet all of our guests individually.
Fast forward to 6pm and we had our private welcome drinks with our guests, it was really lovely to see so many friendly faces who had joined at our first Warner break at Alvaston Hall Hotel as well as all of the new friendly faces.
The Garden Tour
I joined our guests on the garden tour on the Tuesday morning, which was really interesting, and I discovered lots of new hints & tips for my own garden. There are lots of pairs of old boots around the grounds and there is a lovely story to go with them – when one of the gardeners leave they plant up their boots and put them in their favorite place around the hotel!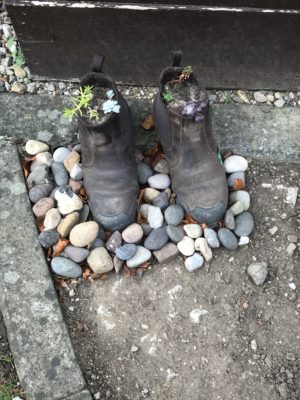 We then had a talk from our travel writer Neil McAllister who also provided some personal recommendations for our guests to do on their coach trip to Harrogate on Wednesday – of course, Betty's tea room was on the list!
Much fun & hilarity was had at our first craft session on Tuesday afternoon where we made some Christmas-themed decoupage cards – we had a mix of experts and novices which is always best as everyone ends up helping each other and, as a result, making new friends.
Angela Arrives
On Wednesday I amused myself with other work I had to get done before welcoming Angela to Nidd Hall before she had tea and cake (the Dundee cake we took was from our 150th anniversary hamper and I can highly recommend it!).  After dinner we were treated to a comedy show and oh, how we laughed! It was great.
On Thursday I was trying to split myself in two as I was doing some filming for some of our 150th anniversary activities, but I did manage to watch Margaret's talk on the history of "The People's Friend" – she brought lots of bits & pieces from the archive with her, including some of our tea caddies.  On Thursday evening after dinner it was New Year's Eve and boy, did we party like it was 2018! It was so nice to bring in "the new year" with lots of new friends.
Till We Meet Again
And they say that all good things come to an end, but not quite yet, as we had arranged to have tea and coffee with our guests before they departed. So, till next time I suppose (yes, you guessed correctly, I really did not want to leave!).
I have said it before, but I will say it again, if this is what they call work then count me in!  I cannot wait to go to our 150th anniversary party weekend at Alvaston Hall Hotel – if you want to find out more info just click here.
Don't just take my word for it, you can hear from some of our readers here.