An Abundance Of Buns
---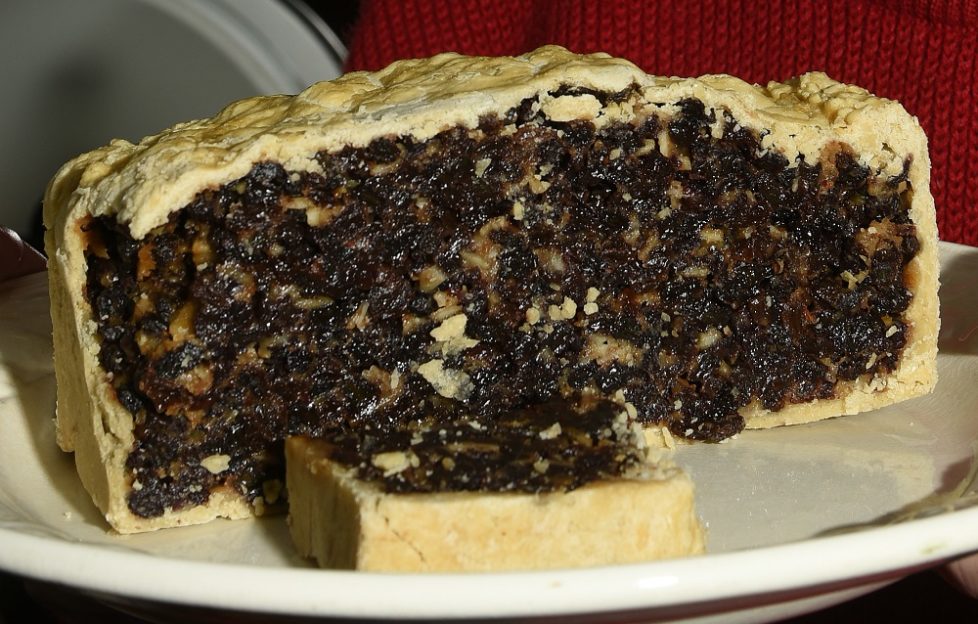 Black Bun is traditionally offered at Hogmanay /Kim Cessford, The Courier.
I didn't see black bun in the wild until I was an adult. Before moving to Scotland, I'd only ever heard about this Hogmanay delicacy from Scottish family members – and from reading "The Broons" in "The Sunday Post"! And although my granny was a great baker, this wasn't something she ever made.
As my first New Year here approached, black bun began to appear in all the local bakeries and supermarkets. I don't know what I thought it would look like, but "fruit cake in a pie" wasn't it! Traditionally, it's eaten at New Year and may be given as a first foot gift. It's not to everyone's taste, though. Author Robert Louis Stevenson had some harsh words to say about it.
"New-year's Day, the great national festival, is a time of family expansions and of deep carousal. … Currant-loaf is now popular eating in all households. For weeks before the great morning, confectioners display stacks of Scots bun—a dense, black substance, inimical to life"
Stevenson calls the cake "Scots bun" whereas we now talk about "black bun". Are they the same? Most food writers now seem to think so. However, we do have a couple of recipes placed side by side in a 1935 issue, which suggest there might have been some subtle differences between them . . .
Scots Bun (Rich) (November 16, 1935)
Ingredients
3/4 lb sugar
2 lb valencia raisins
6 oz blanched almonds
2 nutmegs
½ oz ground cloves
Milk
1½ lb flour
2 lb currants
3 oz lemon peel
½  oz jamaica pepper
3 teaspoonfuls baking
powder
Sieve the flour, sugar and baking powder together. Add the raisins (stoned and cut in two), the currants (washed and dried), the almonds (split in two), the lemon peel (finely chopped), the nutmeg (grated) and the spices. Mix thoroughly before adding sufficient milk to moisten.
The Pastry
3 breakfastcupfuls flour
8 oz margarine or butter
1 heaped teaspoonful baking powder
Cold water
Rub butter into flour and baking powder. Form a stiff paste with cold water. Turn on to floured baking-board, roll three times, then use to line the bottom and sides of a large cake-tin, which has been greased. Reserve a piece of the pastry to make a lid. Now fill in the bun, place the pastry on top, moistening the edges so that it will stick when pressed to the top of the pastry sides. Pierce the top with a fork all over, brush over with beaten egg, and bake in a moderate oven for about four hours.
Black Bun (November 16, 1935)
Ingredients
1 lb flour
2 teaspoonfuls ground ginger
½ lb raisins
½ lb brown sugar
1 teaspoonful baking soda
2 teaspoonfuls mixed spice
1 lb currants
1 packet stoneless raisins
½ lb mixed peel
Milk to mix
For Paste
1 lb flour
1 teaspoonful baking powder
½ lb margarine or butter
Milk
For the Bun. – Mix flour, baking soda, sugar and spices together. Add the raisins (cut small), the currants and the peel (cut in small slivers or finely chopped). When thoroughly blended add just sufficient milk to moisten without making too wet.
For the Paste. Rub the butter into the flour and baking powder, and form into a firm paste with milk. Proceed as in directions for Scots Bun given above.
Note: Jamaica pepper is an old name for allspice.
Another note: reading these recipes made me very grateful that we have pre-prepared dried fruit and nuts for our baking nowadays!
So, there you have it – Scots Bun and Black Bun. Are they different names for the same cake, or are they slightly different cakes that have become known by the same name? What do you think?