What The "Friend" Means To You
---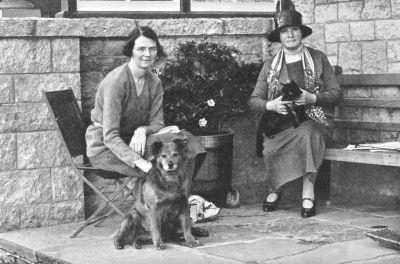 Annie S. Swan with her daughter, Effie
We've been overwhelmed by the kind letters received from readers telling us what the "Friend" means to them. Thank you for helping us celebrate our 150-year anniversary!
Here are a few letters we've featured so far:
Annie S. Swan Was My Great Aunt
I was re-reading your "150 Year Anniversary Collector's Edition" and I especially enjoyed reading the article on Annie S Swan. She was my great aunt and, although I was too young to have known her personally. She was a great friend of my parents.

My father was a Church of Scotland minister at Dunnottar, in Stonehaven. Annie was very generous with her time there, coming north to open church events which always ensured a good attendance.

As well as being a long-time contributor to "The People's Friend", Annie wrote many books. Although maybe a bit dated now, they are still well worth reading. Her autobiography, "My Life", reveals how much more she did, and the many famous people she knew – including the American President, Theodore Roosevelt.

What many people might not know is that her sister Maggie, my grandmother, was also a talented writer. She had a number of books published – her "For The Sake O' The Siller" is perhaps the best of them. However, her husband was also a church minister and so she had a busy life helping him in his work. One might imagine she did not have time to develop her literary career which, in my opinion, would otherwise have rivalled that of her sister.

I have been a "Friend" reader for 50 years and look forward to reading it from cover to cover each week.

Mrs D.W., Kinross-shire.
---
Recipe For Success
From 1957 to 1960, I was secretary to Elizabeth Craig, the cookery writer who lived at Wethersfield. I well remember having to get the cookery articles for "The People's Friend" typed up and posted in good time.

Elizabeth also wrote each week for other publications. I believe she was the first to present cookery on Anglia TV when that started.

She loved her animals and her garden and was very proud of her Scottish roots. She later moved to Botesdale in Suffolk and was still involved with cookery when she was ninety years old.

I always look forward to the day "The People's Friend" comes through the door and I can have a good read. Thank you.

Mrs A.H., Essex.
---
Budding New Writer
In the late Sixties or early Seventies, my mother Theadora Caldwell entered a competition for new writers which "The People's Friend" had advertised for. She was an established writer, being published in the "Scottish Field" and occasionally "The Scotsman", as well as writing plays for radio's "Children's Hour".

Well, she won the competition, which was to submit the first episode of what would be a serial in the "Friend". The editor at that time was Douglas Neilson. It was arranged that he would present her with the prize at the North British Hotel (now the Balmoral).

Mum turned up in her Burberry and matching hat to meet the editor and was surprised when he seemed puzzled. The competition was apparently for new "young" writers and my mother was, by this time, a grandmother to eight grandchildren and certainly not a new young writer! So, of course, the prize could not be awarded to her.

Anyway, Donald was still very keen to publish her serial and that was the first of many stories she wrote for the "Friend". In fact, she was still submitting stories when she was in the Abbeyfield House in Perth where she spent her final years.

Donald felt that Theadora was too fancy a name so she wrote under the name of Laura Caldwell. A few of her stories were re-published in the Christmas annual and that was an exciting time for her and the perfect gift to give to her friends.

Ms R.M., Edinburgh.
---
We'll be featuring lots more of your letters in upcoming issues, so don't miss your copy of  "The People's Friend".
Better still, you'll never miss a copy if you buy a subscription.