Jaclyn And Moira Talk Our Tea Party
---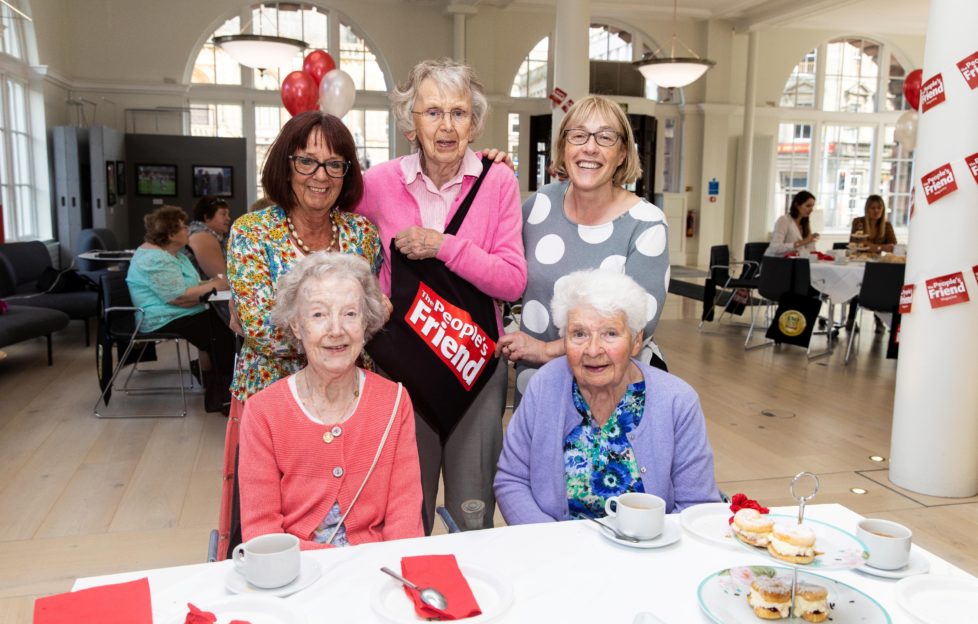 Photographs courtesy of Steve Brown / DCT Media
Earlier this week, "The People's Friend" welcomed nearly 80 guests for an extra-special Contact The Elderly tea party.
The event was a great success, and we were delighted to host it as part of our 150th anniversary celebrations.
Jaclyn and Moira from the Design team were on hand to help Editor Angela on the day.
Here they tell us what they thought of the event.
That was a tear-jerking moment for me
"I like organising and setting things up," Design Editor Jaclyn said. "So my favourite part of the day was designing bunting and decorating the beautiful room.
"As a designer I always want things to look nice. Plus, a relaxing and inviting environment are key to putting people at ease in unfamiliar surroundings.
"When guests arrived, we spent our time taking their coats, helping them get seated, making them tea and coffee, serving them sandwiches and having a wee chat at the same time.
We had roughly 80 guests, who all drank multiple cups of tea. So we definitely completed more than our 10,000 steps doing our waitressing duties!
"One of the guests had brought along his electric bagpipes and played 'Flower Of Scotland', which prompted a sing-a-long from other guests. That was a tear-jerking moment for me.
"Once the guests were all fed and watered, it was up to us to clear everything away, wash and dry all the dishes and leave the beautiful room the way we found it."
My favourite part was meeting the people
For designer Moira, the event had a personal connection.
"I wanted to help out with this event as I am very aware that elderly people can feel a bit left out and lonely sometimes," she said.
"I am a carer for my mum, and I take her out every Saturday, which usually incorporates a nice lunch somewhere or a cup of tea with cake and a good natter.
"It really brightens up her day. So I wanted to reach out to other people in the same manner and brighten up their day, too.
"My favourite part was meeting the people. And seeing the delight on their faces when they saw our lovely decorated room, with tables full of tempting goodies for them to enjoy.
"All in all it was a very successful afternoon, and everyone was so appreciative. They especially loved their goodie bags!
"I found it very rewarding and hope to do more in the future."
"The People's Friend" supported Contact The Elderly as part of our very first Hand Of Friendship campaign in 2017. For more information on the Hand Of Friendship, click here.
Click here for more information on Contact The Elderly, including details on hosting your own tea party.