Writing Prompt Story Starter: Mountain Bike
---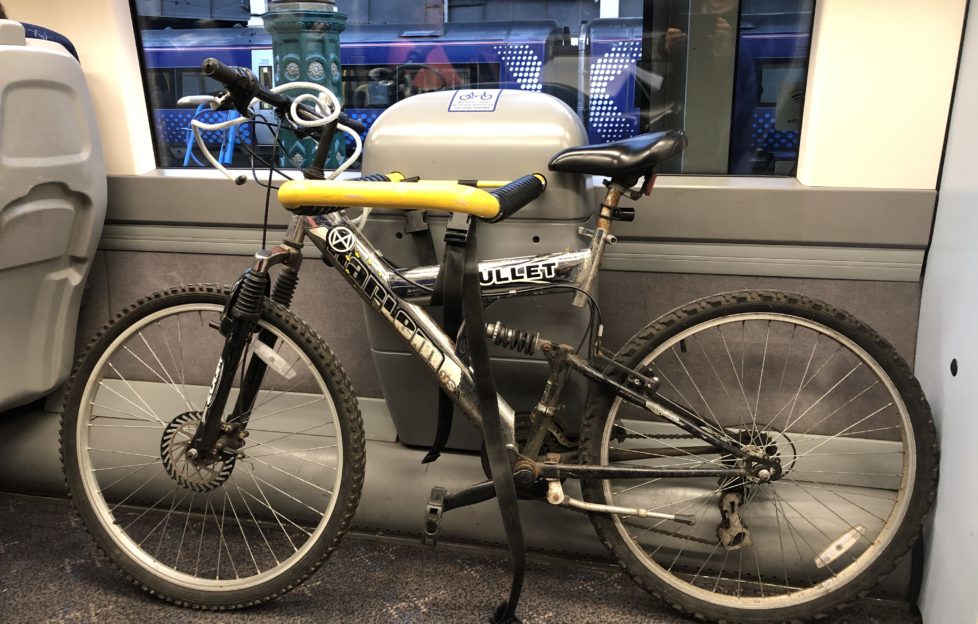 Photograph by Shirley Blair.
This week's Writing Prompt Story Starter is a mountain bike on a train, but first . . .
We were at the PPA Scottish Magazine Awards in Edinburgh last night, Angela and I flying the flag for "The People's Friend" along with other colleagues doing the same for our sister and brother titles.
An annual event on the Scottish magazine calendar, it's a fine excuse to get all spiffed up in our glad rags, the ladies in their sparkles and finery, the men in their kilts.
The kilt definitely does something for a man . . .
The "Friend" was thrilled to be shortlisted in five categories, and even more thrilled to actually win one of them: the Special Edition of the Year.
It was awarded to us for our 150th Special Collector's Edition. (Not the fiction one, but the earlier one. Due to subtleties of timing and publication dates, our 150th Fiction Special will have a crack at next year's award. I've already got my fingers crossed).
We got the train down yesterday, and back this morning, Angela bearing the award safely stowed in her luggage.
Street cred
On the Scotrail train this morning at Edinburgh, a young woman got on and carefully strapped in this rather impressive mountain bike.
It was still there when I got off at Dundee; the train was continuing on to Aberdeen.
Had she been biking? Was she going biking? The tyres are muddy, but do mountain bikers wash their bikes down between outings? I can't imagine it.
The splatters and mud streaks are kind of badges of honour, aren't they? They add street cred — if a mountain bike can be described thus.
It's a bit of a contradiction, now I think about it. Track cred, maybe.
The saddle's polished shiny with use.
The silver framework is quite clean.
And I like that the bike is a "bullet" and it was on a commuter train that — as one of my writers described a journey once — stops at every hole in a hedge.
That's your story starter this week, anyway.
To your keyboards!
If this Story Starter doesn't get your creative juices flowing, click here to pick another from our archive!