Writing Prompt Story Starter: Ripples
---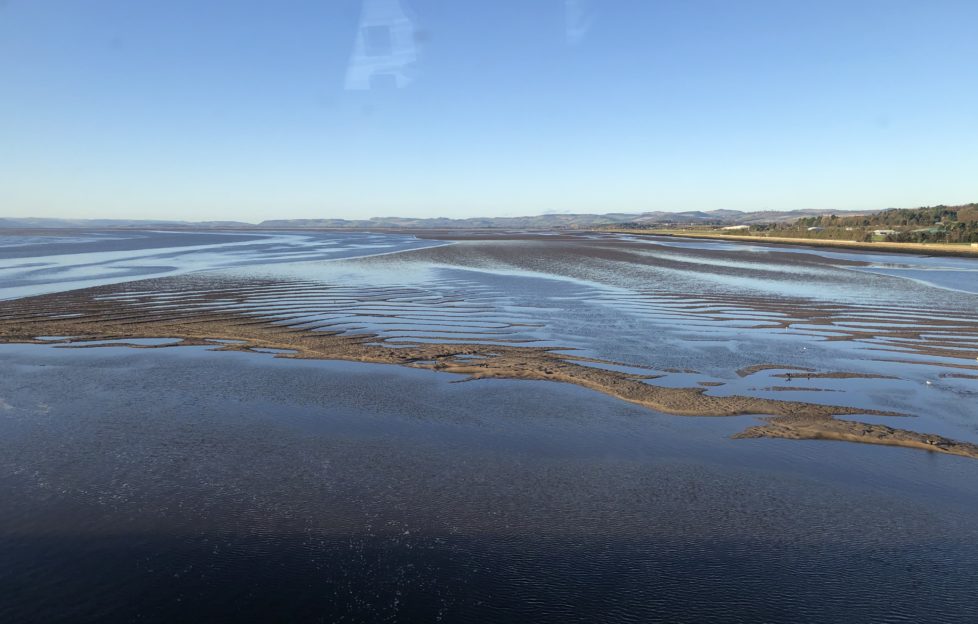 Photograph by Shirley Blair.
Ripples. I don't really need to say much more about this Writing Prompt Story Starter image and its theme, do I?
I took it on the train back to Dundee from Edinburgh after the recent PPA Scottish Magazine Awards.
We "may" have mentioned that we were super chuffed to win one for our Special Collector's Edition . . .
It was THE most beautiful day for a rail journey. Particularly that one north from Edinburgh, across the mighty red framework of the Forth Rail Bridge.
The Firth of Forth was more still and calm than I'd ever seen it.
There's a marina at the south end, with yachts bobbing at anchor, and their white hulls were reflected on the water like seagulls' wings.
The tall white piers of the Queensferry Crossing, too, were beams of light shining white on the surface of the water.
Round the south Fife coast: North Queensferry, Inverkeithing, Dalgety Bay, Aberdour, Burntisland, Kinghorn, Kirkcaldy . . . such a scenic route with stunning sea vistas.
Riverscape
Then inland and through the early winter countryside, until we crossed the Kingdom of Fife to the River Tay.
It was as we rumbled across the Tay Rail Bridge to Dundee that another riverscape compelled me to get out my phone for more photographs, like the one above.
The River Tay is tidal as far up as Perth, and at low tide on a still day like this we'll commonly see seals basking on the sandbars, and cormorants and shags drying out their wings.
Seagulls, of course, taking a breather from riding the thermals. Other birds I'm less sure of: waders, lovely elegant birds with long beaks that drill down into the soft sediment.
Imagine having sights like this right on your own doorstep. It really is the most glorious place to live.
Not sure what theme you might pick out of all that, whether it's ripples or happiness, but I'm sure you'll find something to work with!
Fiction Ed Shirley provides a story starter for aspiring writers every week. Click here to take a look through our archives.