Features Sneak Peek: December 21 & 28 Issue
---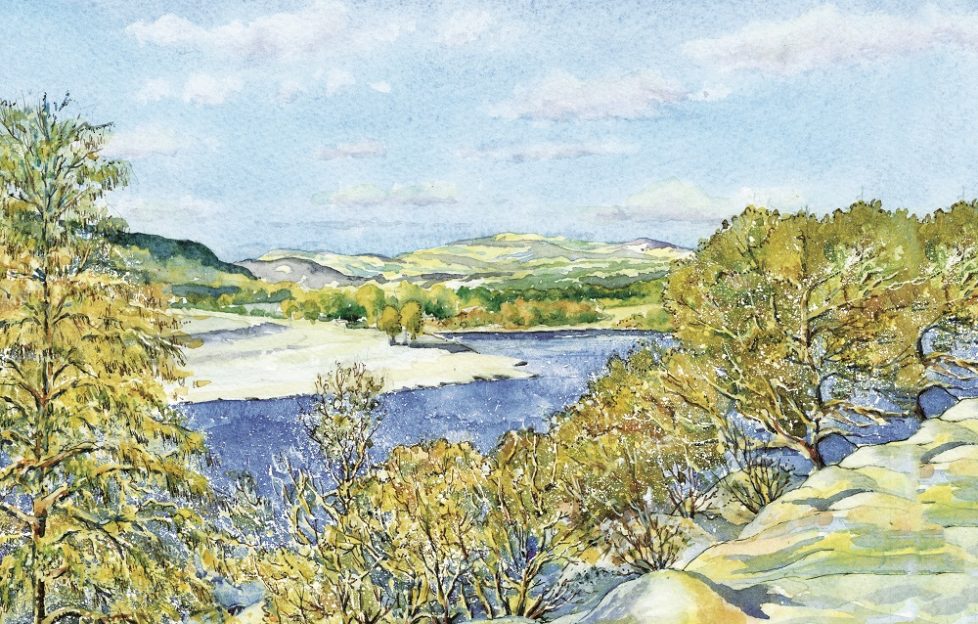 Illustration by DC Thomson Ltd.
By now you may well be reaching the end of our first festive bumper issue. Don't fret, we're here with a sneak peek into our second!
Our seasonal cover feature sees Willie Shand take a wintry walk around the village of Moulin, near Pitlochry.
Willie's photos of the stunning frost-covered view from Moulin Hill truly allow us to drink in the scenery.
Discover the rich history of Caisteal Dubh, the "Black Castle of Moulin", located in the village's now-drained loch, as well as Moulin's more modern tourist attractions — including its five-star hotel, quaint town hall and craft brewery.
Willie walks us through the happenings of the historic village, old and new, and how to make the most out of a visit to this charming corner of Scotland.
A conversation with Sue Moorcroft
Features Editor Alex Corlett speaks to "Sunday Times" bestselling author and previous "Friend" contributor Sue Moocroft about her new Christmas book, "Let it Snow".
Sue has been writing since 1996, and now writes one summer book and one winter book each year.
She shares with the festive inspiration behind her latest work, found on a research trip to Switzerland.
Gyles Brandreth on why poems are the best gift ever
Actor, Gogglebox star, former MP and now poetry enthusiast Gyles Brandreth tells Yvonne McKenzie why he asked his grandchildren for poems this Christmas.
Gyles' new book, "Dancing by the Light of the Moon", was released in September this year. It features a collection of poetry meant to be read aloud.
Gyles shares his love for learning and reciting poetry, and how he has found himself living such a varied life.
An international Christmas bauble collection
Gillian Thornton gives us a taste of her Christmas bauble collection, gathered from around the world.
Gillian does not strive for colour co-ordination on her Christmas tree; instead her decorations hold many happy memories from holidays across the globe.
So if you're looking for some Christmas tree inspiration, don't forget to pick up this week's issue!
We wish you a nutty Christmas
Read up on how nuts can benefit your health this festive season.
While festivities can often mean your health takes a hit, snacking on nuts is an easy way to tick off much of the nutrition you need to stay healthy.
Learn more about why you should be nuts about nuts!
Polly on holly
Don't miss your Polly Pullar fix this Christmas!
Polly gets in the festive spirit as she shares the little known history of the holly plant.
Learn about the many fascinating uses for this festive shrub, and how to make the most of it.
Quiz of the year
How closely have you paid attention to current events this year?
Take our annual quiz of the year to find out!
Read up on the key sporting and royal events of 2019 to ace this year's quiz.
Christmas cookery with a twist
Our selection of Christmas recipes is bound to please everyone, with traditional Christmas dishes as well as veggie and vegan meals for those looking for festive alternatives.
This Baked Figs, California Walnuts and Camembert starter looks good enough to skip a main!
We also have a Butternut Squash, Spinach, Feta and Pine Nut Christmas Wreath, Smoked Salmon and Sourdough Strata, Pink Gin and Rhubarb Parfait and much more!
Elsewhere in this issue, read up on the Royal year, see 150th birthday greetings from our contributors, find out about the history of Christmas jumpers, and much more!
A subscription to "The People's Friend" makes for the perfect Christmas gift. Click here to check out our subscriptions.