Features Sneak Peek: January 11 issue
---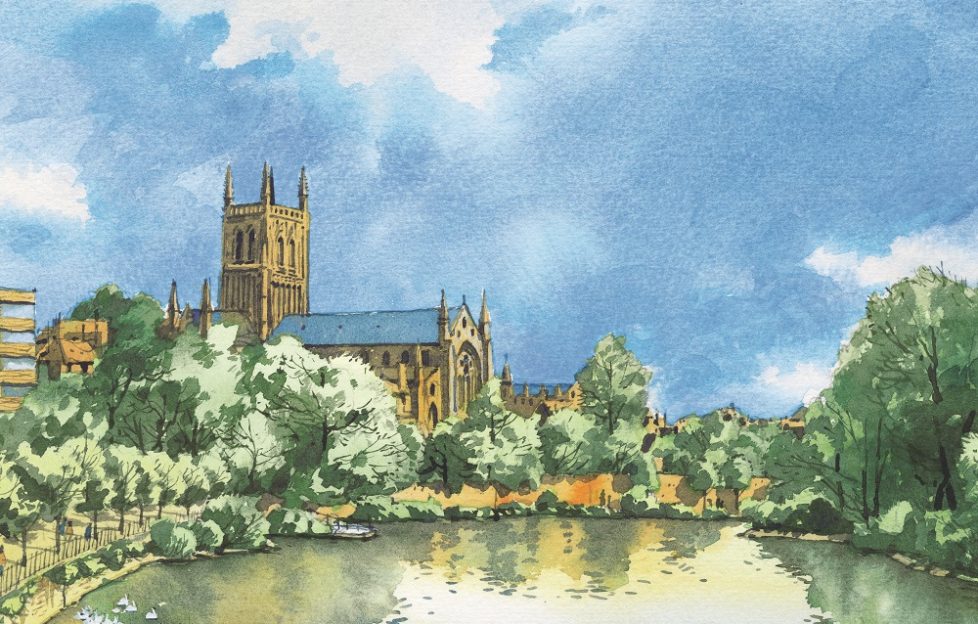 Illustration by DC Thomson Ltd.
Our sneak peek this week starts with Simon Whaley's visit to Worcester in the West Midlands.
While flooded during Simon's visit, this spread shows even floods cannot taint the city's beauty.
Not only known for Worcestershire Sauce, Worcester is home to the River Severn, the stunning Worcester Cathedral and a church-less spire! The city is also just 10 minutes from the birthplace of Edward Elgar.
151 years of "The People's Friend"
This week we celebrate our 151st birthday!
Marion McGivern reflects on our 150th year here at the "Friend" as it comes to an end.
From our Guinness World Record for "Longest Running Women's Magazine" to our award-winning 150th Anniversary Special Collector's Edition and all our birthday events throughout the year, it's been a busy one.
Check out our highlights of this significant year as we prepare for the next.
David Suchet on his lesser known passion
Our Features Editor Alex Corlett chats to the "Poirot" star about his new photography book, "Behind The Lens: My Life".
While better known for his acting career, Suchet's grandfather was a celebrated Fleet Street photographer, and this passion was passed down the generations.
Suchet's new book offers a literal snapshot into his life through this collection of photographs he has taken over the years.
Read about his blossoming love for photography in this week's issue.
Celebrating the National Trust
125 years on from the founding of the National Trust, Susie Kearley pays tribute to the woman behind it all: Octavia Hill.
From developing social housing in her late twenties to later ensuring outdoor green spaces were accessible to all, Octavia's journey to create what the National Trust is today has been a notable one.
Read all about her efforts, accompanied by stunning photographs of National Trust landmarks.
Lighter Meals for the New Year
We're resolving to consume a few less calories this year after a lot of overeating at Christmas!
If you're looking to do the same, the light and healthy recipes in this week's issue are for you.
We have our eye on this quick and easy Fish Tagine with Olive Pesto and Preserved Lemons.
Elsewhere in this week's issue, read about the woman giving back to the brain-injury charity which helped her in her time of need, meet a volunteer from the Cinnamon Trust, see our book recommendations for the month and much more.
See you here next week for another sneak peek!
Subscribe to "The People's Friend" now and never miss an issue.