Knitting Preview: September 26, 2020 Issue
---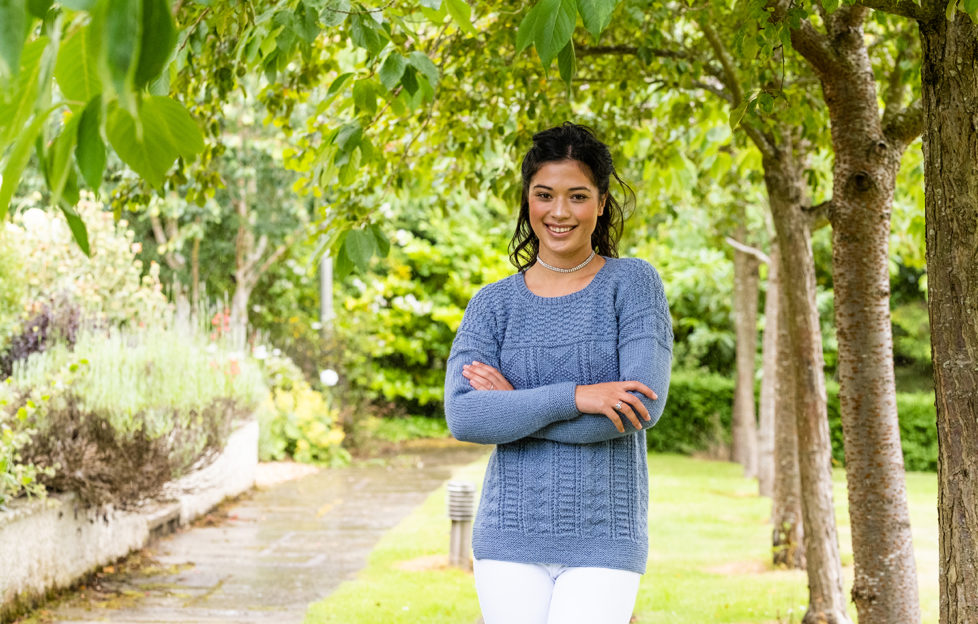 Photograph by Ally Stuart.
We have a traditional design that suits everyone in this week's knitting preview.
Our designer has given the classic gansey a fresh, new look with this unisex sweater which comes in six sizes ranging from 76/81 cm (30/32 ins) to 127/132 cm (50/52 ins). Actual size is around 13/8 cm (5/3 ins) bigger, so we would recommend working your usual size.
The yarn used is King Cole Fashion Aran, a mix of wool and acrylic in shade Wedgewood (3319). There are 29 shades available if you prefer another colour. To find out more about the yarn or to find a stockist, visit www.kingcole.com.
We have graded this design as intermediate. There are no difficult stitches but you do need to count carefully. The diamond panel is worked over 9 sts and 8 rows while the yoke panel is worked over 15 sts and 21 rows.
The sleeves are worked from the top down to the cuffs and there is a point you can adjust the length if you need to.
Traditional designs are very much to the fore this autumn and we are sure this gansey is the perfect choice.
---
Knitting preview piqued your interest? Click here for more great craft content, including DIY face masks and colourful garden planters.
Or you can subscribe to "The People's Friend" here. That way you'll never miss another one of our great patterns and projects!
A digital subscription means you can download every issue straight to your laptop, tablet or phone. Try it today.