Fiction Sneak Peek: October 3, 2020 Issue
---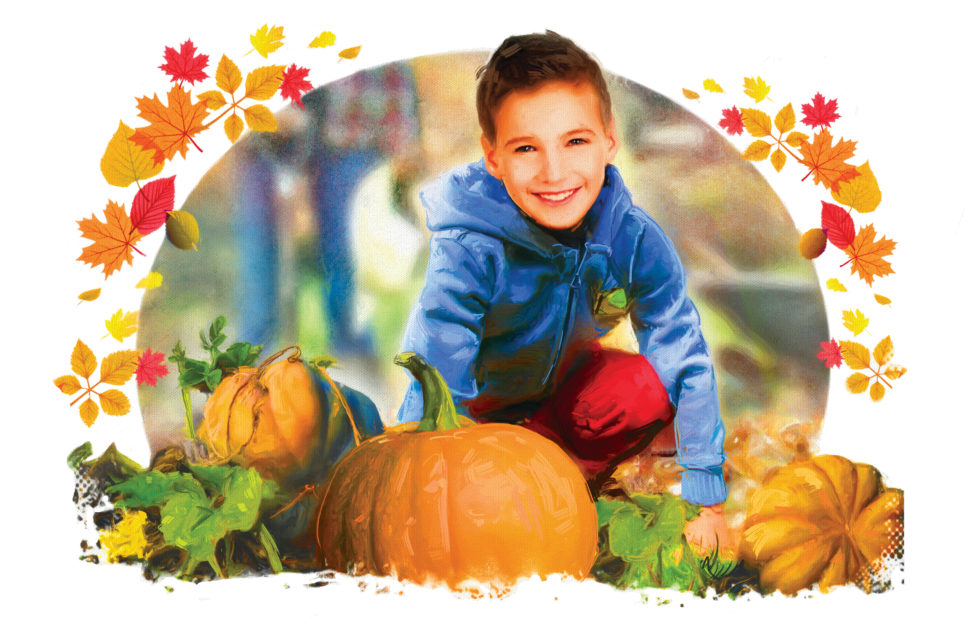 Illustration by Martin Baines.
Here's a sneak peek at the fiction we have ready for you in our October 3 issue . . .
Short stories
Flowers in an old jug on the church doorstep bring together two people together in this week's opening story. "Flowers On The Doorstep", by Rebecca Holmes, is illustrated by Helen Welsh.
Little Fred Bunting is determined Miss Dunbar will have the smartest entry in this year's autumn show! "The Prize Pumpkin" by Christine Bryant features a lovely, autumnal accompanying illustration by Martin Baines (above).
"Strangers On A Train" by Hilary Spiers is next. When two friends chatting on a train get talking to two fellow passengers, their conversation takes on an entirely different tone,  moving from the theatre, to the upcoming Festival Of Remembrance . . .
We welcome a first-time "Friend" author next – Vanessa Jarrett. Her moving story, "Patching Things Up", is all about a mum and daughter healing their hearts after a bereavement. It's wonderfully illustrated by Mandy Dixon.
We're in 1973 for our next story! Could missing pages from a diary help Glyn and Chrissie solve their latest case? Find out in "Filling In The Blanks", by Val Bonsall, with an illustration from Philip Crabb.
Eirin Thompson's "Field Of Dreams" is next. Conor and Helen live on neighbouring farms. When the Young Farmers' Dinner Dance comes around, Helen goes alone, but Conor takes super-sophisticated Sylvie. Can he ever see Helen as anything but a friend?
Our final story of the week is Annie Harris's "For The Love Of Chocolate". Set in 1953, Alessandro has taken a big risk with his new venture. Will it be a success? Kirk Houston's wonderful illustration brings us to the end of this week's fiction round-up.
Serials
A super new serial starts today — "The Journey From Jarrow", by Alison Carter. It's an absolute topper! Set in 1936, it follows the lives of Beatrice and Rhona — two people from different walks of life, yet sharing a common purpose. Super artwork for this serial from Helen Welsh.
How will the team prepare for the semi-finals, with The Flying Duck closed on quiz night? Find out in part five of our enjoyable serial, "May The Best Team Win!". It's the penultimate part of Katie Ashmore's serial, which has lovely artwork throughout by Gerard Fay.
Series
Miriam's on a matchmaking mission, in Della Galton's "Paw And Order".
There's a strange man in the Ship. Who is he? And what does he want? Find out in our weekly soap, "Riverside", written especially for the "Friend" by Glenda Young.
---
If this sneak peek has left you wanting more, don't worry! Our new issue is in shops soon.
Did you know that subscribers receive their issues early? Click here for more information on subscribing to the "Friend" today. You'll never have to worry about missing another issue again!
Plus, if you're worried about potential delivery issues, we have a great digital subscription available. This way, you can download every issue straight to your phone, tablet or home computer.