Fiction Sneak Peek: December 19, 2020 Issue
---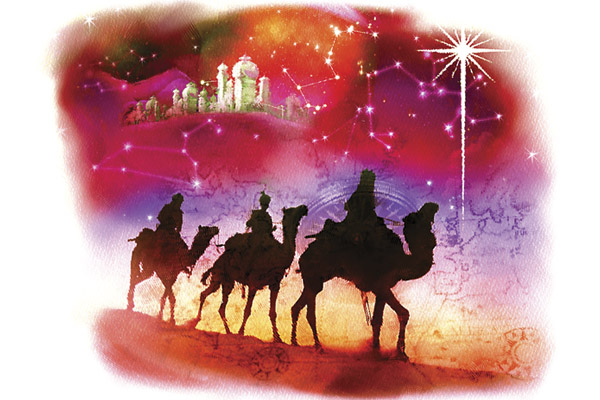 Illustration by Jim Dewar.
Hello everyone! Here's a sneak peek at the reading we have in store for you in our second bumper Christmas issue.
The opener
Our opening story is "The First Star", by Pamela Kavanagh. Set in the 1870s, it's the story of Belinda, the only one of her sisters without a suitor, who makes a Christmas wish on the North Star. Can it come true? Sailesh Thakrar's festive illustration welcomes you to our second bumper Christmas issue.
Kind-hearted car mechanic, Luke, thinks of everyone but himself. On Christmas Eve, can he manage to finish early and get home to his family? Find out in Teresa Ashby's family story, "One Last Job", illustrated by Gerard Fay.
Heavy snow puts the family Christmas Meg had hoped for in jeopardy, in Jacqui Cooper's "A Warm Welcome". With a beautiful watercolour illustration by Tracy Fennell.
Nisha leaves home, much to her parents' sorrow, but when Christmas comes around, her thoughts turn to where she'll spend the day. Our heart-warming Christmas story, "A Spiritual Journey", is by Leonora Francis, and illustrated by Sarah Holliday.
This is the first Christmas that Emma's husband, Dan, will spend with the family, and the Wilsons have promised to be on their best behaviour. Will that include their unusual Christmas Day dress code? Alison Carter's light-hearted story, "Dressed To Impress" is illustrated by Sarah Holliday.
A widower deals with his first Christmas without his beloved wife in Jennifer Gregory's "Comfort And Joy", illustrated by Andre Leonard.
Stefania Hartley's "Time For A Break" is next. It's Christmas Eve, and Melina is exhausted with all the Christmas preparation. Tanino resolves to take her away for the day. Illustration by Jim Dewar.
It's 1969, and Susan's Dad is missing at sea. With Christmas just around the corner, she knows she mustn't give up on him . . . Teresa Ashby's "Miracles Do Happen" has an illustration from the Shutterstock picture library.
And there's more!
The Victorian Ghost Hunters are back in Val Bonsall's "Spirit Of The Solstice", illustrated by Ruth Blair. There are sure to be ghosts abroad on the shortest day of the year . . .
Changing the calendar on the final day of the year is a tradition for Megan – and this year, as she looks forward to retirement, she wonders if the weeks and months ahead are looking a little empty. Vanda Inman's perceptive short story, "What A Difference A Year Makes" is illustrated for us by Martin Baines.
In Deborah Tomlin's "Like An Angel", Sylvie has dreamed of playing a part in the annual carol service for years. Now she actually has a solo to perform, though, she wants to disappear!
Ross and Jessica are delighted daughter Serena is coming home for "an old-fashioned Christmas". But what does that mean, exactly? Find out how they manage expectations in "No Place Like Home", by Vanda Inman, illustrated by Jim Dewar.
Josie wants to make her new family proud with a traditional Christmas Eve feast, in "Thirteen Desserts" by Shona Partridge. Ruth Blair illustrated this charming story, which takes place in Provence in 1919.
The story of the first Christmas is told from a different perspective in "Leading Onwards" by Annie Harris. Traditionally illustrated (main image) by Jim Dewar.
Good deeds are being rewarded with mysterious "Christmas Angel" cards. Who could be behind it? PC Jennifer Tucker is on the case in Laura Tapper's "Acts Of Kindness", illustrated by Jim Dewar.
The perfect gift costs nothing at all in Alison Carter's "What Everyone Wants". Accompanied by a Jim Dewar illustration.
There's a "Winter Wedding At The Cat Café", and in our final visit, we say goodbye. Written by Suzanne Ross Jones.
The closer
Our final festive story is "Keeping Me Company", by Linda Mitchelmore. Beth is spending Christmas alone. So who will she pull a cracker with?
A sneak peek at serials
A brand new serial begins today. It's May, 1661, and 28-year-old Isaac Browne has served Elizabeth Cromwell, widow of Oliver, all his adult life.
Now a new life awaits for the household. "Above The Parapet" is a serial in four parts, written especially for the "Friend" by Alison Carter, with illustrations by David Young.
In Part Two of "The Inn On Bluebell Lane", Ellie needs to talk to Gwen about helping out – but can they ever see eye to eye? Our serial by Katharine Swartz is illustrated by Sailesh Thakrar.
Mariah finds herself charmed by Owen, in Part Two of Alison Carter's "Above The Parapet". But she's sure she's not the only one!
And in Part Three of "The Inn On Bluebell Lane", Gwen's happy to be there for her grandchildren . . .
And a series sneak peek
In Della Galton's "Paw and Order", it's a time for family – past, present, and future.
And in Glenda Young's "Riverside", it's New Year's Eve, and a full twenty-five years since Angela has set eyes on the Groovy Pips' Pete McCafferty. But exactly how does she know him?
Merry Christmas to all our readers, and a very happy New Year!
---
If this sneak peek has left you wanting more, don't worry! Our new issue is in shops soon.
Did you know that subscribers receive their issues early? Click here for more information on subscribing to the "Friend" today. You'll never have to worry about missing another issue again!
Plus, if you're worried about potential delivery issues, we have a great digital subscription available. This way, you can download every issue straight to your phone, tablet or home computer.