Gala Apple And Sausage Tray Bake
---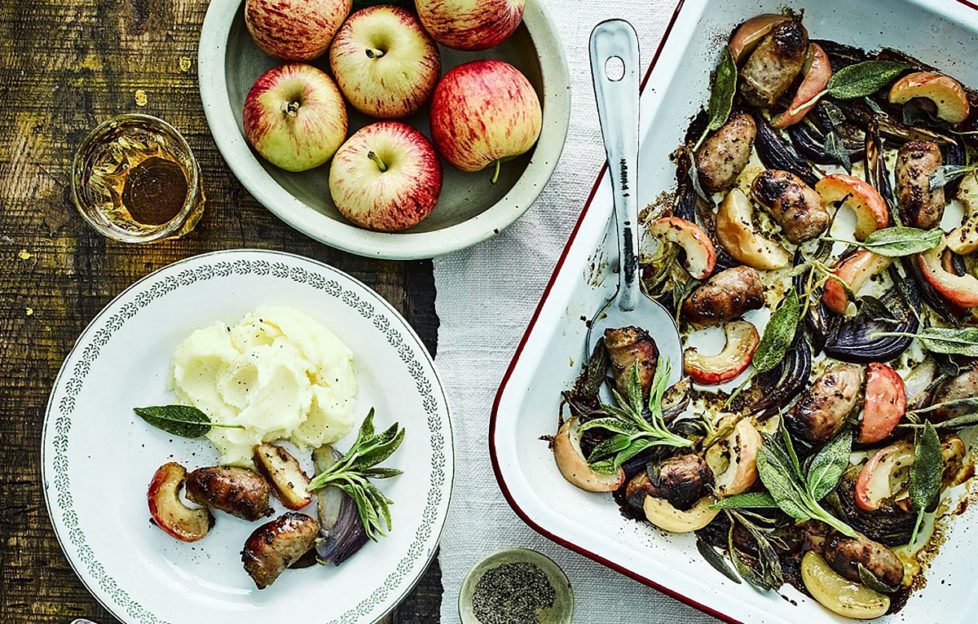 Image courtesy of Great British Apples.
Ingredients
1 x 400 g pack of pork sausages, cut in half
2 red onions, cut into wedges
2 Gala apples, cut into wedges
1 bunch of sage
3 tbs olive oil
2 tbs honey
2 tbs wholegrain mustard
To Serve: creamy mashed potato.
Recipe and image courtesy of Great British Apples.
This week, we're getting one of our five a day in at dinner time with this tasty Gala Apple And Sausage Tray Bake.
You'll see from the number of steps below that this one won't take too long to make. That makes it ideal if your hungry but haven't got a lot of time!
Method:
Pre-heat oven to 180 deg. C., 350 deg. F., Gas Mark 4.
Add the sausage halves, onion and apple wedges to a large baking tray and scatter over the sage leaves.
Whisk together the olive oil, honey and mustard in a small bowl and drizzle over the sausage, onion and apple mixture.
Roast in the pre-heated oven for 35 to 40 minutes or until golden brown and sticky. Serve with creamy mashed potato.
Enjoy!
---
Click here for more great recipes from "The People's Friend". If it's sausages you're keen on cooking, try this Italian Pepper Stew recipe, or this Sausage And Jersey Royal Bake.
If you can't get to the shops just now for your "Friend", subscribe now by clicking here. It means your magazine will come straight to your door every week — all you have to do is put the kettle on!
You can also take out a digital subscription, meaning your issue will come straight to your computer, tablet or phone! And it's great value for money. Click here for more details.