Features Sneak Peek: Special 205
---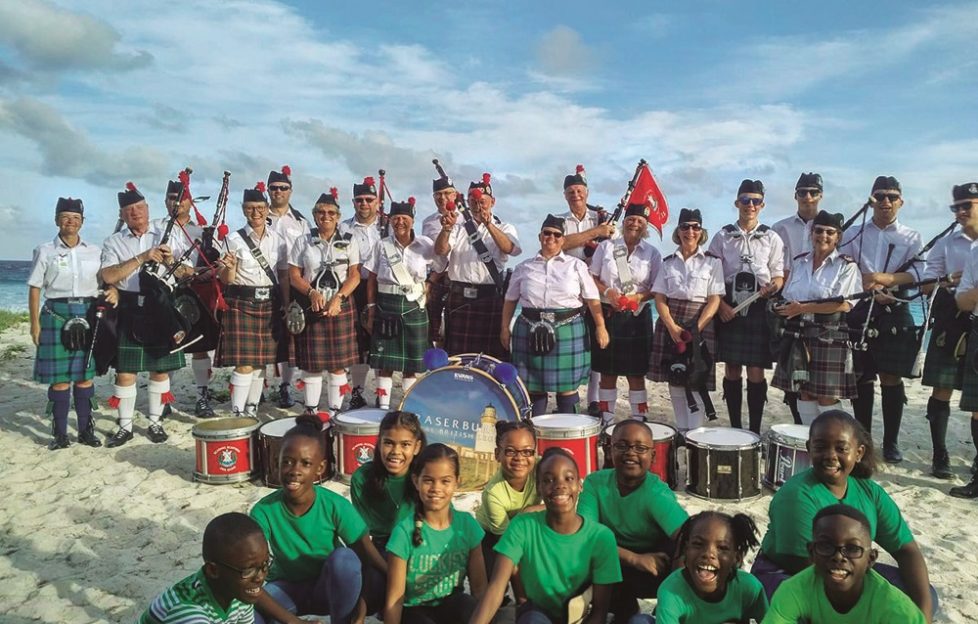 Photograph by Carol Anderson.
Special 205 is out in shops now, so here's a glimpse of what goodies we've gathered for this issue.
Barbados Celtic Festival
Bill Gibb chats to Carol Anderson about how the annual Barbados Celtic Festival helps bring people and cultures together.
It all started for Carol back in 1999 when she was seeking a sunny break.
She was drawn back to Barbados time after time, learning of the deep Celtic connections with Scots, Irish and Welsh involved in plantations of the past.
The festival was started in low-key fashion in the mid-1990s. A decade ago Carol, who runs her own public relations company, decided she had the skills to help take it to a new level.
Carol raised sponsorship to bring out well-known folk names like Eddi Reader.
Since then it has grown enormously.
Recently it has also brought a multi-million-dollar financial boost to the local economy through a surge in visitor numbers.
From Spain To Dundee By Pony
When most students head to university to study, it's usually with a car crammed full of their belongings and a trip up the motorway.
But Johanna Maria Würtz, who began a placement at Scotland's James Hutton Institute last October, decided to make more of the journey.
She travelled with her Shetland pony, Chito, from Spain to Dundee. Bringing Chito on the journey brought its challenges. Alex Corlett finds out more.
Miniature Marvels
Ann Evans catches up with Sonia Bethwaite to ask about her passion for creating miniature marvels.
Sonia creates micro doll's-houses and furniture at an incredible 1:576th scale.
They are so tiny, in fact, one of her houses will sit on your fingertip! Sonia attended a miniature exhibition years ago, and since then her creations keep getting smaller and smaller.
She says she loves the challenge of creating something that initially seems impossible.
Real Screen Heroes
Douglas McPherson salutes the stars who served their country.
Tony Curtis was awarded the WWII Victory medal after serving in the American Navy. Meanwhile, James Stewart became a brigadier general – the highest-ranking actor in American military history.
Read these facts and more in our latest Special.
Make Up Like A Victorian
Some bygone beauty tips are still practised today, while others are best avoided.
Gilly Pickup uncovers the good and the bad. Did you know that when a Victorian lady's pearly whites weren't so pearly any more, they rubbed them with orange peel?
Elsewhere, we have fiction galore and a knitting pattern to make a cute stuffed panda. Plus we're baking with buckwheat on our food pages. There's so much more to discover in the magazine itself so make sure you don't miss out on your copy.
---
And remember, you can subscribe to make sure you never miss another "Friend" Special. In fact, we'll have them delivered straight to your door! Click here for more information.