Fiction Preview: Special 246
---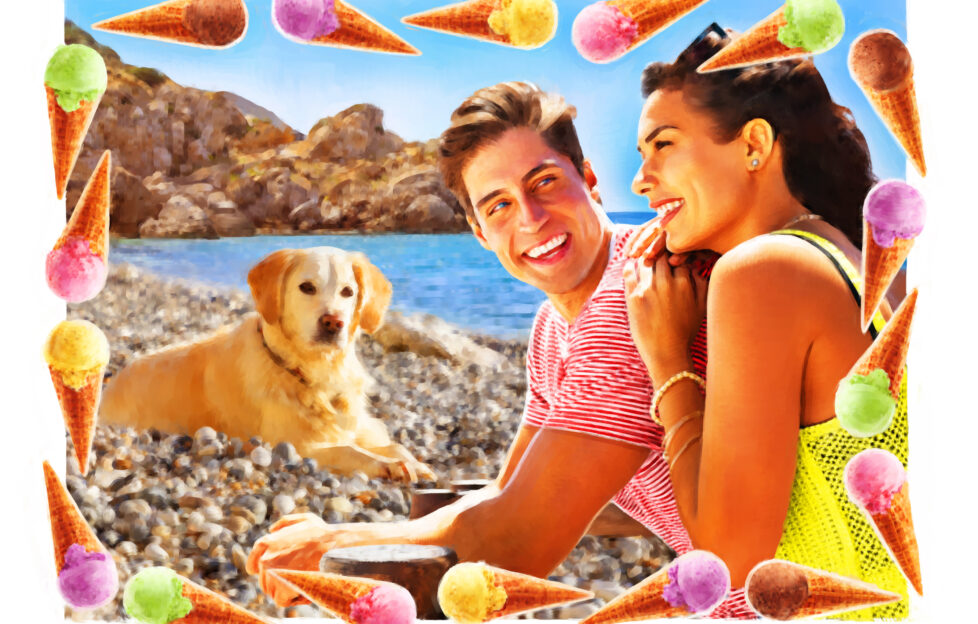 Artwork: Kirk Houston
Hello and welcome to a quick peek at the fiction in our latest Special, on sale Wednesday, July 26.
We've got twenty brand-new stories ready for you to read!
Twenty Brand-New Stories
Our first story is set in Cannes in 1930 – Joanne Duncan's "Doubles Trouble". Editor, Joan, is sent to chase up an author whose first draft has not been forthcoming! Artwork, David Young.
Margaret and Peter's anniversary trip is nearly perfect, but there's one thing missing…"Dreaming In Dubrovnik" is by Sara Partington.
Will coming back home be the fresh start Paul needed? "A Break Away", by Rebecca Holmes, is illustrated by Sarah Holliday.
A family tent holds lots of special memories, in "Happy Campers", by Alyson Hilbourne…
…while Sister Bernadette finds herself on secondment, in Tony Redcliffe's, "Lessons To Be Learned". Illustration from Pat Gregory.
Lots Of Summer Reading
11-year-old Izzy is getting ready to be a bridesmaid for her cousin – but is everything as it should be? "With Fresh Eyes", by Eirin Thompson, features artwork from Tracy Fennell.
Matchmaking skills are put to the test in "At First Sight", by Teresa Ashby. Artwork, Jim Dewar.
There's nothing quite like catching up with an old friend, in "On The Buses", by Moira Smyth. Artwork, Mandy Murray.
We're in the 1850s for our next story – "A Tale Of Two Sisters", by Alison Carter – where Juliette is faced with the prospect of 'inheriting' a sister. Artwork, Philip Crabb.
Can a summer romance stand the test of time? Find out in "Cool For The Summer", by Gwen Rollinson. Artwork, Kirk Houston (above).
Stories From Times Past And Present
Summer sun proves testing for the follicly-challenged, in Wally Smith's "Feeling The Heat"…
…while an old photo takes us back in time to 1969 in Gabrielle Mullarkey's  "A Snapshot In Time". Artwork, Philip Crabb.
It's 1790, and free-spirited Lizzie's house is badly damaged in a fire. Does this mean she's finally free to travel? "At The Crossroads", by Alyson Hilbourne, is illustrated by Martin Baines.
Megan travels to the US to tell Bradley she loves him. But the course of true love never did run smooth, in "The Extra Mile", by Alison Carter.
It's 1806, and with three young men vying for her hand in marriage, Flora must separate the wheat from the chaff! "Flora's Choice" is by Charmaine Fletcher.
Favourite "Friend" Authors
Esme takes on her estranged sister Cassie's son after Cassie's death, in "Changing Tides" – but it isn't plain sailing. Written by Teresa Ashby, with artwork from Mandy Dixon.
Reagan loves her city job, but feels her family background lets her down, in Alison Carter's "Up In Flames". Illustration from Kirk Houston.
Jo and Lee are planning their wedding, but they don't want anyone to end up out of pocket. Find out how their wedding-on-a-shoestring pans out in Eirin Thompson's "According To Plan", illustrated by Sarah Holliday.
Actress, Rosie, visits an infant school and reflects on the path she took to the stage. "A Star Is Born", by Charmaine Fletcher, features artwork by Martin Baines.
Our final short story for this issue is "Familiar Faces", by Beth Watson – and a chance encounter leads to friends being reunited. Artwork from Martin Baines.