Features Sneak Peek: April 24, 2021
---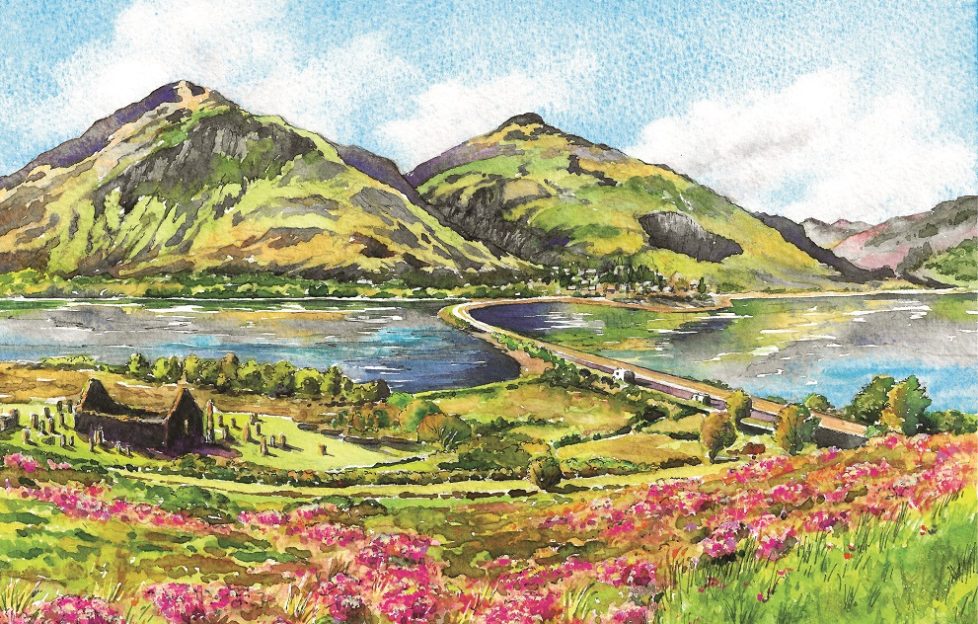 Illustration by DC Thomson Ltd.
Kicking off our sneak peek at the Features in this week's issue of "The People's Friend", travel writer Willie Shand reflects on his many connections to Kintail.
He has enjoyed many days exploring the fantastic mountainous landscape in the Highlands. We will reminisce with Willie as he takes us back to the time he first saw Dornie Bridge, which was just a single track back then.
We'll look back, too, on childhood memories of searching for fairies. 
Even if you've never been to Kintail, you'll most likely recognise nearby Eilean Donan from pictures on shortbread tins!
A fond farewell
We have just bid a fond farewell to the Duke of Edinburgh, and our royal correspondent, Ian Lloyd, pays tribute.
Prince Philip was not just the Queen's husband and consort. He gave the Queen complete support while they were together, visiting over a hundred countries with her.
Prince Philip was a great influence on his own children, friends, and on the many young people he inspired to take on the challenges of his Duke of Edinburgh award scheme.
He was the Queen's greatest friend and confidante and, many would say, her hero. He will be sadly missed.
Book Love
We all know how beneficial reading is, and how much it helps children learn and develop. Bbut what about the children who don't see themselves reflected in books?
Sadly, this is the case for many young readers, with a 2017 survey showing that only 1% of children's books include a black, Asian or minority ethnic character.
Book Love, the multicultural travelling book carnival and shop, is tackling this injustice head on.
Dawn Geddes chats to Book Love founder Samantha Williams about her mission to provide children with multicultural books.
Badly drawn pets
By his own admission, Phil Heckles's pet portraits are terrible!
However, his portraits of pets with cross-eyes, dodgy legs, squint snouts, crooked beaks and wonky bodies have raised thousands of pounds for charity.
The picture that started everything off was of the family pet, Labrador Narla.
He posted the drawing on Facebook and it became an internet sensation. He has since drawn about three hundred and fifty pets, of all kinds. The portraits have raised almost £34,000 for charity. Janey Swanson finds out more.
Elsewhere, we have a pattern to sew an outfit for a Barbie doll, and a collection of English recipes just in time for St George's Day.
Plus we have seven easy ways to boost your immunity, and Alexandra Campbell has some advice for new gardeners.
Enjoy!
---
Has this sneak peek encouraged you to subscribe to the "Friend"? Click here. This will mean your "Friend" will come straight to your doorstep! 
You can also take out a digital subscription, meaning your issue will come straight to your computer, tablet or phone! And it's great value for money. Click here for more details.