Fiction Sneak Peek: May 22, 2021 Issue
---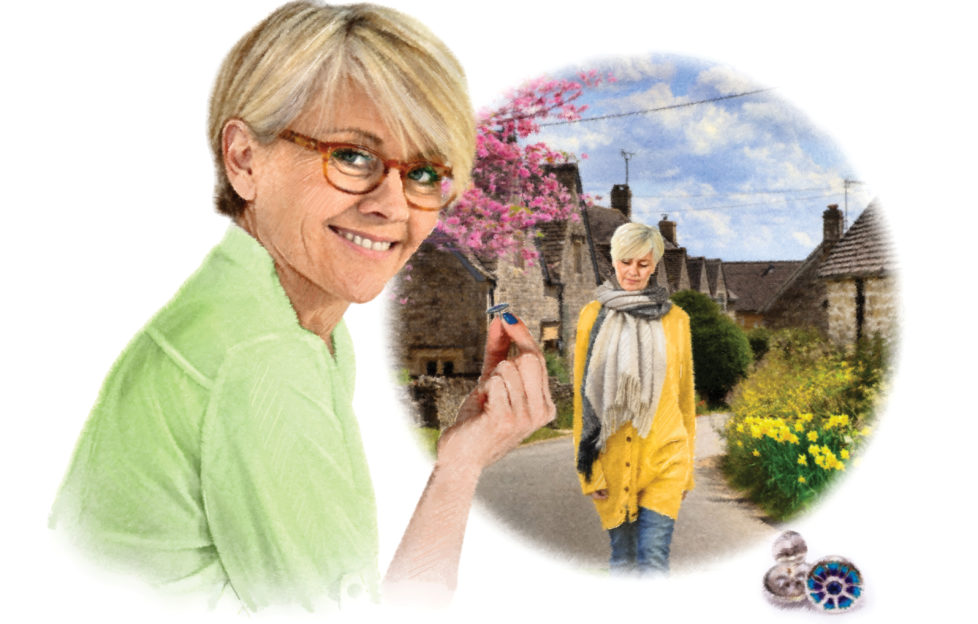 Illustration by Mandy Dixon.
Welcome to another week of feel good fiction! The May 22, 2021 issue of the "Friend" is available in shops this Wednesday.
Our opening story is "A Little Sunshine", by Wendy Janes. Back in the 1980s,  one young dad has mixed feelings about attending a Mother and Toddler Group. Illustrated by Jim Dewar.
Beth Watson's "Lost And Found" is next. Sue is forever losing earrings, but this time, it leads to an unexpected discovery. With a lovely spring-like illustration by Mandy Dixon (above).
Please "Raise Your Glass" for our next story! Post-lockdown, the prospect of making sloe gin helps bring one family together. By Gabrielle Mullarkey, it has an illustration from the  Shutterstock picture library.
We're down "On The Farm" for our next story. City girl, Emma, visits her future mother-in-law, and it seems the only way to impress her is to muck in . . . By Jo Styles, our light-hearted story is brightly illustrated by Kirk Houston.
We head to Matilda's bookshop and a mystery is afoot, in our next story, "Oldest Trick In The Book". By Liz Filleul, our Bookshop series is illustrated by Sarah Holliday.
Carly and Ken are back in "Up The Garden Path", by Meg Stokes, and a lost ring isn't the only mystery for Ken to solve. Illustrated by Helen Welsh.
Our final story for this week is Eirin Thompson's "You Drive Me Crazy". Holly is teaching little sister, Jo, to drive – but it seems they both have some lessons to learn! The Friend's own Manon Gandiolle has illustrated this one for us.
Serials
Our new three-part serial by H. Johnson-Mack begins today, and within the grounds of an impressive manor house lies one young woman's new home . . ."Ellery's Orchard" has illustrations throughout by Andre Leonard.
In Part Four of "The Tanner's Son", Nicholas knows a clandestine courtship with Roisin could prove his undoing. Pamela Kavanagh's serial set in 1587 is illustrated by Mandy Dixon.
Series
In Stefania Hartley's "Tales From The Parish", what can the Parish Council organise for the youngsters of the village?
And in Glenda Young's "Riverside",  should Claire and Sam give up on their dream of having a baby?
---
If our May 22, 2021 issue has left you wanting more, don't worry! Our new issue is in shops soon.
Did you know that subscribers receive their issues early? Click here for more information on subscribing to the "Friend" today.