Features Sneak Peek: February 26, 2022
---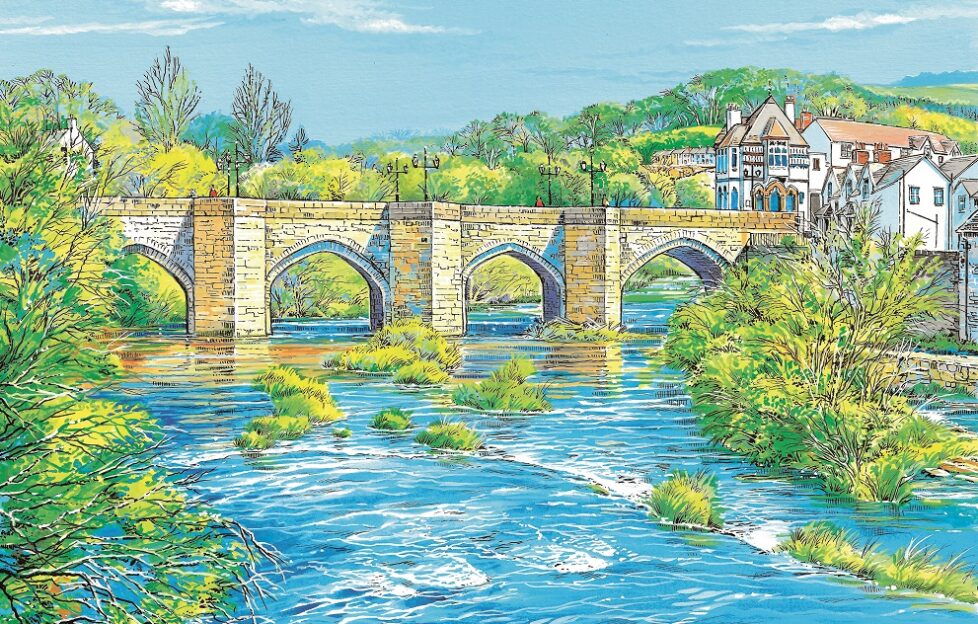 Illustration by DC Thomson.
Neil McAllister takes an enjoyable stroll around historic Llangollen, in the February 26, 2022 issue of "The People's Friend".
The nickname for Wales – Land of Song – has grown around a kernel of truth. During the war, a man called Harold Tudor thought that music could be a way of healing after conflict. He invited members of foreign governments to Bangor's National Eisteddfod.
Now, every summer, this tiny town throngs with exotic languages and colourful, unfamiliar dress as diverse cultures are celebrated in a spirit of peaceful collaboration. One early performer was Luciano Pavarotti, a member of the 1955 Modena choir.
Outside festival time, the town is quieter, but it remains a popular day out. One of the best ways to enjoy Llangollen is on the volunteer-run steam railway, where trains make the 10-mile journey to Corwen, pausing at beauty spots en route like Glyndyfrdwy.
We'll take in some beautiful properties and a huge stone bridge, built in the 1300s.
Narrowboats are also a good way to take in the scenery in this beautiful part of the world. Join Neil as he explores the area in more depth in the magazine.
Maeve Binchy
It is 40 years since Maeve Binchy burst on the literary scene with her novel "Light A Penny Candle", a million copy bestselling story of two friends, Aisling and Elizabeth.
Maeve trained as a teacher and worked in holiday camps as a tourist guide. However, it was as an author that Maeve really found her calling.
Her books have been translated into 37 languages and sold over 40 million copies. In the magazine, Dianne Boardman celebrates Maeve's work and the legacy she left behind.
Medicinema
Every year, Medicinema brings the magic of the movies to almost 24,000 hospital patients.
Medicinema builds and runs state-of-the-art cinemas in NHS hospitals across the UK. For hospital patients, watching the latest blockbuster helps improve recovery, mental health and physical wellbeing.
The charity's cinemas have the same technology as other modern cinemas, but are built to accommodate hospital beds, wheelchairs and medical equipment.
Medicinema began back in 1999 thanks to the efforts of Christine Hill MBE, a hospital volunteer who worked in the film industry. In the magazine, Janey Swanson finds out more.
Steve Backshall
Steve Backshall has faced the deadliest of dangers in all corners of the world, but with his fiftieth birthday coming up next year, he's planning to put his daredevil days behind him.
However, the popular explorer, naturalist and TV presenter insists his passion for the natural world remains as fierce as ever. He can't wait to share that passion with others at a massive event at London's O2 Arena, the BBC's Seven Worlds One Planet concert, on March 31.
Bill Gibb chats to Steve to find out more.
Elsewhere, we have a collection of traditional Welsh recipes that are perfect for St David's Day. Plus we have a craft project to make a stunning patchwork throw.
We hope you enjoy it. Let us know what you think.
---
Has this sneak peek at our February 26, 2022 issue encouraged you to subscribe to the "Friend"? Click here. If you do, your "Friend" will come straight to your doorstep! 
You can also take out a digital subscription, meaning your issue will come straight to your computer, tablet or phone! And it's great value for money. Click here for a sneak peek at that!