Fiction Preview: Special 225
---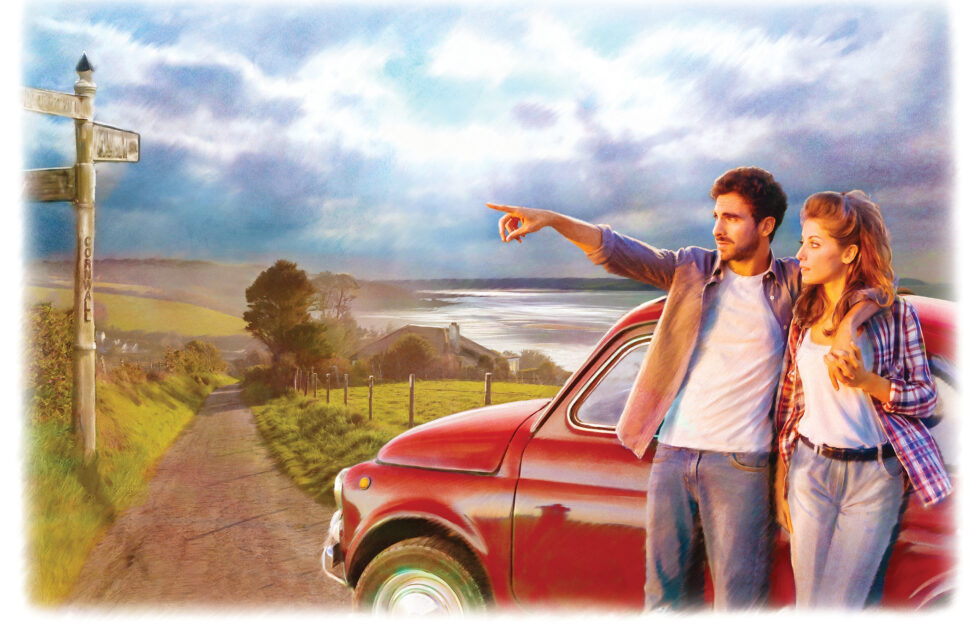 Artwork: David Young
Our brand-new Special, number 225, is out on May 4.
Here's a quick peek at the twenty original short stories, and eight-page long read, you'll find inside.
Twenty Brand New Stories
Frank's world has been turned upside down by war. But when he thinks of Vera, he finds hope. "When The Dust Settles", by Alyson Hilbourne, is set in 1945 and illustrated by Kirk Houston.
A family holiday is the opposite of relaxation, in "All On Me", by Alison Carter. Artwork from Martin Baines.
Lucy visits the Giant's Causeway and feels sure there must be some truth to the legends… "Watch Your Step", by Maggie Cobbett, is illustrated by Tracy Fennell.
Florist, Nicole, falls for a regular customer, but fears he's a serial love-cheat! "A Matter Of Trust", by Patsy Collins has an image from our DC Thomson picture library.
As the frontman of a successful 1960s rock group, Ray has everything. So why isn't he happy? "Ray The Rockstar", by Katie Ashmore, is illustrated by Jim Dewar.
Super Spring Stories
Annie's life has turned on its head and she has no idea what the future holds. "To New Shores", by Alyson Hilbourne, features artwork by Gerard Fay.
When Lorna discovers that her favourite film star is staying nearby, is there a chance they could meet? "Hot Off The Press", by Karen Houseman, is illustrated by Jim Dewar.
May isn't often greeted by an empty plate, in Alison Carter's "A Healthy Appetite" – and she doesn't know what to think! Artwork by Sailesh Thakrar.
Lottie doesn't like living near the sea – a family secret is festering away, and until it's resolved, she can't settle. "Out Of My Depth", by Teresa Ashby, has artwork by Manon Gandiolle.
It's the 1950s and Silvia lives and breathes cinema. Then her boyfriend is offered a job in the US – but Sylvia's life is here… "Just Picture It", by Wendy Janes, has a Ged Fay illustration.
Our Eight-Page Mini Mag
Our eight-page mini mag is next – "Dead Men Tell No Tales", by Liz Filleul. Convict Constable Will is back, investigating the mysterious death of a sailor.
Romance And Fun
When Jill reveals she has money worries, Ria steps in to help. Good idea? Find out in "Lend A Hand", by Eirin Thompson. Artwork by Shutterstock.
Nurse, Chloe, doesn't realise the good she does every day, just by being herself. "Everyday Heroes", by Teresa Ashby, is illustrated by Kirk Houston.
Clare is stunned when her daughter Daisy's teacher suggests Daisy needs to be more tactful. "Mind Your Tongue", by Alison Wassell, is illustrated by Pat Gregory.
Jem has decided to go travelling, to figure out where life's going to take her – but her sister's concerned. "A World Of Opportunity", by Susan Wright, has a Shutterstock illustration.
Signposts are no good to Ollie and Evie, in "Which Way Now?" by Gabrielle Mullarkey. Artwork by David Young.
Something For Everyone
It's time to look to the future, in "Water Under The Bridge", by Christine Sutton. Illustration by Manon Gandiolle.
One mum has a book-related surprise in store, in Eirin Thompson's "One For The Book". Illustrated by Shutterstock.
Bob's been made unexpectedly redundant, and having him home all day is getting Marion down! "Driven To Distraction", by Sarah Swatridge, is set in the 1970s and illustrated by Shutterstock.
Denise is holidaying in Italy, her beloved John close to her heart. Then she finds a kindred spirit in Federico. "The Kindness Of Strangers", by Lynne Hallett, is illustrated by Shutterstock.
Rosa hasn't let reading and writing difficulties hold her back. But then she receives shocking news…"A Sea Change", by Eirin Thompson, is illustrated by Andre Leonard.