Fiction Preview: Special 231
---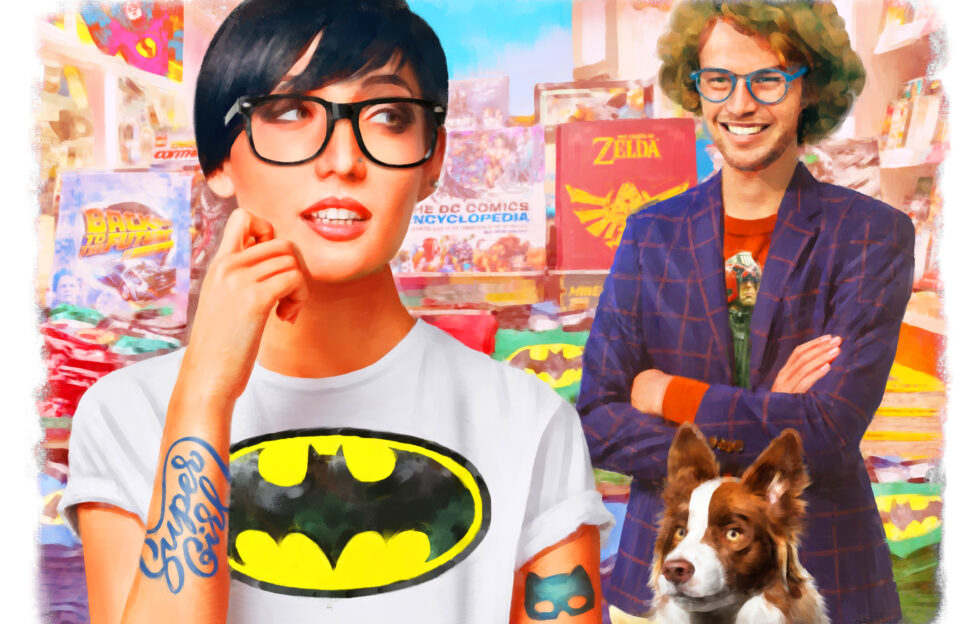 Artwork: Kirk Houston
Hello and welcome to our quick flick through the fiction in our latest Special, on sale Wednesday, September 7.
Twenty Brand-New Stories
Our opening story is Julie Dawn Baker's "Circle Of Life". Free spirit, Lexi, and science teacher, Tom, visit a crop circle in Wiltshire. When they return some years later, will their story have come 'full circle'? With artwork by Helen Welsh.
When Tracy finds herself back at her old high school, memories come flooding back. "School's Out", by Alison Carter, is illustrated by Ged Fay.
Susan Smith becomes captivated by a portrait of Granny Smith, of apple fame, in "Apple Of My Eye". By Em Barnard, it's illustrated by Helen Welsh.
Albie is secretly delighted that his wife's bird-chime clock has gone 'missing' during their house move. When he finds it, will he own up? "At The Right Time" is by Penny Alexander.
When empty-nester Anya doesn't get the job she so desperately wanted, it prompts some soul-searching. Greer Glover's "The Ideal Candidate" is illustrated by Sarah Holliday.
Dance Marathons and Thomas Gainsborough
When someone new joins the residents' committee, Hester's well-ordered life is turned upside down. "Cheers To That" is by Eirin Thompson.
Shy Xanthia is "Holding Out For A Hero" in her comic-book world. Julia Douglas's short story is illustrated (above) by Kirk Houston.
A school project provides a way to connect with family, in "Give Me A Sign", by Helen M. Walters. Illustration from Manon Gandiolle.
It's 1930, and reporter, Esme, is covering the phenomenon of dance marathons, in Alison Carter's "Cut A Rug". Artwork from Helen Welsh.
George is apprenticed to artist Thomas Gainsborough, in "A Fine Art", by Becca Morgan. But will he ever be recognised for his own talents? Artwork by Ged Fay.
Our Eight-Page Long Read
Our eight-page mystery Long Read is next – "Partners In Crime", by Michelle Barber. It's 1905, and the last thing one lady in a financial pickle had planned to do was become a detective…Artwork by Andre Leonard.
First Day Of School
The first day of school means nerves for Rachel – it's her first day as a qualified teacher. "The Learning Curve" is by Eirin Thompson, with artwork by Jim Dewar.
Beth's old school friend Wendy is coming home to Wales at last. But is getting together a good idea? Becca Robin's "Can We Still Be Friends?" is illustrated by Mandy Dixon.
We're in 1588 for our next story, by Alyson Hilbourne – "A Gift From The Sea". Kath lives alone in her seaside cottage. Then one day, she finds a body washed up on the beach…With artwork by Ruth Blair.
Jane's son is getting married to his partner, Olly, and there are a few things to take into consideration – not least Jane's mum and her forthright opinions! "Today's The Day" is by Alison Carter.
Natalie finds it difficult to make friends, in Kate Worthington's "Bowled Over". Artwork by Martin Baines.
Everybody Needs Good Neighbours
In "Sunshine And Duke", new neighbours have a problem when their pets don't get on…by Enid Reece.
Kevin's wife left him after three years of marriage, and he's avoided commitment ever since. When he learns about a relative whose bravery was undoubted, it helps Kevin come to terms with the past and look with courage to the future. "Only The Brave" is written by Katie Ashmore.
Linzi's very own Heathcliff appears in her hour of need, in Eirin Thompson's "A Walk On The Wild Side". Illustration from Jim Dewar.
For a school project, Hilary is asked to say which woman most inspires her. It turns out to be a tougher question to answer than she'd anticipated, in Sharon Haston's "I Want To Be Like You". Artwork from Jim Dewar.
Our final story of this Special is by Deborah Cornwell – and Lori is saddened by the deterioration of her daughter and son-in-law's marriage. What's going on? Find out in "The Course Of True Love". Artwork from Jim Dewar.