Fiction Preview: Special 235
---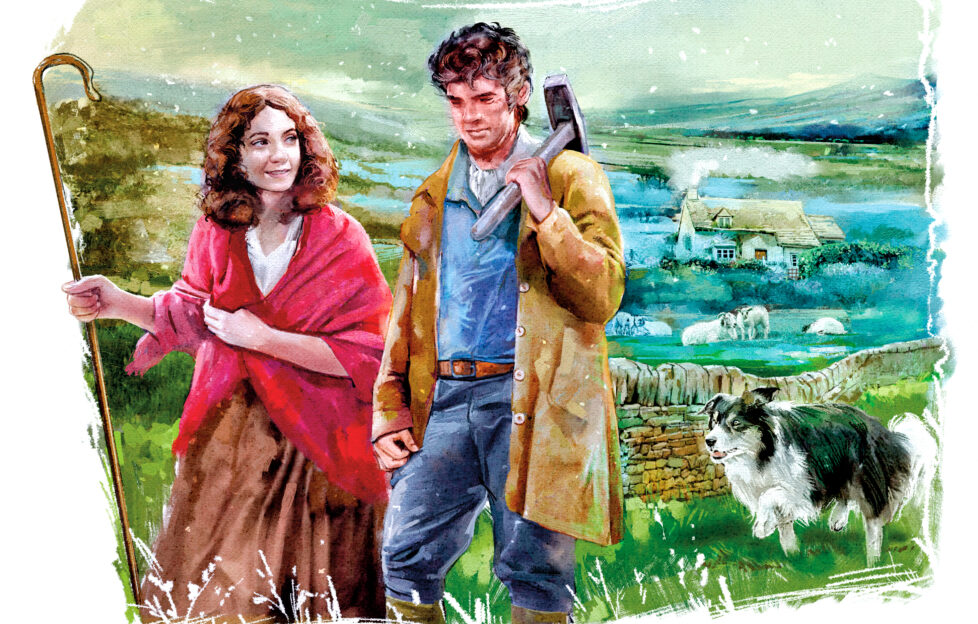 A warm welcome to our preview of the brand-new stories waiting for you in our latest Special.
Twenty Brand-New Stories
Our opening story is Pamela Kavanagh's "Home Or Away?" set in the 1880s. Jacob dreams of adventuring, but Beth wants her neighbour to stay nearby. With artwork from Sailesh Thakrar (above).
We welcome a debut author next – Agnes Carpenter. In her story, "One Step At A Time", a shopping-centre piano brings back memories and renews a lifelong passion.
Alison Wassell's "Escape To Gypsy Cove" is next, set in the Falklands Islands. Artwork from Tracy Fennell.
"Where I Belong", by our second debut author, Mollie Mitchell, is next, and an incomer feels out of place on a Scottish island.
In post-war Germany, café owner Renata despairs of finding a man, and declares "I Need A Hero"! Set in 1947, Alison Carter's short story features artwork by Ged Fay.
Three Debut Authors
Finding a childminder proves more difficult than first thought, in Eirin Thompson's "The Babysitters". Artwork by Ruth Blair.
We're in 1972 for our next story – "Centre Stage" by Wendy Janes. Fiona has been asked to perform a solo, but will nerves get the better of her? With an illustration by Mandy Dixon.
Anya is struggling to find her feet in Manchester, in Alison Carter's "Make A Move". Illustration by Ruth Blair.
Can Sister Ursula find a way to set pilgrims on the right path? "Lighting The Way", by H. Johnson-Mack, is illustrated by Jim Dewar.
Moving house proves a tricky business, in "What's The Hold-up?" by Keith Havers. Artwork from Sailesh Thakrar.
Our Eight-Page Long Read
Our murder mystery Long Read is next – "Who Killed Santa Claus?". Beth may have swapped her police uniform for an elf costume, but she hasn't lost her powers of detection. Written by Gabrielle Mullarkey; artwork from Andre Leonard.
Wonderful Winter Reading
Buying a new dress for Christmas is uppermost in Diana's mind – it is her treat to herself, after all. Then she remembers the reason for the season. "Do They Know It's Christmas?", by Eirin Thompson, is illustrated by Ruth Blair.
We're "Out On The Estuary" next, and Susannah hopes to take over her father's ferryboat business – until the arrival of a stranger casts doubt on her plans. Written by Alyson Hilbourne, featuring artwork by Ged Fay.
With a bird stuck in the chimney, Sophie needs "A Clean Sweep". Written by Susan Blackburn, artwork from Kirk Houston.
Can Alexa reunite an estranged mum and daughter? Find out in "Smart Speaker", by Julie Goodall.
It's up to German shepherd Zeke, to "Take The Lead", in Sharon Haston's short story, next.
Feel-Good Fiction
Agnes is dismayed by the superstitious ways of her fellow villagers. But when the chips are down, they show their true worth. "Something In The Air", by Alison Carter, is illustrated by Helen Welsh.
A lift proves an unconventional place to find someone new, in "Upwardly Mobile", by Pamela Wray. Illustration by Sarah Holliday.
An unexpected break holds surprises in "Food For Thought", by Linda Lewis. Artwork from Sarah Holliday.
Planning a wedding without your own mum is challenging. "Mother Of The Bride", by Louise McIvor, is illustrated by Kirk Houston.
Our final story is by our third debut author of this Special – congratulations to Amy Shorten! In "The Test Of Time", Fred joins a 'men's shed' and unexpectedly finds more than friendship there. Artwork by Jim Dewar.