Fiction Preview: Special 236
---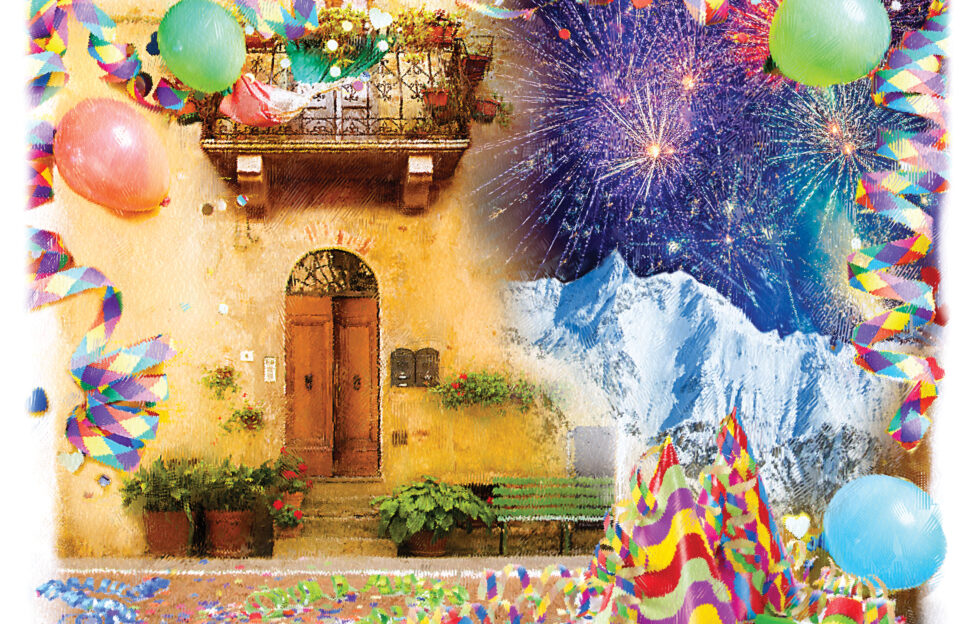 Artwork: Jim Dewar
Welcome! We have twenty brand-new stories ready for you to read in our latest Special.
Twenty Brand-New Stories
Our opening story is Becca Robin's "A Foot In The Door". Can a tall, dark and handsome 'first foot' bring good luck to student flatmates, whose lease is uncertain? Artwork from Jim Dewar.
Our next story is set in 1920 – "Breaking The Ice", by Sally Waterbury. Eloise goes skating, and reflects on memories from before the Great War – when everything changed.
Ex-miners Terry and Norman are looking for a new direction, in David Balmer's "When The Coal Dust Settles", set in the 1980s. Illustration from David Young.
Carrie arrives home to find a man staring at the lock on her front door. What's going on?  "Open Your Heart" is by Alyson Hilbourne.
Two friends "Take The Plunge" and head to the pool after many years' absence.  By Sara Partington. With artwork from Mandy Murray.
Stories For The New Year
A man-free New Year isn't necessarily "Written In The Cards" in Gwen Rollinson's short story, illustrated by Manon Gandiolle.
Grief and guilt make way for love, and a fresh start, in "Life Goes On". By Gabrielle Mullarkey, with artwork from Tracy Fennell.
Special memories draw people back, in "The Boy At Pine Bay", by Mary Hudson.
Steph's dear neighbour has passed away, and there's someone new living in his home. "Home Again", by Teresa Ashby, features artwork by Kirk Houston.
We're in the 1970s for our next story, "Tickets, Please!" by Alison Carter. Elaine falls in love with a handsome bus conductor, but will she ever be able to reveal her true feelings? Artwork, Ruth Blair.
A Trip To The Mountains
Melina and Tanino take their granddaughter to the mountains so she can see the snow. But is it a decision they'll live to regret? "Snow Problem", by Stefania Hartley, features artwork from Jim Dewar.
Brave Amelia will do whatever it takes to defend her father – and the tumbledown lighthouse he protects – from wreckers. "A Light On The Horizon", by Kitty-Lydia Dye, is set in the 1700s and has an illustration by Mandy Dixon.
Rochelle is a CODA – child of deaf adults. After initial uncertainty, Rochelle and classmate, Patricia make friends.  Patricia learns to sign, and there's another upside, too! "Signs Of Friendship", by Wendy Janes, features artwork by Kirk Houston.
Lab technician Rose has "High Hopes" for 'her' patients, in Alison Carter's short story…
…while a Christmas tree is recycled in interesting ways, in "Keep It Green", by Gabrielle Mullarkey.
Lots Of Lovely Seasonal Reading
Crystal has fallen for the Prince Charming in her local am-dram production, but she fears the feeling isn't mutual. "Some Day My Prince Will Leave" is written by Sue Cook.
Suzy needs to let her old boyfriend – and business partner – go, in "Seeds Of Change", by Kate Morgan…
…while there's a "Game Plan" afoot in a sleepy village café. Written by Susan Wright.
Grown-up brother and sister Dan and Chrissie have played pranks on each other all their lives. But this time things have gone too far! "Beyond A Joke", by Gwen Rollinson, is illustrated by Manon Gandiolle.
Our final story is "Losing Track", by Beth Watson – and Ruth's fitness tracker is dictating her daily routine. Artwork from Ruth Blair.