Fiction Preview: Special 237
---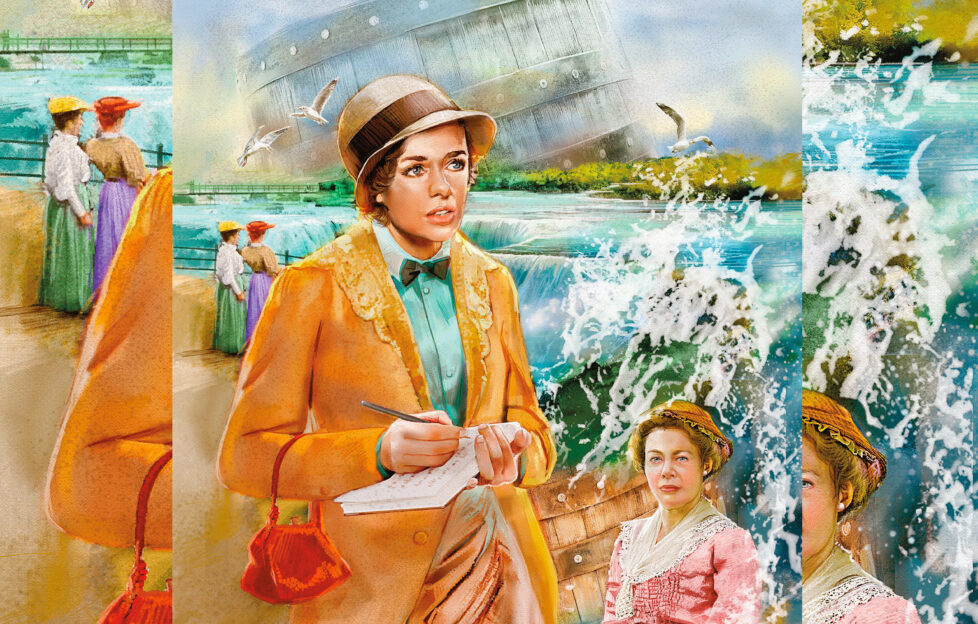 Artwork: Sailesh Thakrar
Welcome to the fiction in our latest Special! Available from Wednesday, January 18.
Twenty Brand-New Stories
Our opening story is Mary Hudson's "Days To Remember", where Bea wants to create a memory map – but not everyone is on board with the project. Artwork from Manon Gandiolle.
Sister Maria Luce loves "A Quiet Life", but all that is about to change! Stefania Hartley's short story is illustrated by Jim Dewar.
We're in the 1990s for our next story, and for one high-flyer in the medicine world, success is "All In The Chemistry". By Laura Tapper. Artwork, Sarah Holliday.
Happy memories abound in Karla Smith's "The Lady In The Van"…
…while a shocking secret is uncovered during a clear-out of the loft, in "It's Got To Be Perfect", by Alison Carter. Artwork, Mandy Dixon.
"To Be Or Not 2B"
Lynn works at the airport – not as glam as it sounds, but there's always "A Silver Lining". Moira Gee's short story is illustrated by David Young.
Sylvia has the unenviable task of getting a class of boisterous pupils under control, in "To Be Or Not 2B", by Becca Robin. Artwork, Andre Leonard.
Elise has relocated to Australia, but now there's another big step she needs to take…"The Wednesday Walkers" is written by Liz Filleul and illustrated by Kirk Houston.
Lady builder, Frankie, takes on a renovation which is about much more than bricks and mortar. "Building Hope", by Teresa Ashby, features artwork by Martin Baines.
Whilst holidaying in the Lake District, Reuben finds an old postcard which seems strangely familiar. "Echoes Of The Past", by Rebecca Holmes, is illustrated by Pat Gregory.
Eight-Page Murder Mystery
Our eight-page murder mystery 'Long Read' is next! We're in 1889, and aspiring author, Emily, finally gets a break – but soon feels out of her depth. "Death At The Falls", by Alison Carter, is illustrated by Sailesh Thakrar (above).
Lots Of Seasonal Reading
Melina isn't feeling too well but there are crossed wires too, in "One Humble Request", by Stefania Hartley. Artwork, Jim Dewar.
A move to Devon means "A Sea Change" for Julie, in Carrie Hewlett's short story. Artwork, Ged Fay.
Would-be first-time buyer, Hedli faces stiff competition, in Eirin Thompson's "Hot Property".
In Gwen Rollinson's "Rise And Shine!", looking for the positives on dark, chilly mornings proves challenging…
…while Steph is meeting her birth mum for the first time, in "Gloria's Smile", by Becca Robin. Illustration, Mandy Dixon.
Fiction For Everyone
There are memories of a wartime wedding gown in "Say Yes To The Dress", by Louise McIvor. Illustration, Pat Gregory.
Courage is found through adversity, in "A New Dawn", by Alyson Hilbourne. Artwork, Jim Dewar.
A grandma looks to bond with her grandson, in "Key To Her Heart", by Mary Hudson. Illustration, Jim Dewar.
Jamie falls for someone she feels is out of her league, in "Meet Me Halfway", by Alison Carter. Artwork, Mandy Dixon.
Our final story of this Special is Alyson Hilbourne's "Across The Courtyard", set in the 1900s. Beth works as an onion peeler, and catches new recruit, Art's, eye. Illustration, David Young.